Let's make this clear right off. That ox cheek was delicious. With some cute little shimeji mushrooms, togarashi spice, and 'smooth' potatoes. Well, I'm not sure I even noticed the potatoes much. The cheek was tender and melty and delicious. I loved it.
We headed down to Gantry on a wintry night. There's not a huge selection of restaurants pre-theatre at Walsh Bay, and not only did I have an entertainment coupon but there were some really good reviews, so good that I'd put it in my list of restaurants to try. English chef, working with artisanal producers, something about a contemporary philosophy of food, chef to David Beckham, worked at great restaurants, blah, blah, blah.
When we arrived, I was surprised. It's the new incarnation of Front restaurant at the Sebel Pier One hotel. We'd been here before (also with a coupon…). The thing is: its weaknesses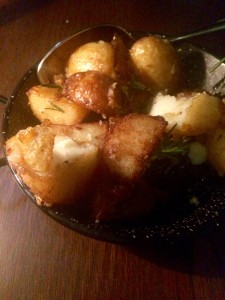 haven't changed. It feels like a hotel restaurant (and that impression was confirmed by some sort of convention or meeting out at the bar which sounded like white guys yelling rap, never great background music).
The view and location is stupendous, of course, with a view out to the Harbour. The prices, because it's a hotel restaurant, are steep ($20–$25 for starters, $30–$40 for mains). I just noticed that they have a pre-theatre menu, which we weren't offered even though we arrived at 6:30pm.
I liked my jerusalem artichoke and chestnut soup, though didn't love it. I don't know. For a $20 soup, I want to go: wow! Our duck fat potatoes, ordered as a side to share, without really thinking that we were getting potatoes with our cheeks (we ordered the same main) were not as crisp as I would have liked.
So, I couldn't shake the feeling, with the ambiance, and sweet but not necessarily polished service, that we were in a hotel, and not in a good way, but a slightly overcharged and lacking in ambiance kind of way. I'm always a bit confused when my opinion is so different from others. Are the other reviewers business travellers and like the feeling of a hotel? Did they get charmed by a hospitality event or the mention of David Beckham? Was it an off night or was I particularly grumpy? Life's too short to worry about it, but I think I'll be passing on a second visit here.