Wow.
I'd heard good things about Firedoor, but in November, we had a pretty much perfect food night: surprising, tasty and innovative with an extremely fair price of $85 for a whatever-the-chef-decides kind of night.
The interiors are Surry Hills chic (and a complete transformation from the cozy café Strawberry Cross that occupied the space beforehand).
The open kitchen was very fun to watch with an international crew of men putting together the dishes.
We felt sorry for the guy at the station in the back with the charcoal and hot pans. I reckon he doesn't have any fingerprints left.
Service was superb and engaging, helping to get us even more interested in the food that arrived.
The theme of this restaurant is fire. Nearly everything is cooked on a grill or with a wood-fired oven. They actually make their own charcoal out of different wood and use it as to add flavour to the food! Crazy and unique and yet the essence of the food is not trickery, but primally good food! So, a delicious smoke flavour was added to nearly each dish, from the delicious butter that accompanied the homemade bread to the wonderful ricotta starter and then the awesome grilled beans.
We both loved the fennel and orange with fish…
The Murray codhead (first photo above!) was probably the most challenging; there wasn't a lot of meat, and the
gelatinousness of it was its pitch. But I couldn't bring myself to suck back the eyeball. Cheeks are always good though.
It made for a dramatic visual.
The squid was so tender and delicious, and the squid ink puree with a hint of tomato and (what was that secret ingredient the waiter told us?). Regardless, simple and delicious.
A simple salad preceded the Jurassic Quail, which owner-chef Lennox Hastie (great name) told us was the most beautiful of quails that he'd encountered, killed on a Tuesday, brought to them on a Wednesday. It was indeed more tender and bigger than any quail I've tasted – and delicious. With spelt and kale, yummilicious.
As my fabulous dining companion doesn't eat red meat, we had to skip what is apparently the restaurant's specialty, which we saw being cut each time it was ordered, and then grilled to perfection and then cut into pieces by the head chef (who was friendly and engaging and also made our evening more memorable, watching him work, and being able to ask him about some of the dishes).
We're coming back in January to eat THIS: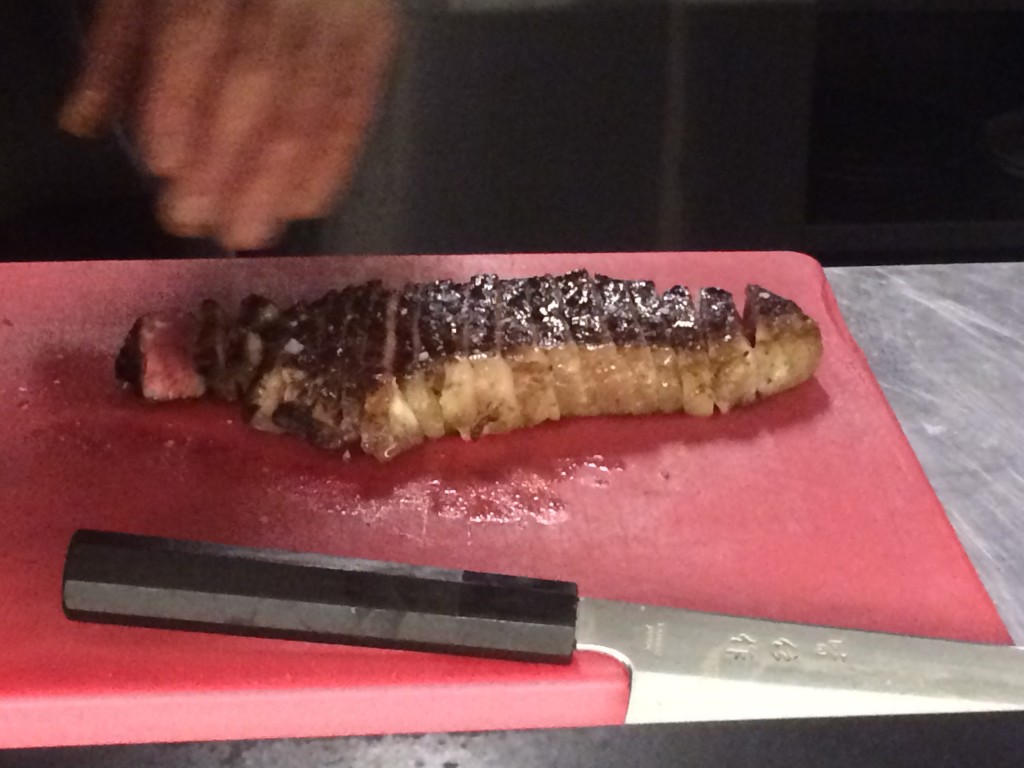 With all that heat coming from the kitchen, a cool dessert was a relief; and it was a marvelous combo of textures and flavours. The wine list is extensive here, and a little pricy (as you'd expect for a top-end restaurant) but they serve a surprising amount of them in a carafe, which I think is a nice option. We had a yummy Orange wine which got better the closer it came to room temperature followed by a carafe of a French wine, light enough to pair with the seafood.
I haven't given a 5/5 rating here since Quay, but why would I be mean with stars after such an amazing evening?
PART TWO!!!
As warned, we returned in January 2016, ready to try that steak. This time, with some experience under our belts, we ordered various dishes rather than do the tasting. And also had some very tasty wine. As before, the food – all of it – was amazing. We missed the fennel and white fish from the last time, but how could we complain with this delicious tuna.
We repeated the beans, just as good as last time, and the toast with smoked butter, and also had this snapper. Yum!
And of course, we tried this. Meet the over 165 day dry aged rib on the bone, all 500 grams of it. I told my brother, who is a meat broker, about this (yes, seriously, he is a meat broker), and he said the industry standard for aging is 3–5 weeks (I think he told me this). By 165 days, he said, the fibre of the meat would be so broken down that it would melt. Like butter.
And by god, yes it did. On the previous visit, I'd thought he'd been cutting frozen meat in the corner, but no, that's what it looks like after so long ageing. It was beautiful pink inside, but I could not detect any blood, any toughness. It was this intensely meaty, very rich, buttery, grilled, fat… thing and I've never tasted better meat. For $138, we split it between the three carnivores… and were in heaven.