I always liked cocktails, and got into a regular negroni habit, but the cocktail making really kicked off with the COVID-19 lockdown. It's been fun to explore new drinks and treat ourselves to a covid cocktail. My strategy is to find an interesting liqueur (or possibly spirit) and then try a whole bunch of different drinks made with it!
Cynar interested me, made from artichoke, and being similar to the Italian sweet red vermouths that are a part of the negroni. I was calling it Sigh-Nar, embarrassingly, until I figured out it's Chee-Nar, and I see that it's distributed by Campari, who describes it as such on their website:
Cynar is an artichoke based bittersweet liqueur known for its versatility and distinctive flavour; its taste is enriched by an infusion of 13 herbs and plants. The name of the drink derives from Cynar scolymus, the botanical name for artichoke, as artichoke leaves lend the distinctive flavour.
The secret recipe, which has remained the same since its creation, is based on some of the natural substances found in the artichokes, including 'cynarine'.
Created by Angelo Dalle Molle, a Venetian entrepreneur and philanthropist, Cynar was launched in Italy in 1952. Since then, the brand has grown and is now distributed internationally.
I'm loving it. It is similar to an ordinary sweet red vermouth but there's something a bit more complex about it: I can't quite describe it!
Here's what we're making with it:
Food and Wine provided this easy recipe for a refreshing Cynar and Soda. It was refreshing and light and a good introduction to the flavour of Cynar, a bit like a Pimm's without the cucumber! I bought new highballs (from Orrefors) just for the occasion!
David Lebovitz is a baker extraordinaire who also knows his drinks! I was happy to find his recipe for the Chin Up!, which mixes gin, cynar and dry vermouth with cucumber muddled with a hit of salt. I found it bracing, and really interesting: super dry. Husband thought that the salt and cucumber mellowed the dry qualities of the cynar and gin and made it interesting and complex. The Australian dry vermouth, Maidenii, might have helped it all along!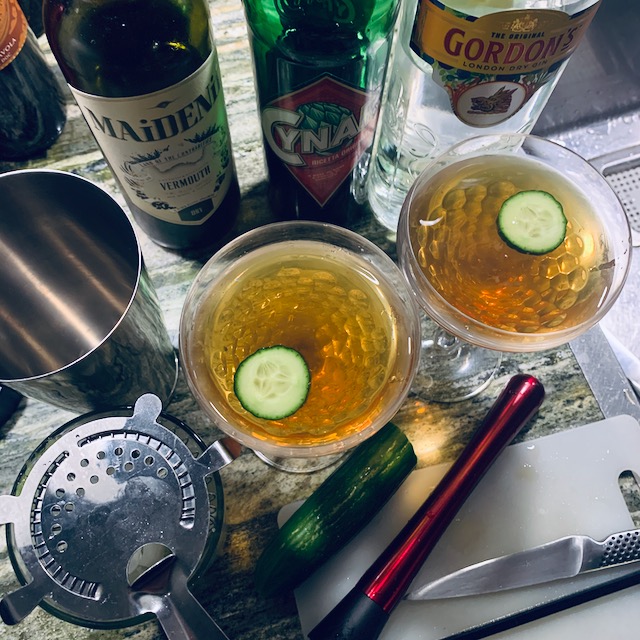 I couldn't pass up the opportunity to try cynar in a negroni, just substituting the regular vermouth for the cynar, as recommended by Steve the Bartender. It did provide an interesting variation on the negroni, which I liked: maybe a little more herbaceous and sweet? Though we also used premium gin in this one, Roku.
Finally, back to Food and Wine, for the amusingly named Presbyterian's Revenge. I didn't have any blended Scotch so used Bourbon, and then thinking how well Peychaud's Bitters goes with bourbon, used that instead of Orange Bitters. So, whiskey plus Cynar plus lemon plus simple syrup, a grapefruit twist and a dash of soda. This was on the heavy side, but I liked it.
Have you got a favourite Cynar cocktail? Or do you like drinking it straight? Share your comments!