So, the problem, dear readers was this. I like to serve tea to my reiki clients. Most new clients come about twenty minutes before their appointment, but not always. So, while there is an issue of making the tea in time for them to arrive and then keeping it warm (and hoping they want tea; most do), it's also nice after the treatment to have a sip of tea.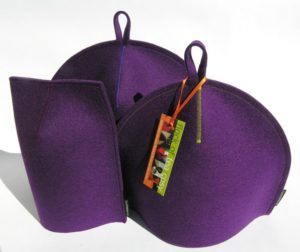 During the summer, it's not a bad thing to have a cool or room temperature sip of tea after the treatment, but during the Sydney winter, when it's chilly, I'd rather have it be a bit warm.
I briefly had the idea of getting a contemporary tea cozy, though there seems to only be ONE place in the world that makes non-crocheted, modern and cool looking tea cosies. It's Flock of Teacosy in Canada, who are on vacation now, and the timing didn't work for me to order one and get sent to Mom's while I'll be in Canada yadda yadda yadda. I'm imagining they won't mind me putting a photo of their cool cosies here, since it's entirely complimentary.
In any case, it's all worked out. My pal Darryl suggested ye olde tea light system and I found that Bodum, a Danish company who I've always had an affection for, makes a rather lovely product called Chambord. Do all Scandinavian companies name their products in mysterious ways?
It's all worked out perfectly. With a new tealight underneath, the tea stays nicely warm for the whole 90 minute period. I'm a happy chappy. It set me back about $30 at Peter's of Kensington (god, I love that store).