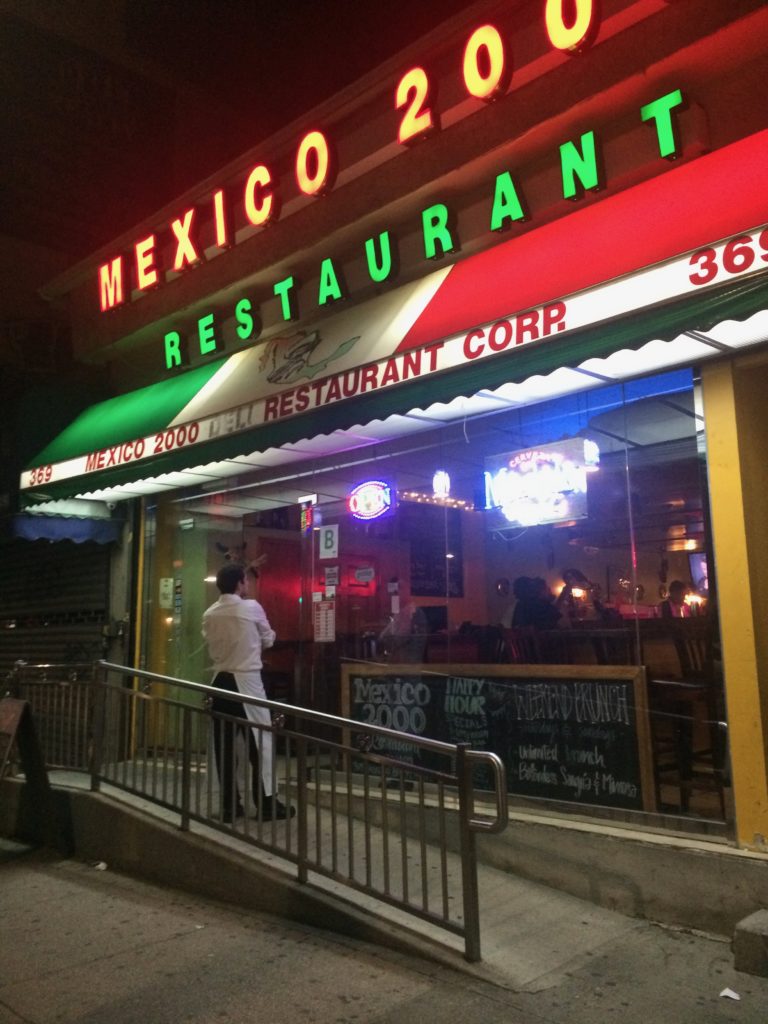 As a devoted foodie, my regular recommendation is that people do a little research and follow trusted friends' recommendations in order to not waste a food experience. Why eat bad food if instead you can eat good food? So, NYC constantly surprised me to find not just good but AMAZING food when I am not following my own usual advice.
This hole in the wall is minutes away from my AirBNB and after a play on Broadway (Sweat), I was rather hungry (even though I'd had matzoh ball ramen earlier). So, I stop in this place, playing Mexican or Latin American pop music, and darkly lit and looking like it could have the most terrible food in the world and instead the waiter introduces me to an excellent Mexican beer, Victoria (I asked for something Mexican but not Corona), I get free tri-coloured corn chips with a delicious tomato salsa and then. And THEN:
I've tried tamales before and not understood the appeal. Made of a corn-based dough and then steamed in a banana or corn leaf, I now understand that I've had these not quite at the right temperature. If they are microwaved or too cold then the dough is a little too hard. In any case, I've not found them pleasant. But this time, the filling tastes light and addictive and tasty, and then inside that was a perfect piece of fatty pork, the fat melting into the filling, and a generous portion of hot green sauce. Oh my god, it was good. In fact, it reminded me mostly of a Cantonese rice dish, Zoong, a triangle of sticky rice wrapped in leaves and steamed. They do put some corn mixture into it and it tastes of both home (an imagined home, a warm and cozy home) and the yummy savoury place that I like to hang out it (crispy pork belly, that's my home, baby).
Yes, these were the best tamales I've ever had. I liked it so much I went back the next night and had the same thing (actually, I had the chicken mole, which was good but not as good). I also, the first night, had a huitlacoche quesadilla, this is some sort of corn fungus, and I mainly ordered it because it is not easily found outside of Mexico and certainly not in Australia, and is a bit unusual, but I admit that I couldn't readily identify the flavour. It was nice enough, but the tamales… Those are to die for.