When Ippudo came to Sydney, there was a bit of a fuss, as I remember, and then it settled down. There are now four branches of Ippudo, all in shopping malls, and while I think the design is elegant, and I love their ramen, I've generally thought of the place as simply, really good ramen.
So, I find it interesting to hear how popular Ippudo is in New York City, with two branches and line ups that never stop. When we went for dinner a little while ago, four of us, I could see why: the Ippudos of NYC are a different breed and feel much more high-end, and with different menus (you can compare them online, and they are very different, Sydney vs NYC). How exciting.
So, while we kind of meant to finish our meal with ramen, there were too many other delicious things to try. There was Yamitsuki Goma Kyuri, as seen at the top of the page, perfectly seasoned chilled cucumber. It seems to simple. I want to learn to make this dish! Apparently, it's just sesame oil and garlic and the cucumbers are slightly smashed… but the exact recipe is a mystery.
The Hirata Chicken Wings, as above, glazed in a special black pepper sauce were tasty. This Hamachi Carpaccio was gorgeous.
As a special, you could get their signature steamed buns with breaded tongue! Yum! This is the kind of dish that lots of white people I know (including husband) would not touch. But this was a favourite (we also got a pork belly one).
Finally, their braised and grilled pork spare ribs, seasoned with soy-based "tare" sauce served with seven-spice chili pepper, was tender and awesome. Samurai Ribs they call them.
Even with the four of us, that was enough food: no ramen was needed. But we did have room for dessert, and what interesting desserts they were!
The 'Golden Toast' is a crispy honey buttered toast with strawberries and cream and ice cream made of condensed milk. It's like French Toast on steroids.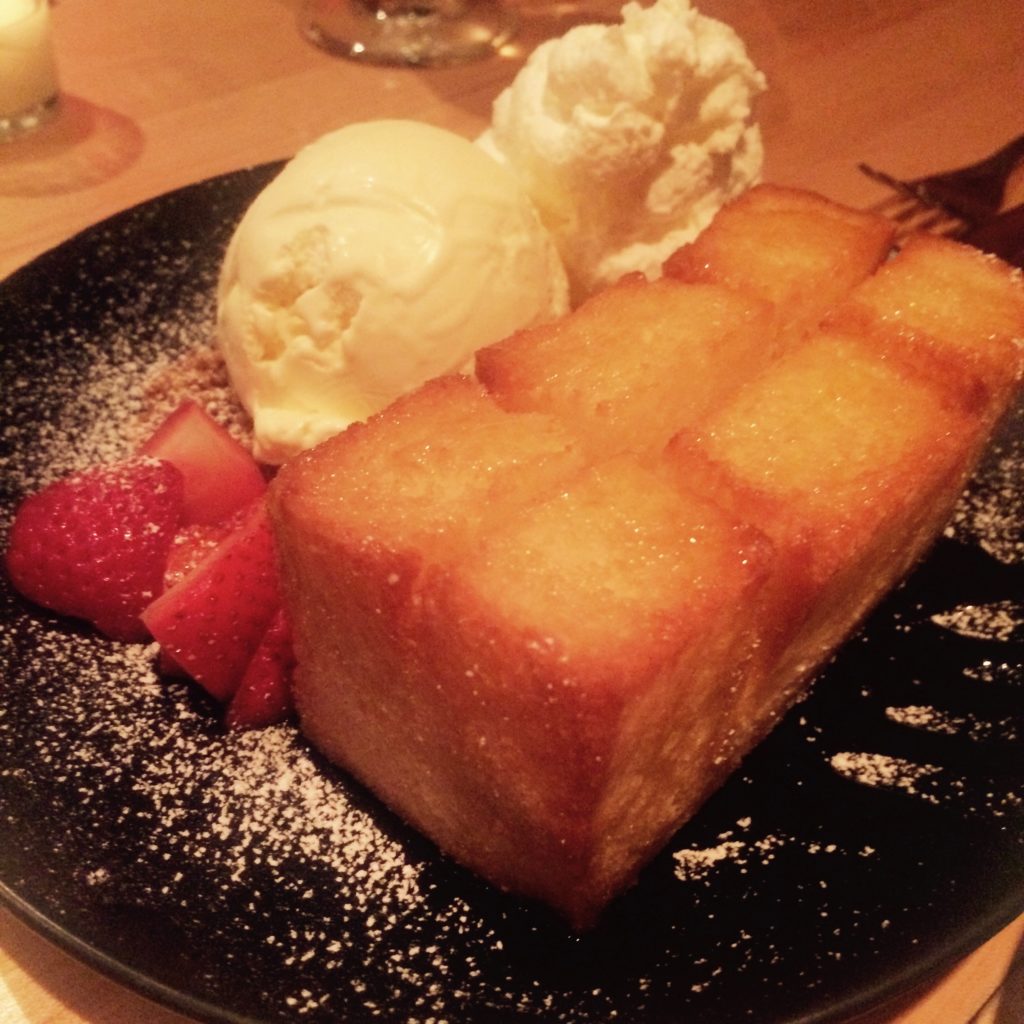 And finally their Chocolate Forest is a chocolate mousse cake covered in pistachio and apricot crumb…
…with chocolate filling inside (and pistachio ice cream).
All in all a spectacular and memorable meal. Oh, they also serve a great selection of sake.