Where do I start with Del Posto? We first came here on our last trip to NYC. I'd heard about the incredible lunch deal. This is top-notch dining, but if you go for lunch, the price really drops! I remember it being a special meal, and thought that it would be nice (and economical) to go this trip. 
It was as perfect as perfect can be. Aside from the food, this place makes you feel special. The atmosphere is rich and luxurious. There are dozens of wait staff. Everyone treats you like royalty and there are all of these special touches: the basil scented hot towels, the complimentary amuse-bouches (white asparagus wrapped in prosciutto, grilled polenta squares with yummy stuff on top).
And then at the end more sweets. Even though they are treating everyone in the restaurant the same… it feels like you're getting special treatment. And that was good.
I mean, it can be a little over the top, in an amusing way. The ladies got little stools to rest their purses on… and we both thought it was hilarious when we had our dishes cleared and our dinner napkins replaced by dessert napkins…
We opted for the Captain's Table, six courses, decide by the waiter after asking you about some of your food preferences. $95. We added to this a beautiful Italian bottle of wine ($60) and I was impressed that the very competent and warm sommelier recommended one of the more reasonably priced bottles on the menu (which suited me).
Each dish was beautiful and memorable.
My better half liked this one the best though: perfect little bread rolls, a combination of a baguette and a grissini. Served with whipped butter shaped to imitate a burrata, this tasted like a creamy cloud. He said he could eat it all day.
So happy they brought us lobster… Delicious. With a deep-fried artichoke heart. Homemade raviolis swimming in truffle butter (photo at the top) were unbelievable and luscious.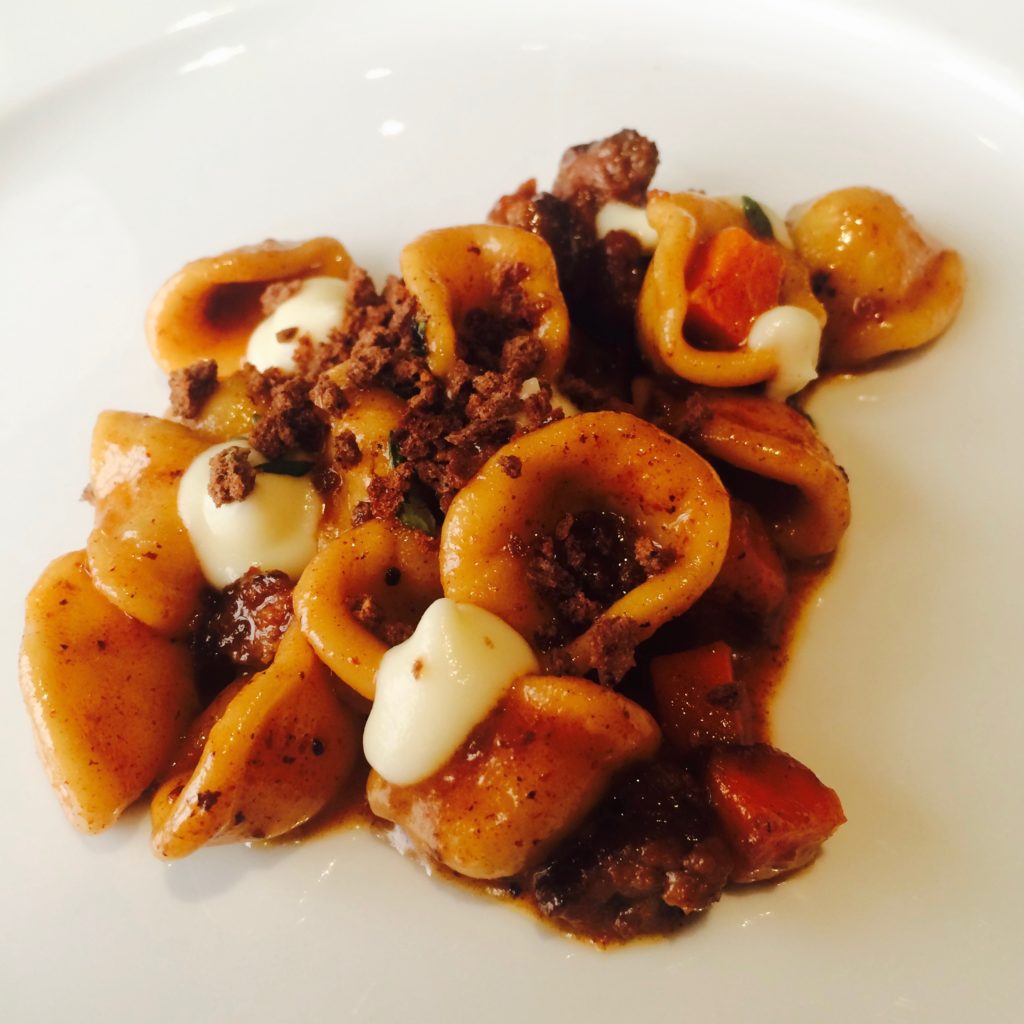 Love that we got a second pasta dish: homemade orrichiete with lamb.
Halibut, one of my favourite fish to eat.
Aged beef, with a salt spice crust, grilled romaine and two bites of little potato hashbrownie sort of things.
A light dessert, but then with extra goodies which I didn't take a photo of (chocolates, cookies).
Love this meal. Loved the service. Loved the experience. Happy happy happy.