We were only stopping off in Matera on our way to Salento in Puglia, but we wish we could have stayed longer in this ancient city in the Basilicata region. In 2019, it will be one of the European Capitals of Culture (along with Plovdiv, it seems a way of promoting cool places…). We were completely enchanted by the place: the dramatic setting, the dwellings built into the cave walls, the different colours of the old city during the day and at night.
It was just so pretty. If you get the chance, do visit this magical place, and stay at least two nights. Maybe longer! It has an amazing history. The caves have been used as dwellings since 10,000 BC! It was a really poor area in the early part of the 20th century, and shut down by the government in the 50s and 60s as an unhygenic slum! But in the 80s, the Sassi ('stones') started to be revived and the historic area slowly taken over by artists, hotels and cafes. And yet, it still seems unspoiled, at least this year!

Before we passed through, I stumbled on a little travel guide from New York Times which gave us a good preview of some of Matera's charms. The guide gave us the tip to go to the amazing Area 8, the hippest and coolest bar in town. Great place for cocktails, food and the ambience. We loved it.
The recommended gelato place was delicious, though all gelato in Italy seems to me to be delicious:  I Vizi degli Angeli – Laboratorio di Gelateria Artigianale.
I really wanted to try Cucina Povera in Matera, cuisine of the poor, the local specialty. But their recommended pick, Osteria al Casale, was closed. How lucky were we to stumble on this gorgeous, high-end restaurant, Dedalo, instead. Not cuisine of the poor at all, but a beautifully designed restaurant serving incredible high-end food. My TripAdvisor review is here. It felt all the more luxurious for being unexpected. We were welcomed with complimentary prosecco, floating at the surface tiny beads of white chocolate with raspberry shells.

There seems to be lots of accommodation available and we were really lucky. Our reservation at an Agriturismo venue, outside of Matera, had lost our booking! This lead us to find a hotel and our room was right in the Sassi. It was a cave! It was wonderfully charming: the owners were so friendly and we loved this place. Thymus. Highly recommended. Cars aren't allowed in this area, but the hotel owners arranged that we could drop our luggage off with the car and then there is free parking before you enter the cave area.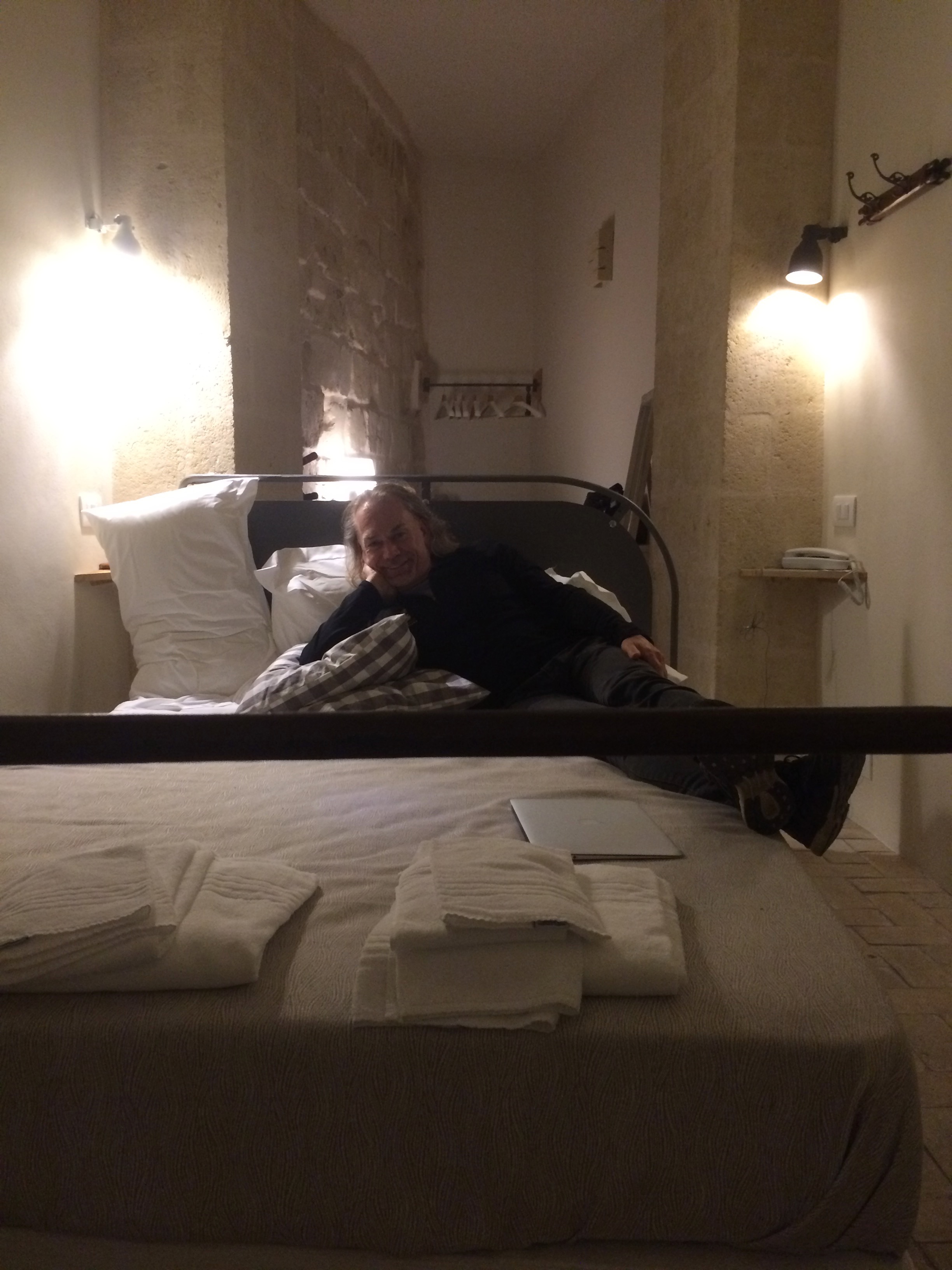 You can't leave Matera without zipping across to the park across the way, Parco della Murgia Materana, where you get a full view of the Sassi di Matera. We spent a lovely half an hour there, no more, just for the view, though a longer walk might have been nice.
Finally, what they are selling to tourists, we found charming. They carve the calcareous rock, known as tufa stone, and it is the same material which the caves and churches are carved out of. So, the carved stone feels like an authentic piece of Matera, and for us, it made a perfect souvenir of an amazing trip through Southern Italy.