When I was a kid, poutine was not really known much outside Quebec and certainly not outside Canada. But it's a welcome and interesting contribution to global cuisine now, eh? The last time I was in Vancouver, my nephew wanted poutine so we tried a place on Granville Street in downtown Vancouver and I had one of monster-poutines that had some other flavour: was it chicken, or pizza, or? In any case, I thought it was disgusting. But, realising that I was perhaps not giving it a "fair go" (as they say here in Australia), I followed friends' recommendations to end up at Frenchies… and even brought my mom and brother.
And… this was an awesome poutine that reminded me of why it's great. Some parts of the perfectly deep-fried fries are crisp, and the parts covered with just enough gravy are going soggy, so it's interactive: you want to eat it before it all goes soggy, but it's an awesome combo of textures. And the cheese, of course, is perfect. You don't find the same curds easily in other places (and certainly not here in Australia). We thought this poutine was delicious.
I've not understood the affection for smoked meat, and certainly not the price of smoked meat sandwiches in New York. Also, it's often a bit salty, I find, and too much. So, I was happily surprised with this sandwich, a modest amount of meat, thinly sliced, you can taste the smoke, and matching nicely with the bread with a nice layer of mustard.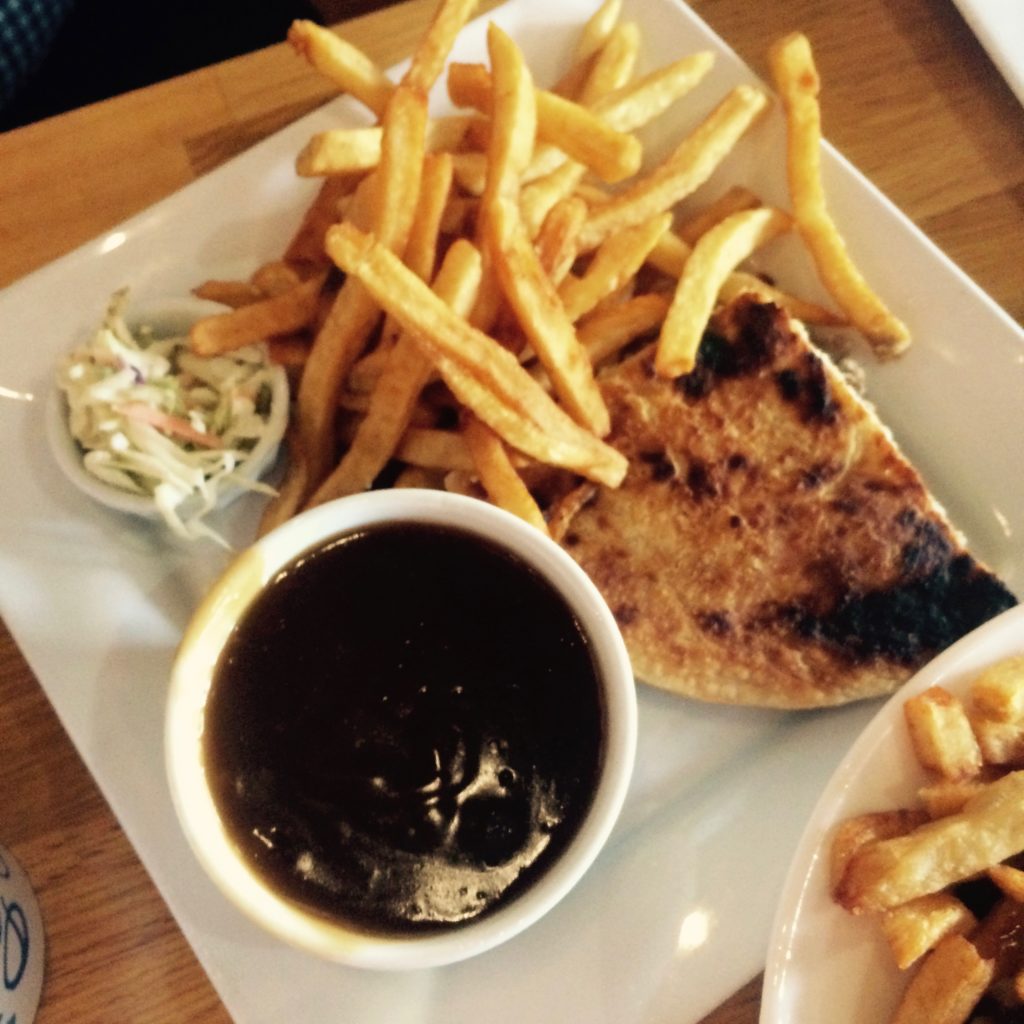 So happy with this: Tourtiére is a French-Canadian meat pie. I think it's pork with potatoes (sometimes with veal and beef too) and a very crisp pastry. It's got lots of lovely spices in it, is very homestyle and humble, and I think it is SO tasty. And I'm not sure I've ever found it outside of Quebec.
So hurrah. The joy of eating in different places for me is often getting something particular to the place or something you can't get elsewhere, and with this humble meal, we did. If I have one quibble it's that the bowl of gravy above was a bit too salty and there was too much of it. Oh, and we forgot to order sugar pie for dessert. But overall (and with friendly service and a fun, unique atmosphere): Vive la Frenchies!