We were lucky enough to try Zambo for Valentine's Day dinner. It was a fun night out, seeing the wide variety of couples that Surry Hills encompasses. I've been wanting to try Zambo for a while. What a change from the purposeful cave that Marque created; Zambo is much more open and light. It's right next door to Besser… so two Italian restaurants as neighbours could be a good thing or a bad thing (in fact, one couple came into the restaurant thinking they were at Besser).
Zambo is aiming at the fine dining market… and offers both a four and seven-course degustation (they added an extra course for this special dinner) as well as the a la carte menu. The food is witty, with a nod to more casual and humble eating, but is definitely on the fancy end of the spectrum.
I loved their Signature Austral-iano snacks. Oysters and verjus granita and a lamington, or what kind of looked like a laminton but was actually home made ham, balsamic vinegar and fennel seeds and instead of a batter or bread, it was pork!
The 'Pie that wanted to be a Pizza' was a perfectly crisp pie shell oozing with the flavours of a margarita pizza. And some nice homemade bread there too…
The zucchini flower with this pretty solidified goat's milk cover, spelt crunch and almond polenta was a great combo of texture and flavour. One of my favourite dishes of the night.
I did wish we'd gone for the eight-course menu so we could have had the 'Love explosion', agnoletti filled with liquid basil cream. Doesn't that sound good? Instead our sole pasta was lunghetti pasta with hand-picked Spanner crab, chives and crispy bread. Tasty indeed. Reminded me of the pasta that I'd had over at Acme in Kings Cross.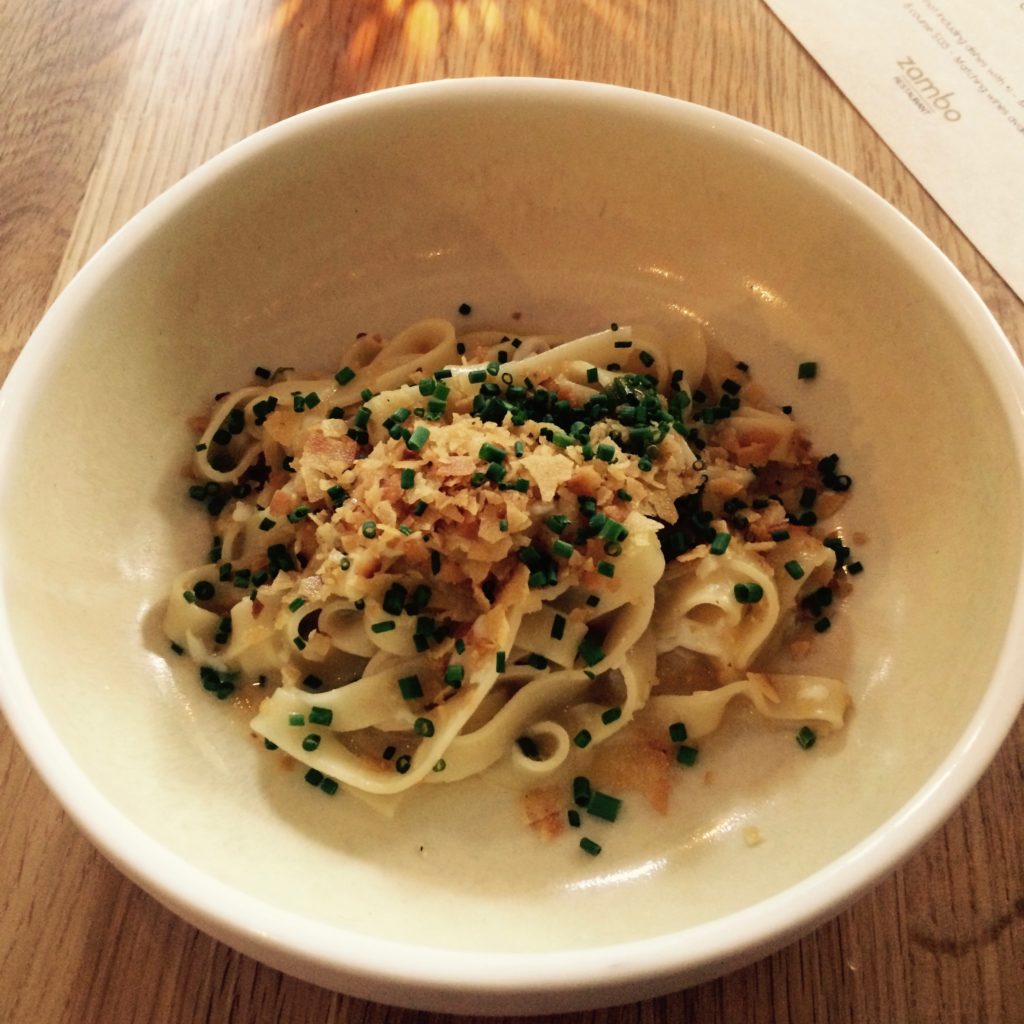 Spanish mackerel was the fish of the day, served with a capers emulsion and roasted corn. I loved the thin slice of corn on the cob, how it was roasted. Very elegant. I'm going to try that. I like mackerel. It's rich. My better half thought it had a bit of a strong flavour, appropriately fishy. Maybe not his favourite.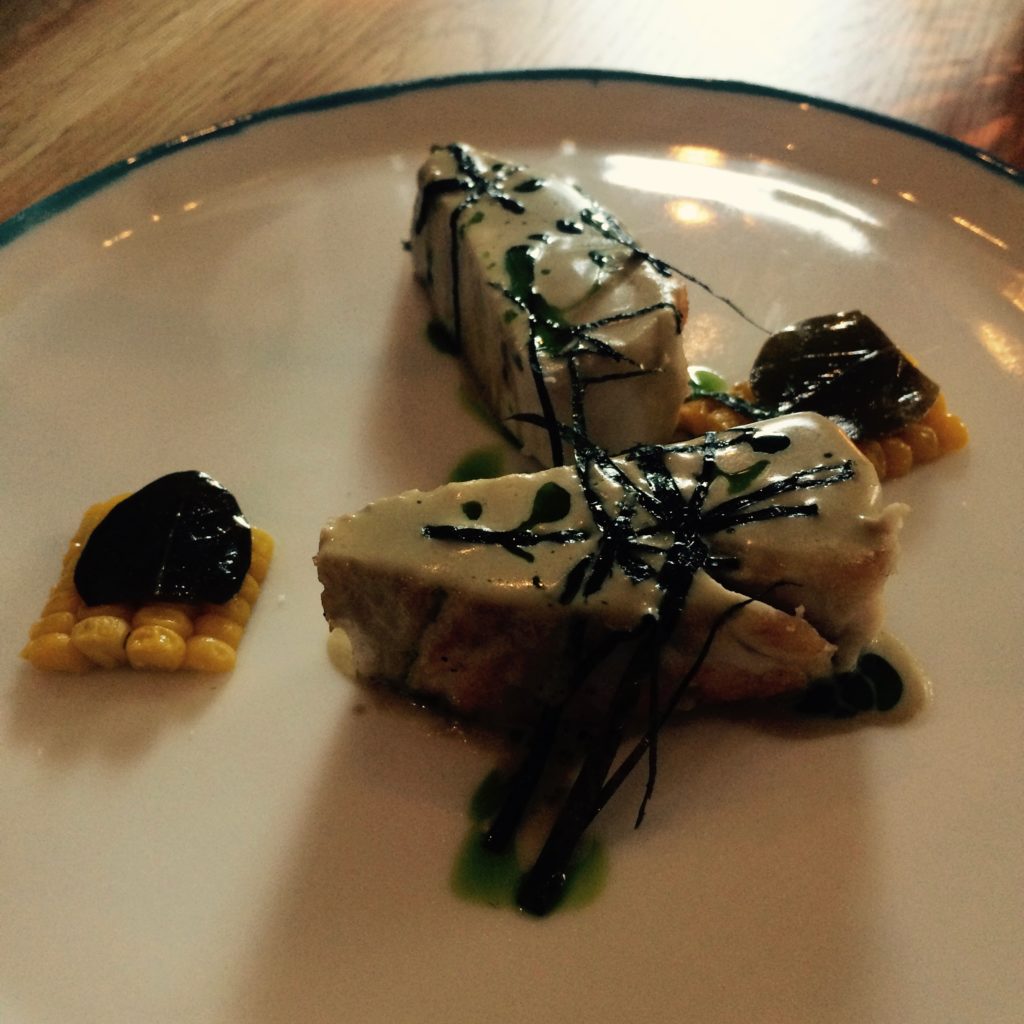 The organic veal rump with wattle seed, spring onions, and red cabbage was perfectly done. The roasted onion was so packed with flavour.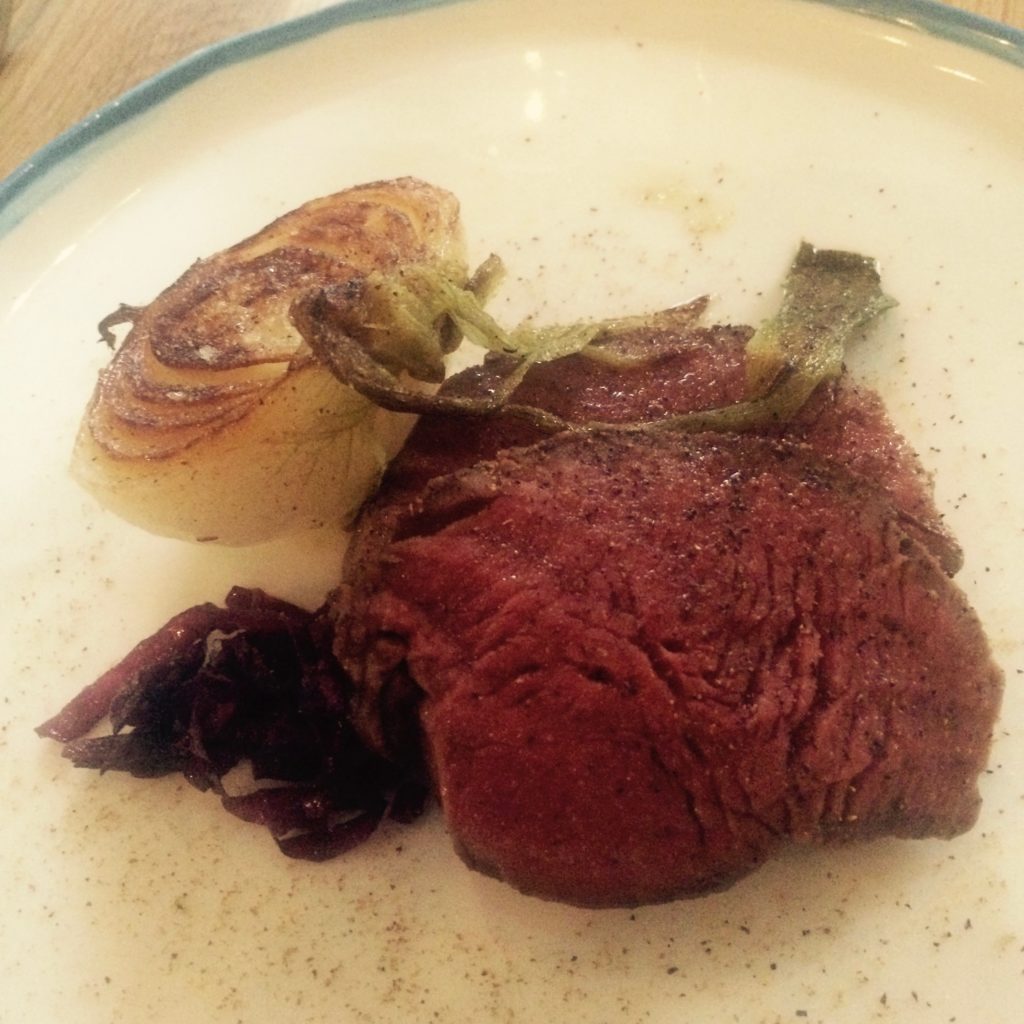 For dessert, poached cherries, white chocolate, mascarpone and cocoa nibs. Again, a very nice interplay of textures.
We did the matching wines and had a great little tour of Italy, through the various matches (all excellent). All in all, I thought it was a very nice meal. I wonder how it will do in Surry Hills's tough market. People do have money here… but seem to be favouring more casual dining at the moment. I'm not sure if regular evenings feel as formal as this one did; I suspect it might, the ghost of Marque hovering around with an exacting eye (and palate). I'd say you should be able to get a feel of the place from the photos and this review: if you think you might like it, I'd say give it a try!