A new chef and some creative daily specials make this a worthwhile place to check out.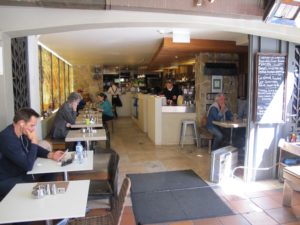 How King's Cross and Bayswater Road have changed. It used to be a little buzz of activity, between Bayswater Fitness and Hugo's Lounge, Bar and Pizzeria, and other cool restaurants nearby. I've read about the woes of those in the area, and I know a number of restaurants have had to shut down. So, it was interesting to check out Uliveto, who've got the entire ground level alcove, underneath an apartment block (and the former site of Hugo's).
Apparently, Uliveto has been around for ages, and I see from some reviews on the net that it had a good reputation for pastries and latte art! But there's a new chef in town… Daff's taken over and is putting his own mark on the place.
And it's very much worth checking out. The atmosphere is classic inner Sydney, lots of outdoors seating and potted palms, and on a sunny Tuesday at lunchtime, when we were there, there could be not much nicer a venue, combining the buzz of the Eastern Suburbs (and a parade of gym-fit men and women walking by) with a tropical, relaxed feel. It was far enough away from the Cross to feel its energy (including through the posters for the nighttime activity in the venue…) but not be in the thick of it ('cause I really don't like the thick of the Cross). It's not that there's a view, or you're by the ocean, and you are below a big apartment building, but for some reason, I found the vibe very nice. It just seems very inner city Sydney.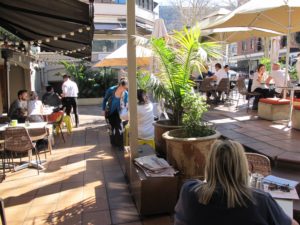 Truthfully, the menu looked very typical. While I was impressed with the prices (a good few dollars cheaper per main than some of the pricy cafes in Surry Hills), the offerings looked pretty safe. But then I noticed the special's board, and had a hard time deciding between the blue swimmer crab eggs benedict and what I chose: fresh corn bread with poached eggs and avocado. But even what was on the menu was absolutely fine.
My lunch companion said that it's not so easy to get a Smoked Salmon Salad right, so it took us a little while to try to figure out: why did it taste so good? Maybe the bits of roe? Or the perfectly light dressing. Whatever, the combo of textures and flavours was pretty much perfect.
As was the case for my dish, with eggs, crisp bacon, and yum: corn bread. Did I mention corn bread?
Service was top-notch and we had a nice chat with the chef too. And we drank some wine. At lunch. Because we could.
All in all, great food, lovely atmosphere, top-notch service. I'll be back. Try it out – and order from that special's board!
Uliveto shouted me for my meal (thanks Uliveto!) but the opinions expressed in this review are mine.