While it seems like they have two of these restaurants already in Sydney, in Kingsford and Eastwood, the branch we went to on Dixon Street in Chinatown, at the very north end, seems like it must be new, as there is no information about it anywhere on the internet.
But it didn't look new: it was all nicely decorated, fully staffed and was full of customers when we went there on New Year's Day for dinner. Yet no listing or mention of it on Zomato, Facebook or a Google Search.
That's not the only mystery. If you come to this restaurant, and it's certainly worth a try, you need an adventurous spirit, or some experience on how to order the food. I think it serves hotpots with soups that you can cook meat and vegetables in it, but I'm not sure. We ordered from the iPad menu, which had English names of dishes but the navigation was all in Chinese (which I don't read or speak).
We were happy that they had an inexpensive but tasty bottle of white wine, though the looks of confusion were strong, as if we may have been the first ones to ever order a bottle of white wine in the restaurant. To get it first, to start with, we had to get the waitress to authorize it as a separate order on the iPad, before I got down to business and chose the food.
I basically recognised the dishes from other restaurants and experiences, and it was an interesting mix. The shredded potatoes were delicious, as was the spinach with peanuts and chili.
I liked their dumplings a lot, somewhat crude looking (say, compared to Cantonese yum cha) but delicious.
I like a chinese steamed egg custard, savoury, though this wasn't delicate like the version at Ho Jiak, and in fact was a bit too plain.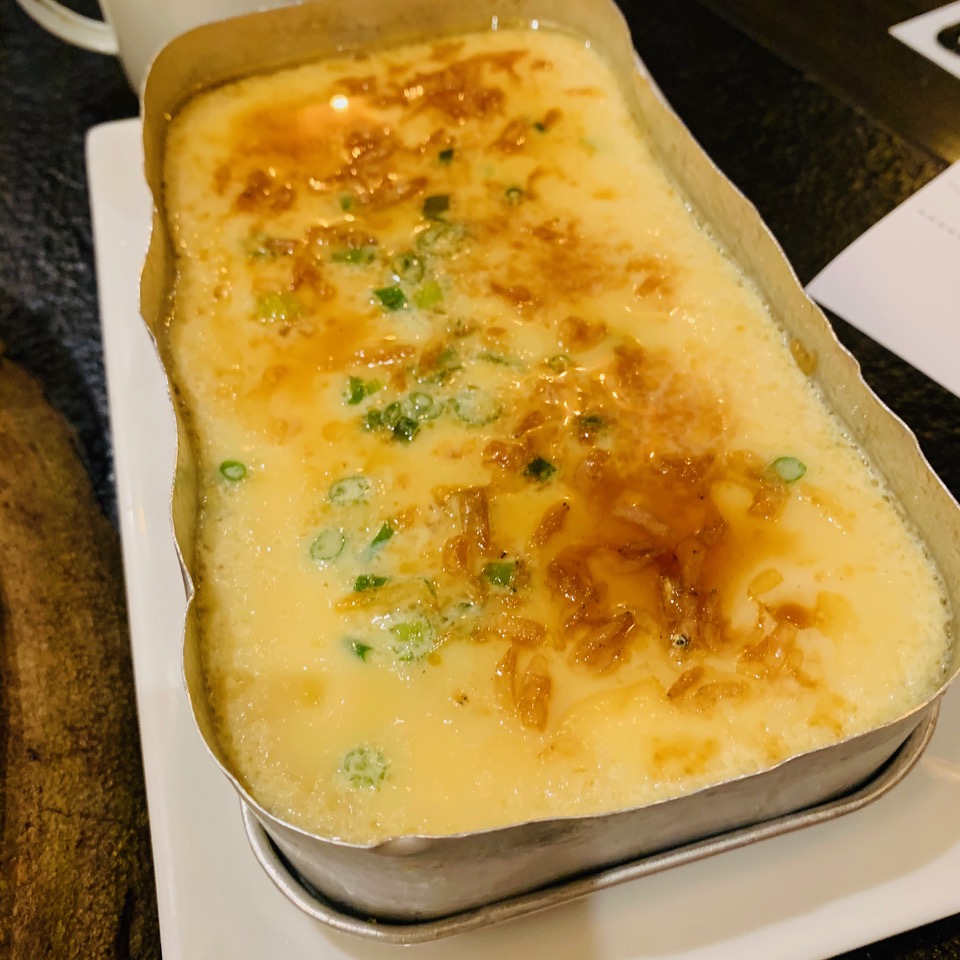 The ribbon fish was tasty but the boniest fish I've ever experienced. Since it was the only fish on the menu (offered in two ways), this was a disappointment as we had a pescatarian with us that night. It was really too bony to bother with (though I made it into a congee the next day).
One of my friends made an analogy with the salt and pepper mushrooms that they were bland and nothing special, like Australian Prime Minister, Scott Morrison, but I disagreed as I thought his analogy indicated that the mushrooms (and Prime Minister) were palatable, and while I thought the mushrooms were OK (better with the salt and pepper mixture on the side) and a bit bland, I think there is nothing palatable about Scott Morrison.
In other news, I ordered too much. Nothing new there. But Paul said he was glad, as we got to taste a wider variety of dishes (and I took home the leftovers). All in all, it was an enjoyable night. We appreciated the interesting flavours and food, the inexpensive wine, and loved the decor and vibe. I'd definitely recommend it as an unusual place to try.
(After more than a month, there is still no trace of this restaurant on the internet. But we ate there, I swear it! I'm going to try to create a Zomato listing for them anyways. I think it's either replaced or is next to the Kiroran Silk Road Uygar Restaurant at Shop 3, 6 Dixon Street).