All hits, no misses at this new modern Korean restaurant in Surry Hills

I read about Soul Dining in Urban Village and was surprised I'd missed it. It's been open 8 months already, though our host, Kim, explained to us that with the construction on the light rail meant business was dead for the first 3 or 4 months. But that's one of the things I was impressed with, on a Friday night: I may have managed to get a reservation easily but the restaurant was packed, and had a buzzy feel about it.

I knew it would be good as soon as I came in. Why? Food blogger extraordinaire ChocolateSuze was at the table next to us. She always knows where the best food in town is. While her table had all three of the truffle specials, we decided to go for the tasting menu. At $65 a head, it's good value and I like tasting menus to let chefs show off their stuff!

We had two rather delicious cocktails to start things off: mine had amaro, shochu and prosecco! Very refreshing. To whet the appetite, a little toasted rice cake with butter. I like anything with rice flour, this was like toast and mochi combined; husband thought it tasted a bit like uncooked bread dough.

It was a nice change from the ubiquitous kingfish carpaccio to have some substantial but not indelicate slices of kingfish in kimchi water, which gave it the fermented Korean tang. With white kimchi, avocado and soy paste, and a slice of chili, this was pretty much perfect.

The curly corn with creme fraiche, garlic butter and pistachio was our favourite of the night. It's unbelievable, super crisp kernels and matched with the garnishings and eating off of a curly quarter of a cob … well: you have to try it.

Japanese eggplant with tomato jam, anchovy paste and delicate shavings of parmesan was lovely. Husband's was a bit chewy, mine was light and soft. We liked it.

Prawn dumplings with a salady mixture on top, and a spicy dressing, looked like it could be plain: but the dumplings were deep fried and that textural crunch matched with the salad was perfection.
At the top of the page is the next dish: tender octopus with grilled brussel sprouts, a squid ink sauce, thick and luxurious, surrounded by a spicy sweet chili sauce, and a dollop of mayonnaise. Really loved this dish too.

We switched out the beef tartare (husband doesn't like tartare) for a spicy pork jaffle with a sweet tomato jam. Scrumptious.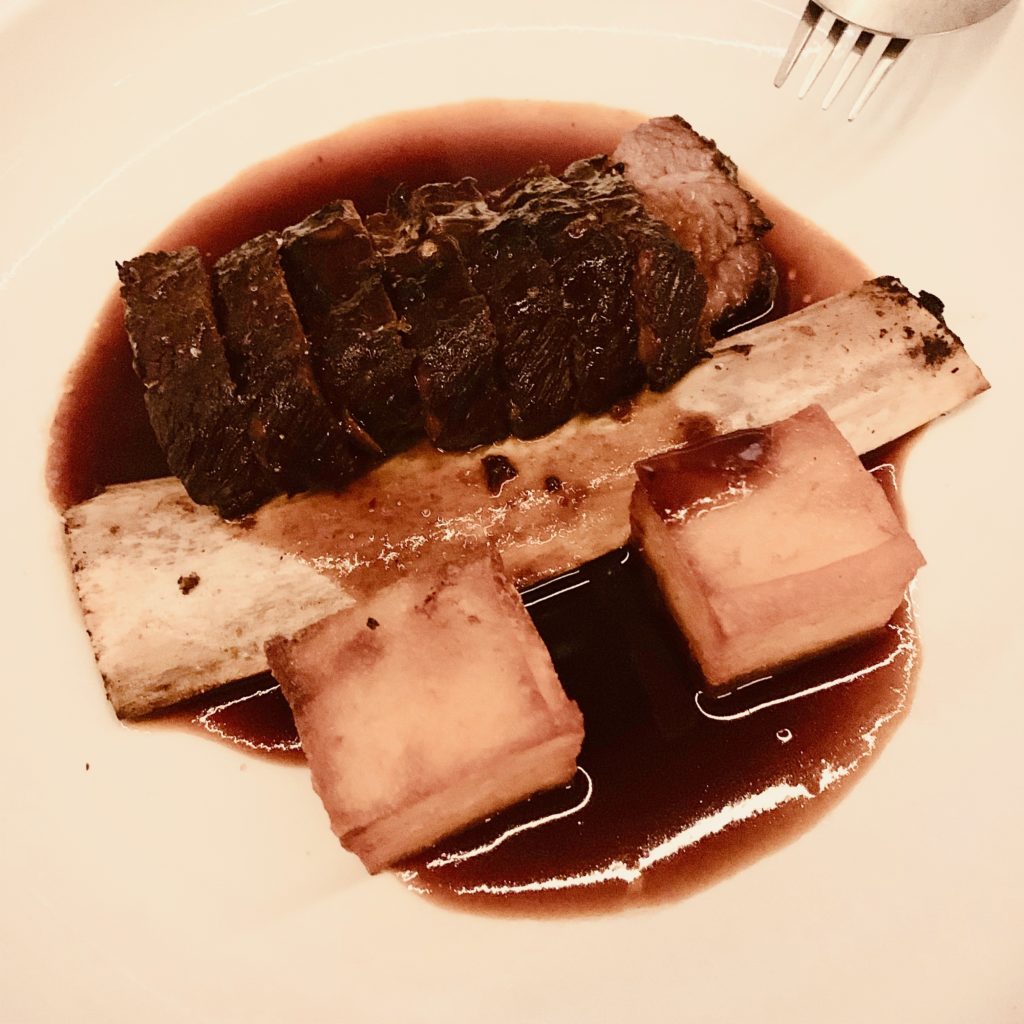 Possibly my other favourite dish of the night was a Korean beef rib, presented in the most beautiful way, off the bone and with perfect squares of potato alongside. The jus was amazing: you can see how it's shining here. The meat was super tender but still had a great texture to hold it together. Yum!

Love the design of the place by the way. Should have taken a photo of the large circular lighting fixture overhead: stylish, slightly futuristic but not in an alienating sort of way. Clubbing music at low volume. Exposed walls, with some cavities showing. A long banquette sofa in plush blue (a bit too low husband said but he thought it was so beautiful). Even the bathroom is beautiful.
We finished with a pannacotta and breakfast cereal. Hmm. I liked it. Slightly overfull in the end, but very, very happy: dinner for two, with two cocktails and two glasses of wine, just over $200, without a tip. What with the amazing Malaysian food at Ho Jiak in Chinatown, and we just had an amazing Japanese meal at Gogyo the other day, it feels like modern Asian food, refined but not stuffy, fine dining, is having a moment. I'm all for it!