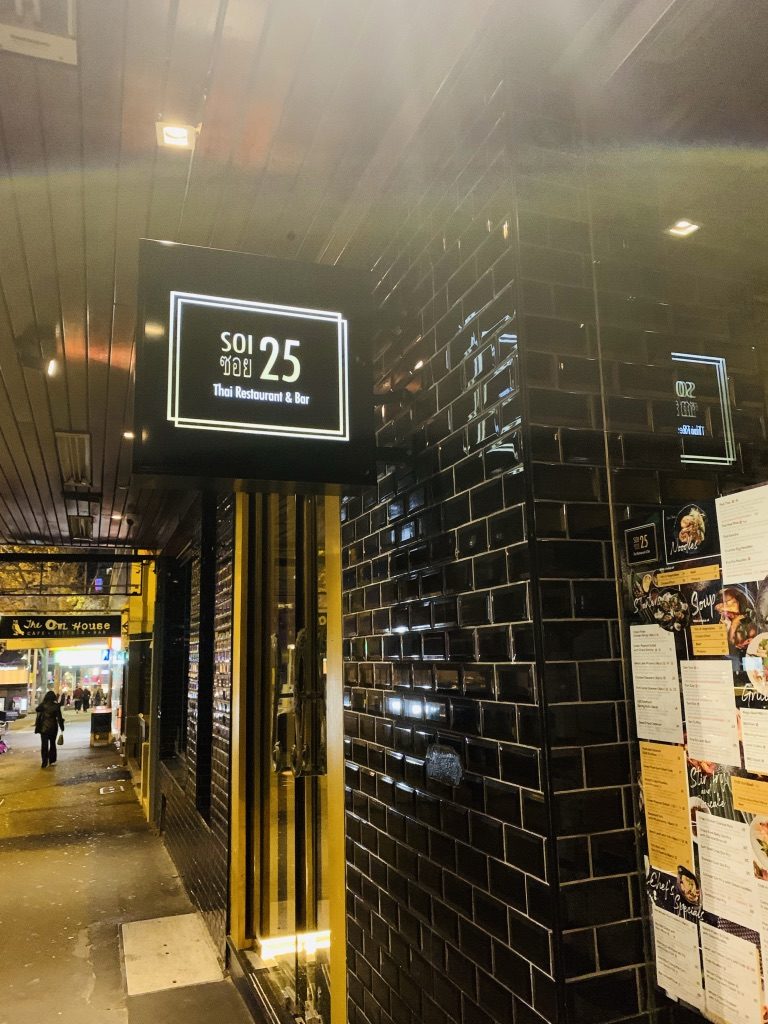 This to me seems a high form of bravery. Soi 25, a new Thai restaurant in Darlinghurst, has taken over the space of the old Darlinghurst branch of Spice I Am. I don't know why Spice I Am closed up there, but considering it is one of the most lauded of Thai restaurants in Sydney, Soi 25 has some rather large boots to fill.
Actually, here's a wonderful article on SBS about Australia's love affair with Thai food. It seems that chef Sujet Saenkham might just be aiming for a quieter life. Running a restaurant is difficult!
So, we'll see how Soi 25 does. For a casual catch-up with a friend, John, it was great. Impressive gold walls, the staff trying hard to please. We liked all the dishes though the most impressive one, a soft pork bone rib in Chiang Mai curry with a tomato and pork mince dip, I somehow managed to not get a photo of.
The betel leaf prawns were particularly yummy, as were the grilled lamb cutlets. They serve sticky rice (which I love…). We also had deep fried calamari AND crispy fried chicken wings.
I also had the cocktail of the house, a slightly blue concoction which was pleasant enough (cocktail prices are a bit cheaper than in Surry Hills). Three appetizers and two mains were a bit too much to eat, in the end. I was overfilled!