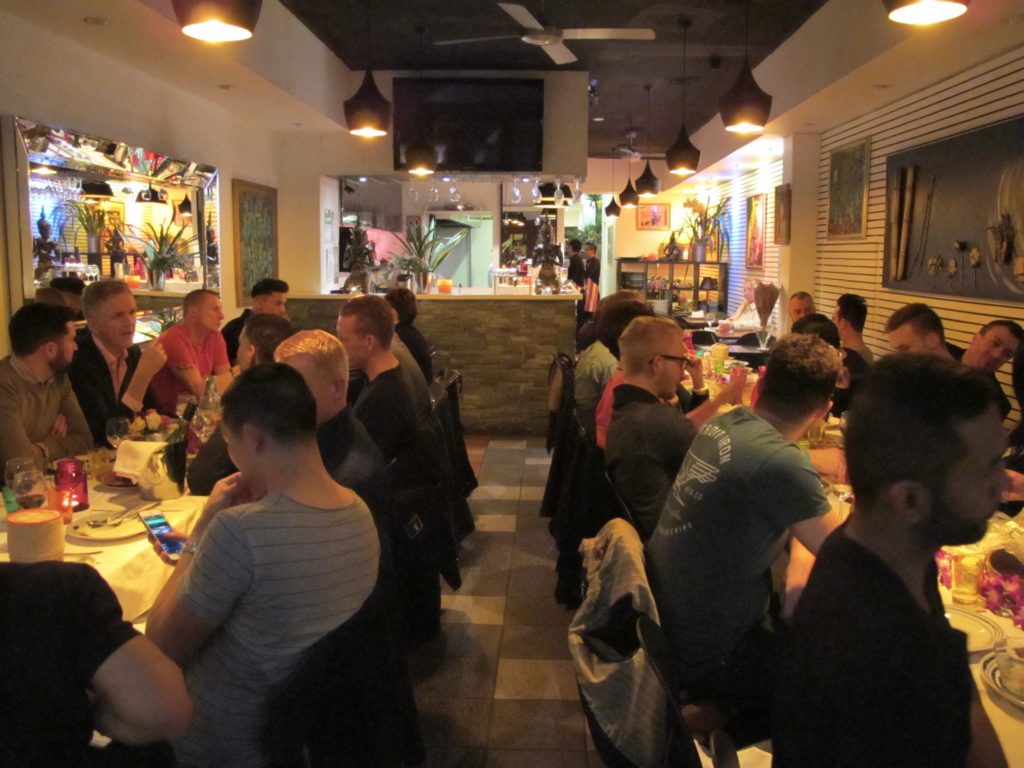 Hurrah! Lao food comes to the Eastern Suburbs. It's a must try for foodies in search of new flavours.
On frequent work trips to Bangkok, I managed to go to a few restaurants that specialise in Lao food. There are certainly similarities to Thai food, but there are various differences. The Thai journalists sitting next to me, at this special launch of the Lao food menu, told me that Lao food is less spicy than Thai food.
Sticky rice is a staple: this is a favourite of mine, and it's not so easy to find in Sydney Thai restaurants. Larb, above, is another speciality, mince meat (in this case beef) with chili, ground rice, and herbs.
A dish of fresh vegetables with spicy dips is a staple, as are spicy and sour soups, papaya salads, and the use of beautiful fresh herbs.
I'm excited that Lao food has come to Darlinghurst, as I think one has to travel rather far out of the centre of Sydney to find it.
On Monday night, my better half and I were treated to a banquet of dishes and flavours. A few of the dishes will be unfamiliar to the Western palate but I encourage you to be adventuresome.
A slender piece of beef jerky contrasted in texture with some fresh papaya salad and green beans. Below, a delicious crispy rice salad in a lettuce leaf, Nam Kao, was a subtle, sticky version of the Chinese lettuce wrap.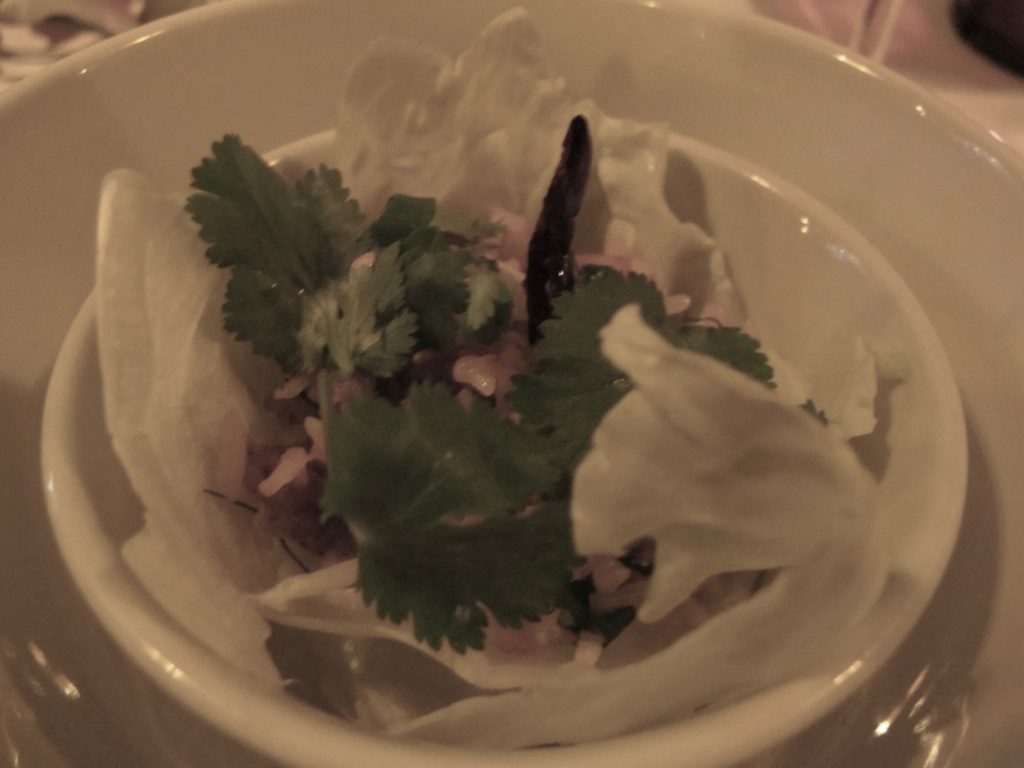 I loved the grilled beef tongue, slightly springy, and with the taste of the grill. The sticky pork belly, Moo Sam, was a highlight (below). I also really love sausages from Laos and Northern Thailand, tasty and slightly sour, with an interesting texture. 

I think this one was bamboo shoots, a little bite of vegetarian goodness.  
  The Hor Mak Gai will seem familiar for some from Thai restaurants, the glossy, rich sauce on perfectly tender chicken (cooked in a banana leaf) is pretty special indeed.
I'm not sure whether this will be a usual serving size of dessert, but since the restaurant is situated in the heart of gay Sydney, this is the right size of dessert for gay gym bunnies
I'll definitely be coming back. I'm curious to know whether they'll continue to offer this tasting menu, or whether you can order your favourite dishes in larger sizes. For some of the dishes, I really wanted a bigger plate to savour those flavours and textures.
It will be interesting to see how they do, and I hope they do well. There's a bit of a tricky balance required I think. Sydneysiders really do love an authenticity of flavour; it's what has propelled Thai restaurants like Spice I Am, Home and House to great success and crazy crowds.
And yet Oxford Street restaurants can seem conservative, trying to appeal to a lot of different people. I think the Thai journalists next to me at the dinner wanted flavours a little more spicy and a little more pungent. But some of the Sydney boys didn't know what to do with the beef tongue (eat it, boys) or the biteful of salad that had some chicken feet in it (one could barely tell it was there).
It looks like the restaurant will be offering more traditional Thai food, along with the Lao specialties, so hopefully, there will be enough to please everyone, so they don't have had to smooth away the interesting edges for those more used to neighbourhood Thai restaurants.
But I do hope Sydney foodies will be lining up outside their door to try some Laotian delights.