Did Priscillas really go there? Why, yes, they did.
The photo above is from their Rood Food menu, a roasted carrot with two zucchini herb balls with a creamy sauce, and let's not get into interpreting what the rest of it was. Except to say: it was delicious. This menu was only on as a 'pop-up menu' on Mondays and Wednesdays for a month from 10 September to 10 October and also featured pannacotta breasts and other genitalia-inspired desserts and mains (and were accompanied by kinky cocktails).
We'd actually hoped to get into the new upstairs restaurant ('Imperial Up') at the Imperial Hotel, long-standing landmark of Sydney's gay history, home of the famous Priscilla drag show. But this Sunday night on a Labour Day Weekend, it was all filled up, so we made do with their downstairs restaurant, Priscillas.
I hadn't been there since the remodel and they've done such a good job. Opened the place up and made it more modern, but it was packed and pumping, with drag queens, show and happy patrons. We ordered cocktails to start: not bad but not the thing to do when the bar is so busy (it took forever and I think the bartender cut her finger making the final garnish).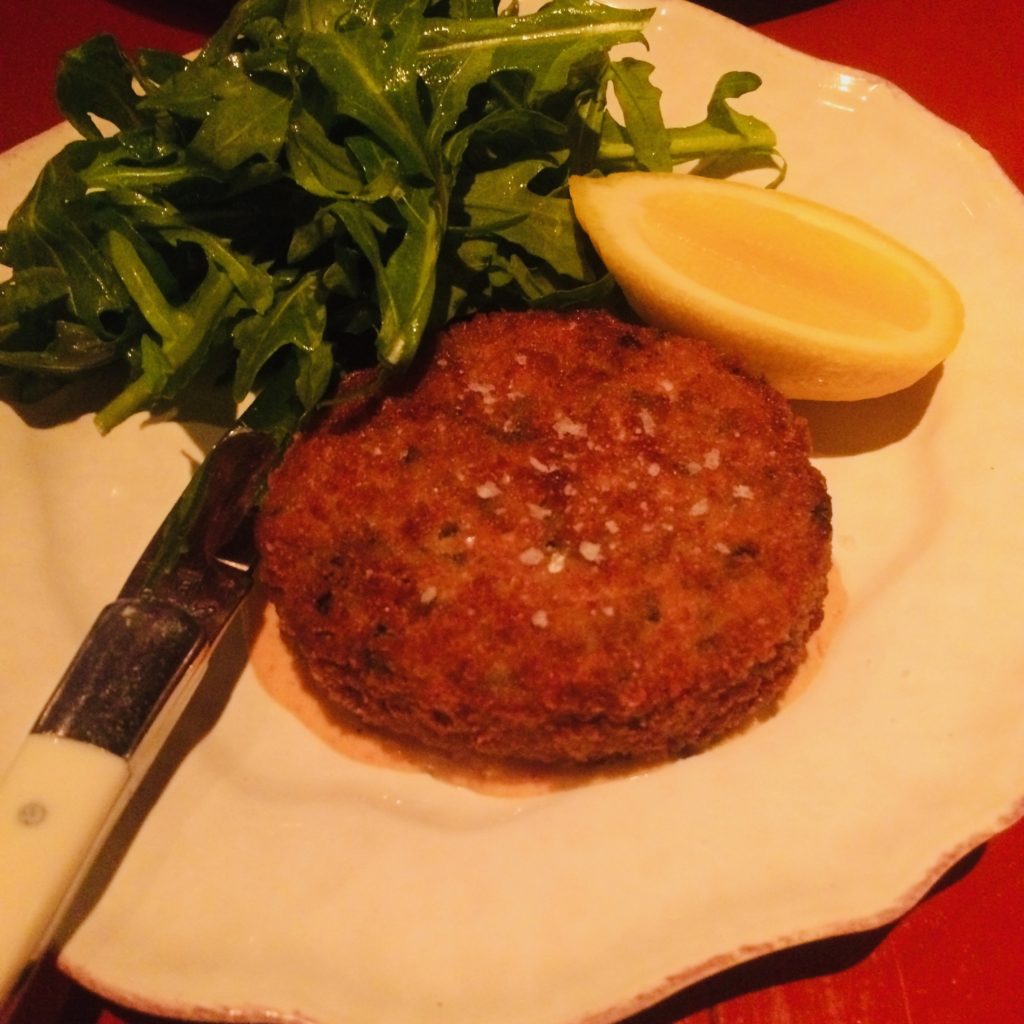 But we were immediately impressed by an excellent gesture of customer service. As we'd have to wait an extra 5 minutes or so for our table, the host said she'd shout us a first round of drinks. Wow. Who does that? I think it's a great idea. It puts customers in a good mood right away and inclined to like the place. Our waitress was hilarious and freely shared her recommendations of favourite dishes and cocktails. As my dining companion is vegetarian, we opted for an all-vegetable menu and it was impressive that they offered such a variety.
An eggplant cutlet, a sort of faux-fishcake made out of jackfruit, the afore-mentioned genitalia dish. To be truthful, we found the food good but not fantastic, but the atmosphere, overall vibe and service, well, that was fantastic. And afterwards, wandering upstairs and seeing the menu at the supposedly fancier option (seemed simply more of a focus on Italian food, but not that upscale), we were glad to have eaten downstairs. If you're in the neighbourhood, or even if you're not: recommended for a fun night out.