If you've stumbled across my post on Muum Maam in Surry Hills, you'd know that I think it's one of the best Thai restaurants in Sydney, though unsung. It doesn't get the same attention as a number of other Thai restaurants, but should. Their new location in Barangaroo should help this, as it brings Surry Hills's favourite dishes and adds some new ones, and hopefully will reach a whole new clientele.
I have to admit that I haven't explored Barangaroo at all, so didn't know where the new restaurant precinct was. It's just north of King Street Wharf and south of the new park. Everything is so shiny and tall, the area feels like an Asian city like Singapore or Hong Kong. Around the restaurants, there was a good buzz, and it seems like people are discovering the area, but will enough people come here to support all of these restaurants?
In any case, if you're in the area, do go to Muum Maam. We couldn't go by the mouthfuls of betel leaf, with smoked trout and tamarind and lime and more. Always a favourite. But I hadn't tried the Barramundi spring rolls, and these were beautiful, light and elegant.
These duck spring pancakes though were our favourite of the entrees; a perfect combo of textures, note there are two layers, a delicate wrapping, a thin fried pancake, and inside fresh herbs and bean sprouts and tender duck.
For mains, a yellow curry with crispy noodles and beef cheeks; and a banana blossom salad, and a new dish, twice cooked pork. As you could expect: very rich, but not too rich to devour.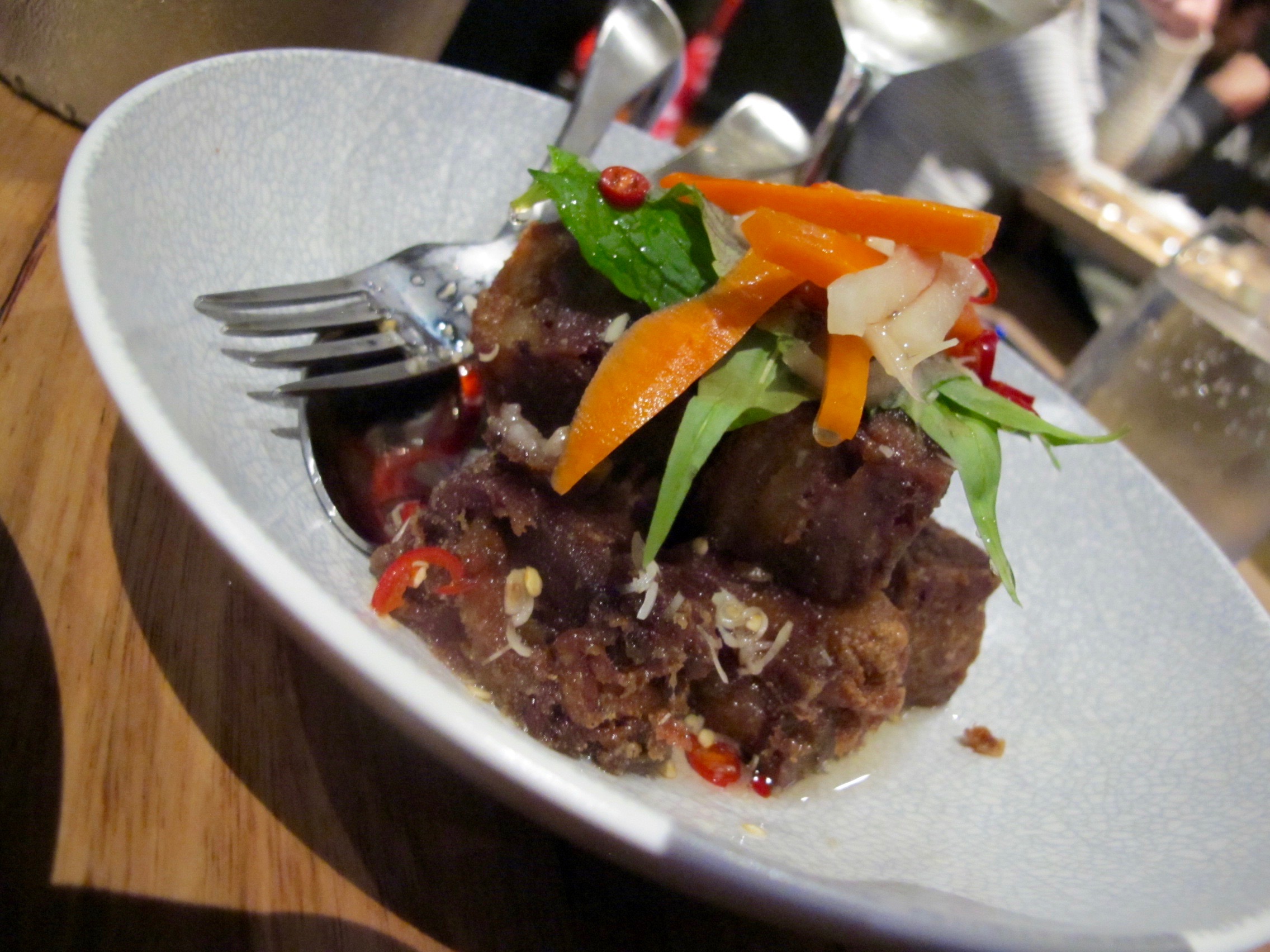 And then to finish, a dessert we've never tried: monkey balls. Pandan and coconut gelato with caramelised cashews, and rolled in toasted coconut and I think maybe more nuts. It was a really beautiful combination, very Asian flavours, the roasted and caramelised notes were almost savoury against the light flavours of the gelato. Really beautiful.
It was opening night, so we were able to BYO (but from now on, they're licensed and will have a full selection of alcohol).
This really was a sensational meal, with great service, and I wish them all the best.
(As a customer over a number of years, we were invited to their opening, and treated to this meal. The opinion is mine, however, and I can't honestly think of anything negative that a complimentary meal would make me gloss over!)