Exciting new Moorish-inspired restaurant in the CBD.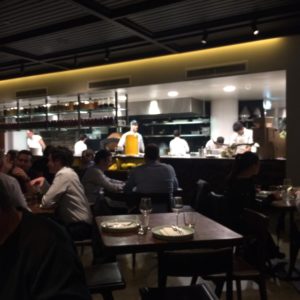 It's hard to keep up with all the new restaurants in Sydney, so when we couldn't get into Hubert (not even close, apparently you have to be super early or late with their no reservations policy), my pal R said there's another restaurant he's wanted to try. I made an online reservation instantaneously. We walked over, with time for a beer at Frankie's Pizza along the way.
I love the inventiveness that fuel's the food scene here: drawing inspiration from Moorish Spain sounds good to me! It captures the trends to Spanish cooking in the last years, but adds a new element. The thing is: they match superb food with superb service.
Using a phrase he's obviously used before, R. asked Michelle, our waiter, what she'd order if this was her only meal here. She rattled off some suggestions, and we said: Bring us that. Plus: they matched the courses (a perfect, modest but filling amount) with delicious wine. Our first course, an amuse-bouche really, was marinated yellow fin tuna, piparras peppers, olives. Perfectly balanced. Oh, those olives were high quality and tasty. The peppers were perfect. And a yummy bit of almost raw tuna.
And what to mention? The potato sauerkraut & smoked manchego gratin, the turkish ravioli of pumpkin, yogurt & burnt butter, or the smoked Wagyu tongue in brioche with pickled green tomato (basically an upmarket toastie!)?
The food was rich, delicious and memorable. We loved that Michelle shared her expert knowledge with us, and well: we loved it.