I was blown away by this place. I always like flavours that surprise me and aren't what I'm used to, and in my limited experience of Sri Lankan food, there's a depth and complexity, and a hit of spice, which I find delightful.
I'd heard recommendations but hadn't made my way to the Lankan Filling Station in Darlinghurst. We arrived a little after 7pm on a Tuesday and it was packed; we had to wait another half an hour to get in. Then, it's a crowded little place with tiny tables, and I wasn't sure of what to make of the menu: like a yum cha place where you tick off the orders on your own.
But we got into the groove of things. The Beef Pan Rolls could have been not so pleasant in someone else's hands. Plain flour crepes stuffed with ground beef, and then fried. But it was perfectly crispy, contrasting with the soft inside. The spices were great, as was a bright red dipping sauce.
We also had crab cakes, four of them and I thought they were pretty tasty at the time, though looking back, I would agree with MissDissent that they didn't taste very crabby.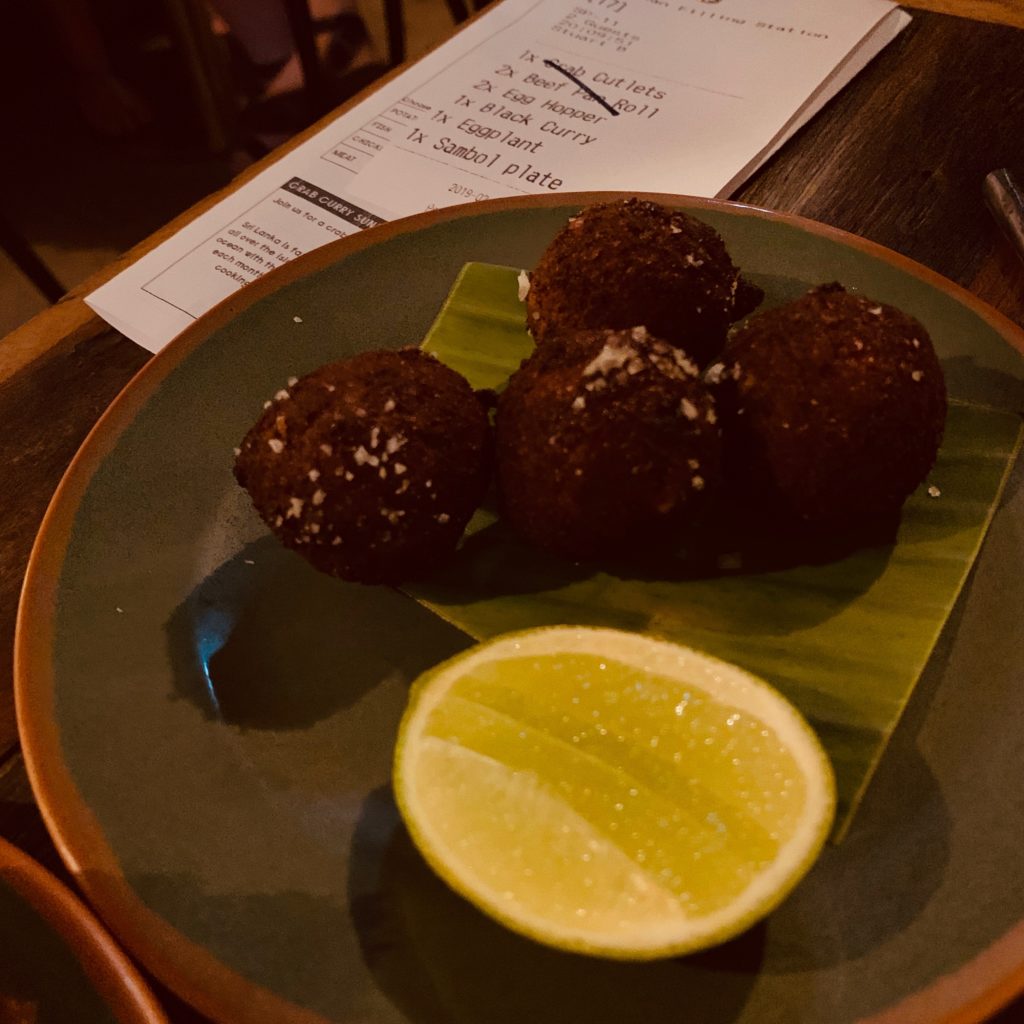 I find hoppers, either the crisp pancake kind, or the ones made out of rice noodles, a very tasty creation. We had ours with an egg in the centre, which I liked. But what really excites me are the sambals: with grated coconut and spices and pickles: I should pay more attention. But they're really good mixed and matched with various bites (photo at the top!)
Goat curry is one of my favourites: such a strong flavour. The issue is that it usually is so full of bones that it's hard to get at any meat. So, a boneless curry in an intense black curry, made of clove, cinnamon, cardoman and coriander seeds, charred and ground: heaven.
Likewise the eggplant, with shiny fried curry leaves, a hit of sour in there somewhere to go with the spice. It's got both tamarind in it and tomatoes. I loved this dish.
Between the two of us, there was slightly too much food, so I took a takeaway home and had a delicious lunch the next day. At the time, I washed the food down with a glass of the rosé on tap. All in all, a lovely experience at a buzzy, contemporary eatery; I will definitely be back to try more dishes.
And here, the day after I post this review, a rave review appears in the New York Times. Congratulations, Lankan Filling Station (and its semi-famous chef, O). Well-deserved. Now it will be even harder to get a seat!