I'm glad to see on Zomato how highly diners have rated Kobe Wagyu, up on the first floor across from World Square, at the edge of Chinatown. For that was my feeling too: this was great food and a great dining experience.
And it was a bit of a historical meal for us too, as it was the last place we went to before restaurants got shut down (except for takeaway service) because of the COVID-19 pandemic. So, if humanity is doomed, it was great to have this as our last restaurant meal.
Head up the stairs and be impressed by the fridge full of wagyu beef. In fact, I was at a Japanese restaurant in the same location maybe … ten years ago?
Anyways, here at Kobe Wagyu BBQ, It's a fun and easy concept. For $84, you get a beautiful deluxe plate of sashimi …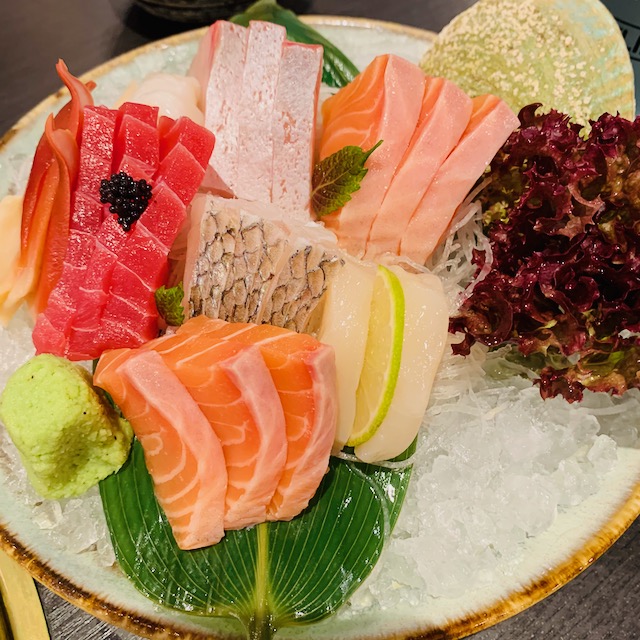 You can also get free beer (one bottle each), free oysters (one each) …
… and then order small side dishes to your heart's content (more on that below).
And you get a staircase of meat. I wasn't careful enough to try to write down the different cuts and names of the beef (though having access to the menu might have helped) but there was an amazing variation …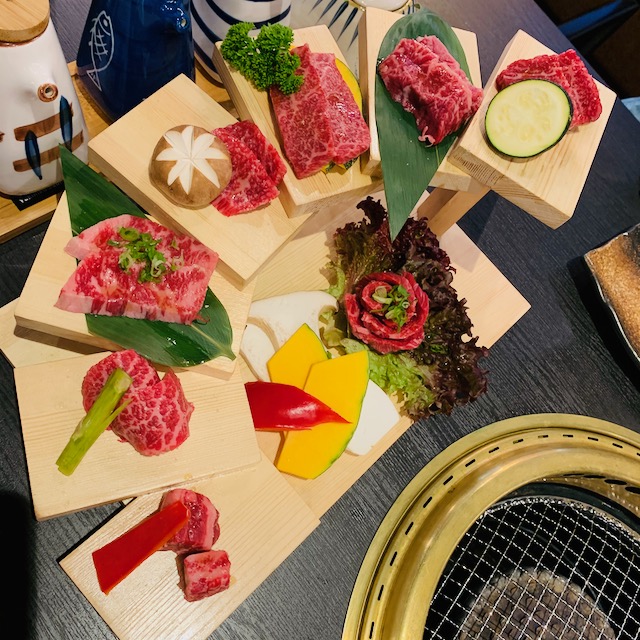 … in how much fat there was, how thin or thick the slice was, and then the different texture and mouth-feel with each bite. It was really amazing, and you can tell this is high-quality, expensive meat.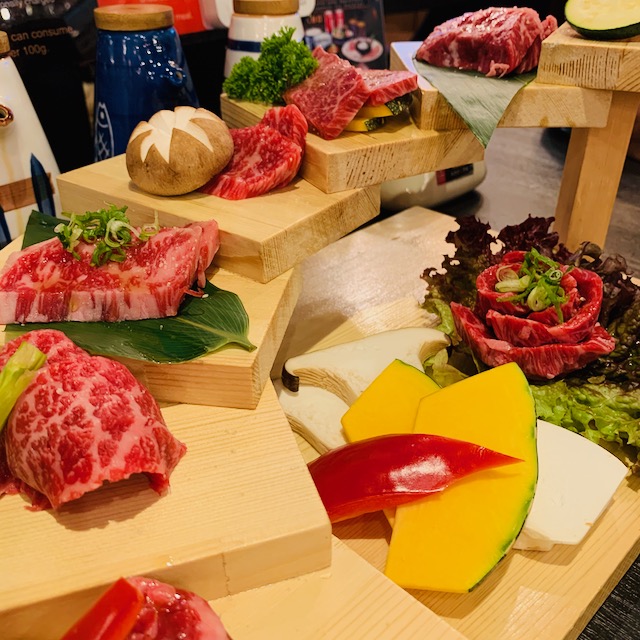 And with a biteful of each type, you can really savour and appreciate them. I think there was only one out of the eight varieties that I thought was average. Mostly, we looked at each other after tasting a piece and said: OHMYGOD.
The setting is fun and comfortable. Perhaps a little too bright. But the booths are comfortable and they were spaced so that everyone was sitting a comfortable distance apart (all the staff were wearing masks, there was hand sanitizer at the entrance when you came in. It was clear they were doing everything they could to make it a safe and comfortable experience).
And the ordering pad is fun. Easy to understand and the orders come in minutes!
We ordered quite a few little plates: a cold tofu, takoyaki (octopus balls), crab claws (which tastes surprisingly of crab rather than the artificial seafood filler I expected) …
… a seaweed salad, asparagus, and burdock fries (chewy and interesting). We even had a frozen matcha tiramisu for dessert, which was fine. Nothing special but I like the concept.
All in all a wonderful evening and I would definitely go back. And I hope in these tough times for restaurant that Kobe Wagyu, and all of the other wonderful restaurants in Sydney, will also be back to normal business as soon as we can all be safe.