I'd heard very good things about Kid Kyoto, and you know, folks weren't lyin'. We went for a special mid-week meal, an Entertainment Book meal with matching wines from St Hugo and Perrier-Jouët champagne.
I quite like these meals, which seem to allow chefs to show off a bit, with great grog alongside it. I prefer when they're not group tables, which they often are, and while the tables were a little close together, we were happy we had our own.
We snuck in a sneaky cocktail beforehand, my martini was fusioned with sake. Both were refreshing.
Before the first course, a little plate of deep-fried lotus chips and pickled beets. A nice amuse-bouche.
I adored the first course: 'sticky corn ribs, chipotle miso jam, rice puffs, togarashi' matched with Barose, a Barrossa Valley Rose (which was super light, so light it was almost as if you weren't drinking it at all…). I've never had corn like this, quartered perfectly so you could chew on the perfectly cooked kernels, as if on a rib, smothered in an umami dressing. Tasty and surprising.
The smoking salmon dramatically arrived with a glass cover, which removed, released a cloud of smoke. Perfect pieces of salmon in umeshu jelly with whipped avocado and pink grapefruit. The only thing is… with this beautiful jelly and broth: we couldn't get at any of it with just our chopsticks, and had lost our desire for it by the time the waiter came by when we could have requested a spoon. Still, a nice dish. It was matched with a St Hugo Barossa Grenache Shiraz Mataro which coated the inside of my mouth so entirely, I thought it tasted cubic (and that's a not bad thing).
A surprise course. Who doesn't love a surprise? Hidden underneath some greens were two perfect cubes of pork. Yum.
And can I digress to say that I loved the style and feel of the place. Concrete and neon and wood.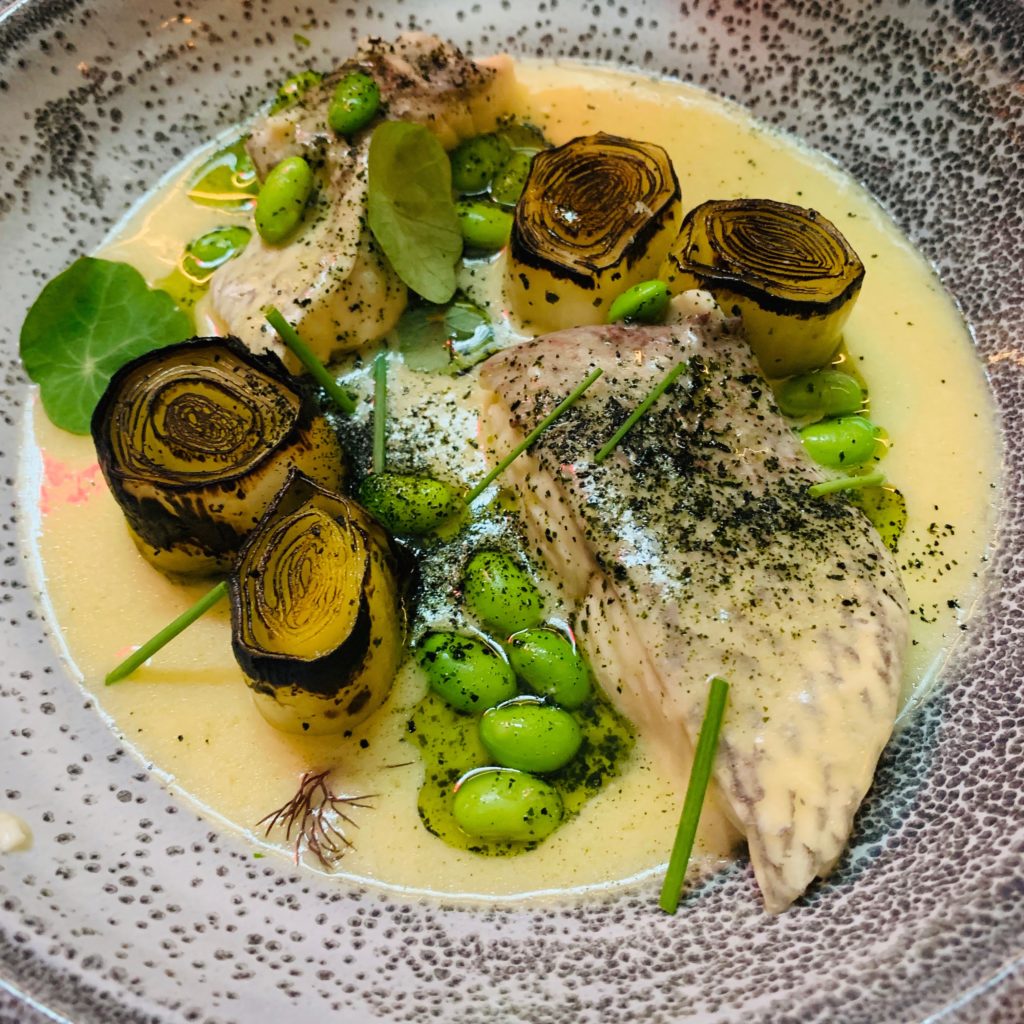 The main was as delicious as it looks: poached snapper, yuzu fish broth, torched leeks and broad beans. Loved those charred leeks. It was matched with a St Hugo Eden Valley Chardonnay, which had a bit of body, yet some acid to cut through the cream and oil.
To finish, with a glass of Grand Brut champagne, was smooth white chocolate, matcha, and jelly. It was pretty much perfection.
All in all: an awesome and memorable meal. I'll be back!