I love trying food that is new to me! So I'm glad we decided to try IIKO Mazesoba, among so many restaurants in the city's new Darling Square district. An explanation of mazesoba seems not so easy though.
First, it seems, came the Szechuan dish, Dan Dan noodles, thin noodles in savoury and spicy sauce topped with pork mince and peanut sauce.
Then, the Japanese adapted it, using their own ramen noodles and adding a spicy broth. This became known as Tantanmen ramen.
In the 1970s, in Nagoya, Japan, a Taiwanese chef created his own version of the ramen. According to Jackson Lee, writing for Taiken Japan, the innovation was that 'the soup turned into a simple shoyu chicken broth' and 'the focus of the toppings was a mixture of pork, garlic and nira [garlic chives].' I learned on one of my trips to Japan that every area of Japan seems to have its own special way of making ramen with different types of broth and noodles. Taiwan Ramen, unknown in Taiwan but named for the chef, has become popular throughout Central Japan, particularly in Nagoya.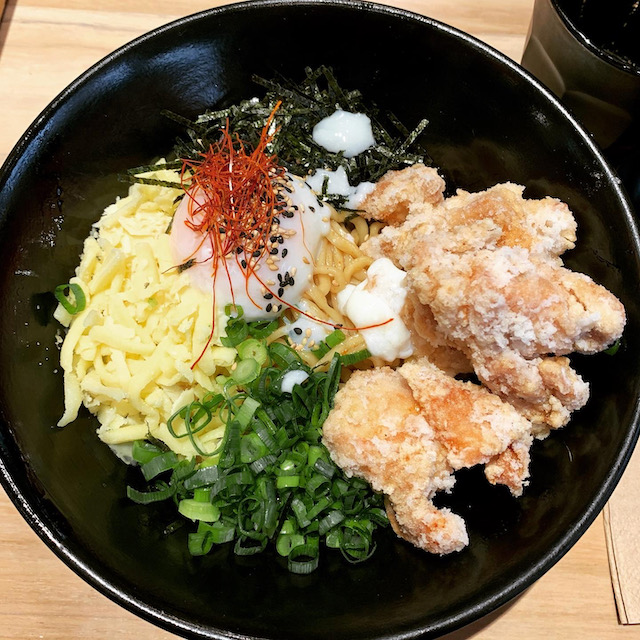 Wikipedia has the simplest and clearest explanation of the invention of mazesoba, although it's not well-referenced! It was apparently invented in 2008 when a chef had cooked the meat for the Taiwan Ramen, but for some reason, it didn't go with the soup. A part-time worker suggested serving the meet on TOP of the noodles and without the soup. So mazesoba are soba noodles in a soy-based sauce with toppings that you mix up ('maze' means 'to mix' I think). It's attributed to the Menya Hanabi restaurant chain, but there now seem to be mazesoba restaurants around the world. As in Sydney, with a cute fox mascot.
Finally, from experience, and not a Google search, what mazesoba is in Sydney in 2020 from IIKO mazesoba is freshly made soba (so with a wonderful chewy al dente texture), mixed in a savoury, salty sauce, thick enough that upon request you receive a small portion of rice at the end of the meal to mix in with any leftover sauce. On top of the noodles is offered a much wider and innovative selection of toppings than usual: we had two types. One with chicken karaage and curry (mainly) and the other with pork belly and XO sauce (mainly), but as well a barely cooked egg (sous-vide?), cheese, spring onions and sweet dried seaweed (nori).
It's a rich, simple dish and super yummy. However, it is recommended to do two swirls each of kombu vinegar and chili oil at the beginning before mixing it (maze) all together. We both found that was too much chili oil for us, and threw off the balance of flavours (and made our mouths tingly and numb). So, I guess we have to go back and try it out with less chili oil, right?