We had a chore in the CBD which meant it was a perfect occasion to try out Ho Jiak Town Hall during their soft launch. It's funny to see the former Cuban restaurant transformed into a modern Malaysian hangout. It's a big space, and beautifully designed. Good lighting and lots of witty design, like above.
Ho Jiak is one of my favourite restaurants. I love the way Junda and his team take humble and homestyle Asian food, and elevate it in some way, usually with luxurious ingredients but sometimes just with a perfect cooking technique. But I also am a huge fan of Junda's personal approach. He states on his menus right upfront: he is cooking to honour his grandmother and his food is about love and affection and heart. I mean, it's damn tasty too, but you just don't get the feeling that he's going to turn into one of the many celebrity chefs in Australia who are underpaying their staff!
We considered only ordering one noodle dish between the two of us (plus an appetizer) but the waitress didn't hesitate in saying that we should order two dishes. We reckon she noted that clearly Asians have extra stomachs for eating, and I do. Though splitting the Sang Har Mee, marron in egg sauce on crispy noodles, would have been just fine.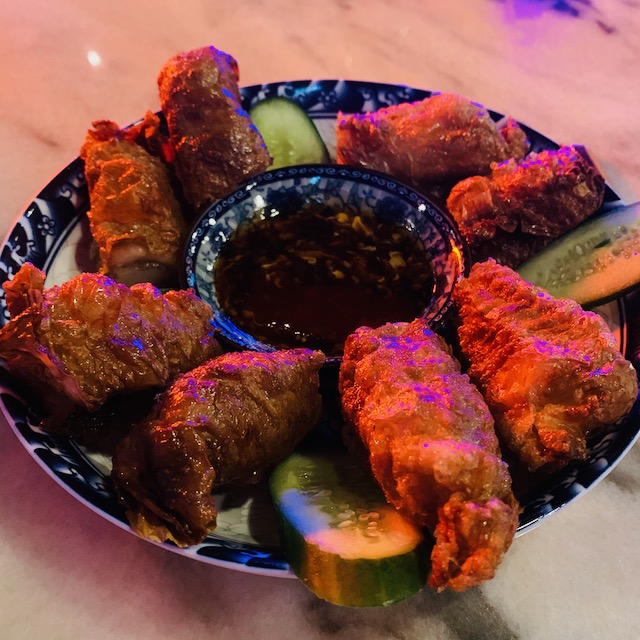 But first the starter: Loh Bak. Five-spiced pork roll in bean curd skin and deep fried. I've had a similar dish. For yum cha, they have a minced meat and vegetables version, wrapped in bean curd skin and steamed in a savoury gravy. It's a favourite. So, this was a shockingly good surprise, to have the mixture replaced with pure porky delight (layers of juicy fat), and have the deep-fried crispness. It's crazy how good it was. $18.
I decided to try the curry chicken Nasi Lemak (also $18), as I usually stick to the same dishes (my favourites: steamed eggs, and anything coated with salted duck egg). This classic Malaysian rice dish was perfect in its combination of textures, and delicious tender chicken curry. I'm glad we tried it.
The main course, the aforementioned marron, to tell the truth, we liked but didn't love. Though I loved the presentation. For $48, it's a treat, and the marron had a great texture but not much flavour. And then this style of noodles, so soupy and wet (even though the noodles are crispy) is so different than what I'm used to from Cantonese styles (much less wet).
But really, all this tells me is that I'll probably go back to my favourite dishes next time. I'm not sure why I'd come here rather than the location in Chinatown, unless I had to be in the CBD for some reason, but the more Ho Jiaks the merrier, really. Give this new location a try, I recommend, particularly at this crazy period of time with COVID-19, where restaurants are really having a hard go of surviving.