So, I just tried to google why so many round shapes show up in Chinese architecture and decoration and I couldn't figure it out. So, they've made a skyscraper… that's round. And while it says it alludes to a coin, I'm not quite sure why. And I'm Chinese. Shouldn't I know?
This was just one of the many mysteries of Dongtian Kitchen. When I asked the waitress about the name, she explained it's a very famous fellow who does make-up for China's biggest film stars. And he decided to open up some restaurants as well.
We just stumbled across it as Friday night in the CBD is busy, and my favourite Korean place was packed. In any case, the food was fine: it's Beijing mixed with Sichuan cuisine. It was tasty, and not cheap, but not super-expensive either. We split a bottle of wine between the four of us, and ate as much as we could (but didn't quite clear off the plates) and it was $65 each with a good tip.
We chose pretty well. I always like the cold cucumbers (with garlic) and it seems so simple I should be able to make it myself at home (but can't). The spring onion pancake was perfectly crisp. Looking at the photos now, I'm disturbed by the random orchid decorations in the appetizers, but I didn't notice at the time.
I thought our pipis in XO sauce were a highlight though my mates said after eating quite a few of them, they weren't so into them at the end; and the $60 or 70 price tag surprised them (I kind of expected that it would be expensive for fresh seafood).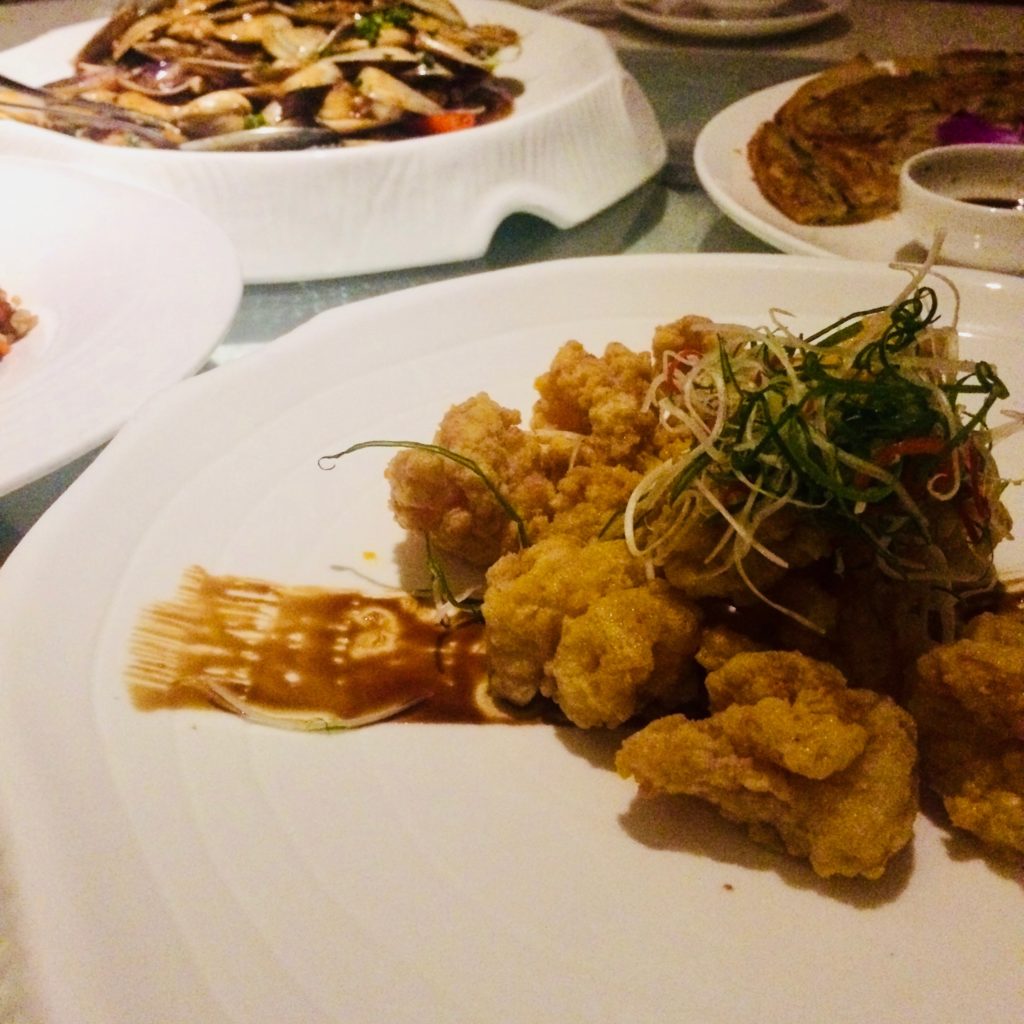 The crispy golden prawns, battered in thousand year old egg yolk, was very tasty (as it should be). The seafood fried rice, which even had sea cucumbers in it, was pretty good, though I suspect if I'd just ordered plain white rice, my table would have been just as happy with it.
The pork belly (we only ordered one meat dish, as one of our party was pescetarian) was mixed with squid and prawns, and was the only disappointment. It was savoury and not terrible, but didn't really stand out either. The pork belly was sliced so thinly, it was a sort of elevated stir fry but not great (and at $27 a dish, you want it to be great).
Weirdly, instead of a proper menu, we got this summary on a double-sided A4. The service in general was endearingly not quite there.
On the other hand, in terms of the decor, my pal Paul said that there was nothing that he didn't like about it. With Asian notes, like big pots of bamboo and the aforementioned round shapes, the restaurant is mostly English countryside, with floral wallpaper and hundreds of framed artwork of flowers and plants. I thought it was insanely weird, but my friends loved it.