So, we're heading back from Vivid at the Taronga Zoo on a Tuesday night and my better half says he's so hungry he could eat the crotch off a low flying duck. For y'all foreigners, that's Aussie talk!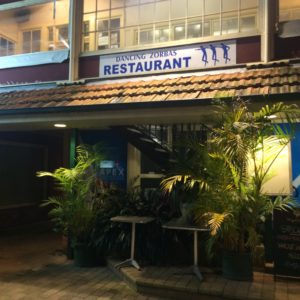 My handy Entertainment Guide (a family legacy, we had this coupon when I was a kid, forty years ago) guided us to Dancing Zorbas in Mosman. Hey, I love Greek food.
The weird thing was feeling like we'd stumbled into a little Aussie coastal resort, and found a humble restaurant that happened to be open.
It had that airy sort of feeling, and sadly, an empty sort of feeling.
In any case, it really felt like an Aussie institution, a restaurant that had been around for many years. This meant the food was fine, tasty and serviceable, not modern in any way. Reasonably priced.
We split a couple of appetizers (saganaki prawns, and deep-fried whitebait) and a moussaka.
Matched with two $6 glasses of wine (mine was a dry Greek white; I always try to have Greek wine in Greek restaurants).
Couldn't resist having dessert, splitting a generous piece of baklava and a custard filled bougatsa, both warmed up. I think the highlight of the meal.
The waiter was salt-of-the-earth Aussie, and the bill for the meal would have been $80 for the two of us, but was $60 with the coupon. I left a fiver for a tip, and we headed off into the Sydney night, notching up another experience under our belt: Greek food in Mosman.