It seems to be vegan month here at andyville. My pal Cameron decided to drop by the 'hood for dinner, and after seeing the Netflix documentary, The Game Changers, by James Cameron, has been vegan for a month. I wasn't sure where to take him (though Yulli's on Crown Street is always a good bet). So, Google then tells me that Bad Hombres, which I went to over 2.5 years ago, is now a vegan restaurant!
I'd noticed it, still going strong, whenever I walked down that way, past my gym at Anytime Fitness. My experience before, as you can still read below, was mediocre. I liked the idea, but it just wasn't comfortable. So, it was great to be able to completely revise my opinion (and my blog-review). Tonight's meal was delicious, with great service and a good atmosphere.
The thing is: I think it's a great idea for the planet for all of us to eat less meat. And in order to do that, restaurants are going to need to serve delicious food so that people are eating vegan food for pleasure rather than being virtuous. And Bad Hombres is accomplishing that mission quite nicely.
Crispy eggplant tacos with small diced pieces of pineapple and a squeeze of lime was all kinds of excellent in terms of a flavour and texture combo. Really delicious.
The fries, with a fake cheesy sauce, were crisp and moreish.
Our main was oyster mushrooms in a black bean sauce that came with tortillas. It had a beautiful smoky flavour and was a substantial serving and we were both really impressed.
Add to that an interesting wine menu (we opted for the skin-contact chardonnay) and it was a great night. It was awfully noisy when we came in (at about 8pm) but quietened down. Nice, friendly service and we even got some advice on eating vegan from our waitress at the end. The only thing that was weird was that our table was sticky. Like everywhere. I don't think it was dirty, but the tackiness of the red paint was off-putting. Or maybe someone is telling me I shouldn't rest my elbows and arms on the table while I eat!
Here's my previous review from 17 March 2017: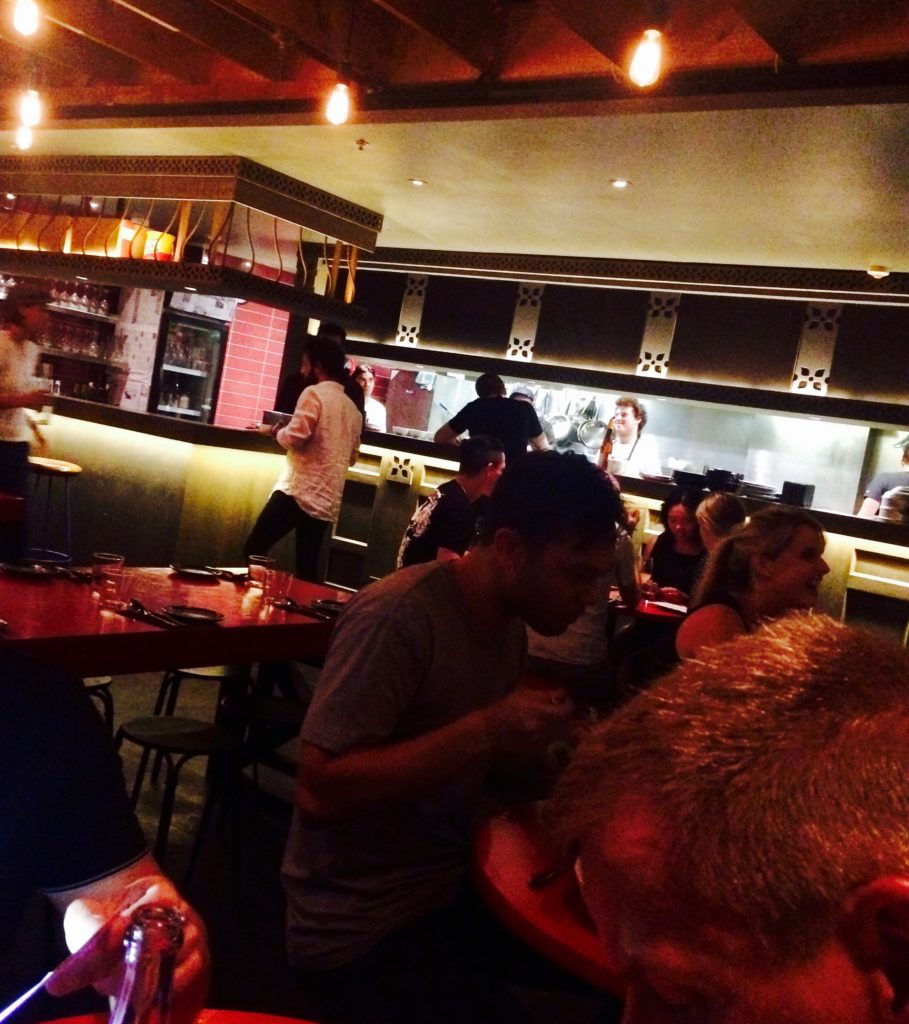 Bad Hombres is so hip that it doesn't have a website, nor Facebook page. It only has an Instagram page. The way you make reservations is that you find a mobile number on their Instagram page and then arrange a reservation by SMS. I think that's pretty modern.
And the idea of pop-up restaurants is just as modern. I've been to Good Luck Pinbone lately, and managed to get to Broadsheet Restaurant on Danks Street before it closed. It makes a lot of sense to me. Offer folks something new. Put the focus on the food rather than the decor. Keep and maintain the energy of a cool place, and bow out leaving people wanting more.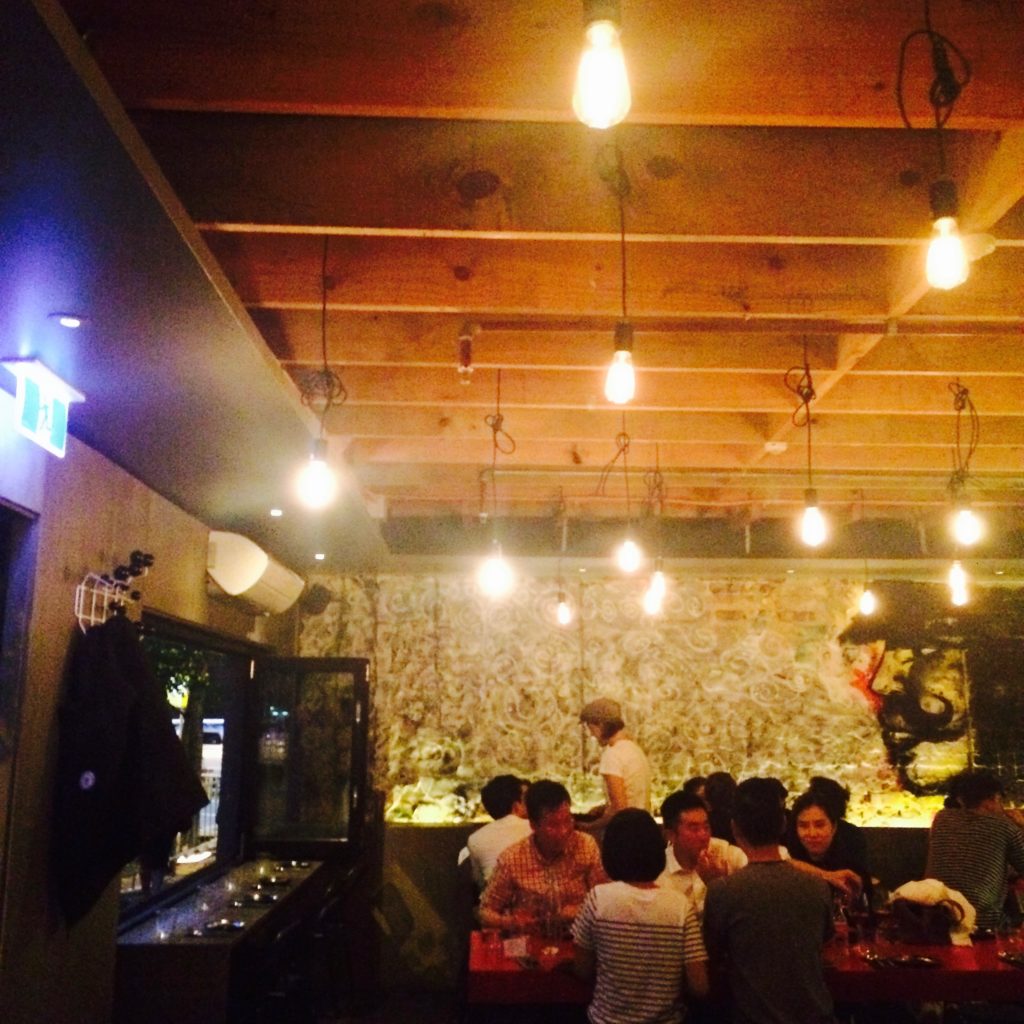 Finally, can you get more now, more Sydney, then choosing two popular cuisines, and creating your own fusion, in this case Mexican-Asian? All served up with natural wines. This idea really appealed to me.
So, for all these reasons (plus a fun, buzzy atmosphere, retro Aussie music, and super cool wait staff), I predict huge success for Bad Hombres. Sadly (for us), the experience wasn't quite as good as the idea. I love the idea of a limited menu, so between the four of us, we got each of the three share plates: a roasted cauliflower plate ($25), and slow-cooked beef short ribs ($38), and pork shoulder ($28), served with chinese pancakes, corn tortillas and butter lettuce. The flavours did have Asian influence with herbs and crispy shallots and XO sauce. But the portions were a bit small to split between four of us, and since we'd already ordered all three of the mains, we didn't bother to order something else.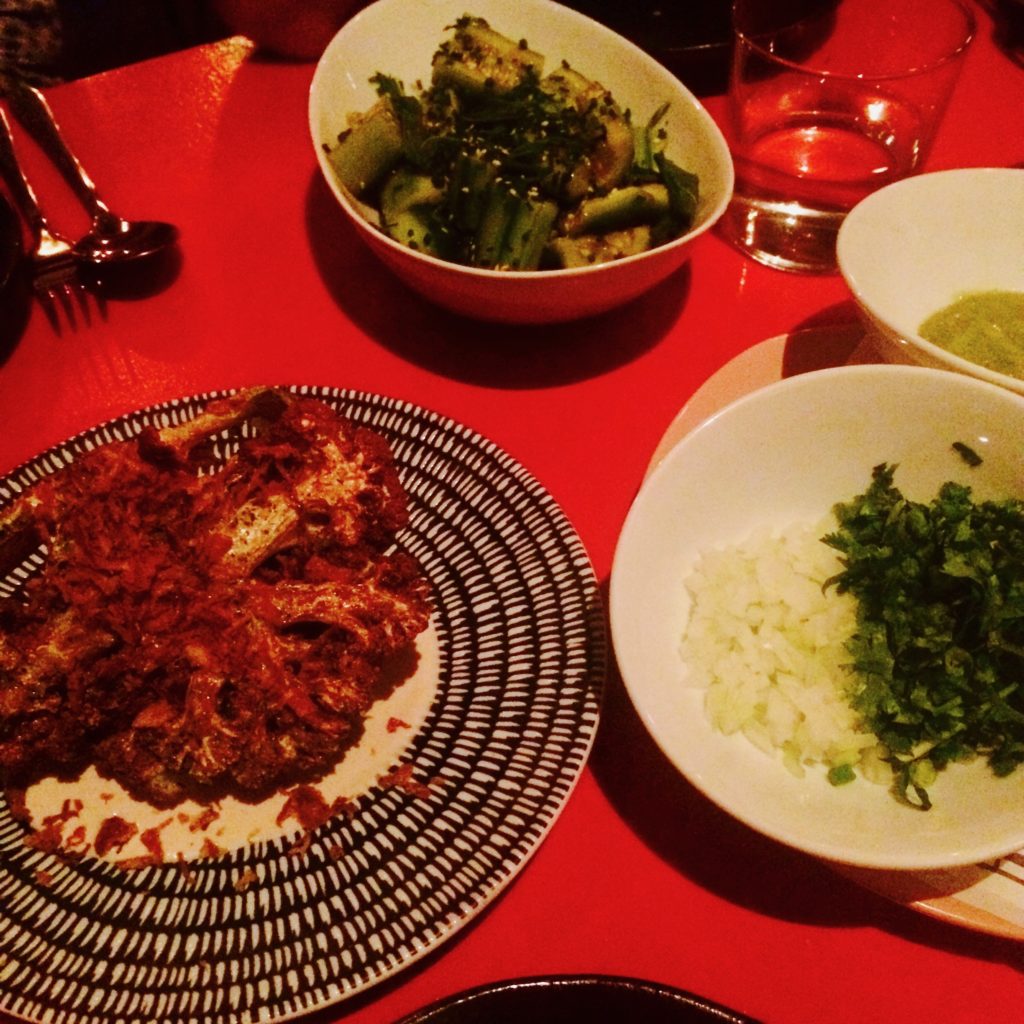 It was tasty, but in other ways, the flavours and concept (slow-cooked meat or grilled veg in a wrap) all melded together. The cucumber salad was tasty (always like that idea) and the mahi mahi ceviche tostada was also good. Two of us loved the natural sparkling wine, from Australia, but two didn't, and one hated it. The dessert of coconut pandan sago pudding with watermelon granita, mint and Szechuan pepper sounded great (and was only $12) but wasn't a huge hit (as you can see, it's not a very pretty dish). And while I hail the hip, these old men were probably too grumpy a demographic, sitting in the corner with the speakers blaring music too loud.
I can imagine the review would have been much different if I'd dine here with just one other person, on a quieter night (not a buzzy Friday night), ordering more appetizers and the right amount of food (and I would go for the sparkling wine again…) and being delighted. But for some reason, that night, it didn't work for us. On the other hand, I don't think it will matter. I think Bad Hombres (great name also) will be as busy as it wants to me until the moment they pop-down from popping-up.