When in Italy, and when in Rome, and one reads that there is a place that some people consider the *best* pizza in Rome, well, that is worth a trip. It's in a quiet area, just off a quiet street and next to the Cipro metro station. There were at least two food tours who stopped by while I was there, and a group of school kids. It's definitely on the foodie map.
The trick apparently is the dough. Gabriele Bonci is famous for it. He has been called the Michelangelo of dough by Vogue magazine, he has a cookbook with recipes from this very pizzarium, and apparently comes up with 1,500 different sets of toppings a year. The dough apparently is left much longer than other doughs to rise… and I could see in the shop that there is a second baking process, as the pizzas come out on display at the counter, but when you order, your pizza goes through another quick baking so it is extra hot (so much for why I ordered the zucchini and garlic one, as it was the latest to come out of the ovens at the back).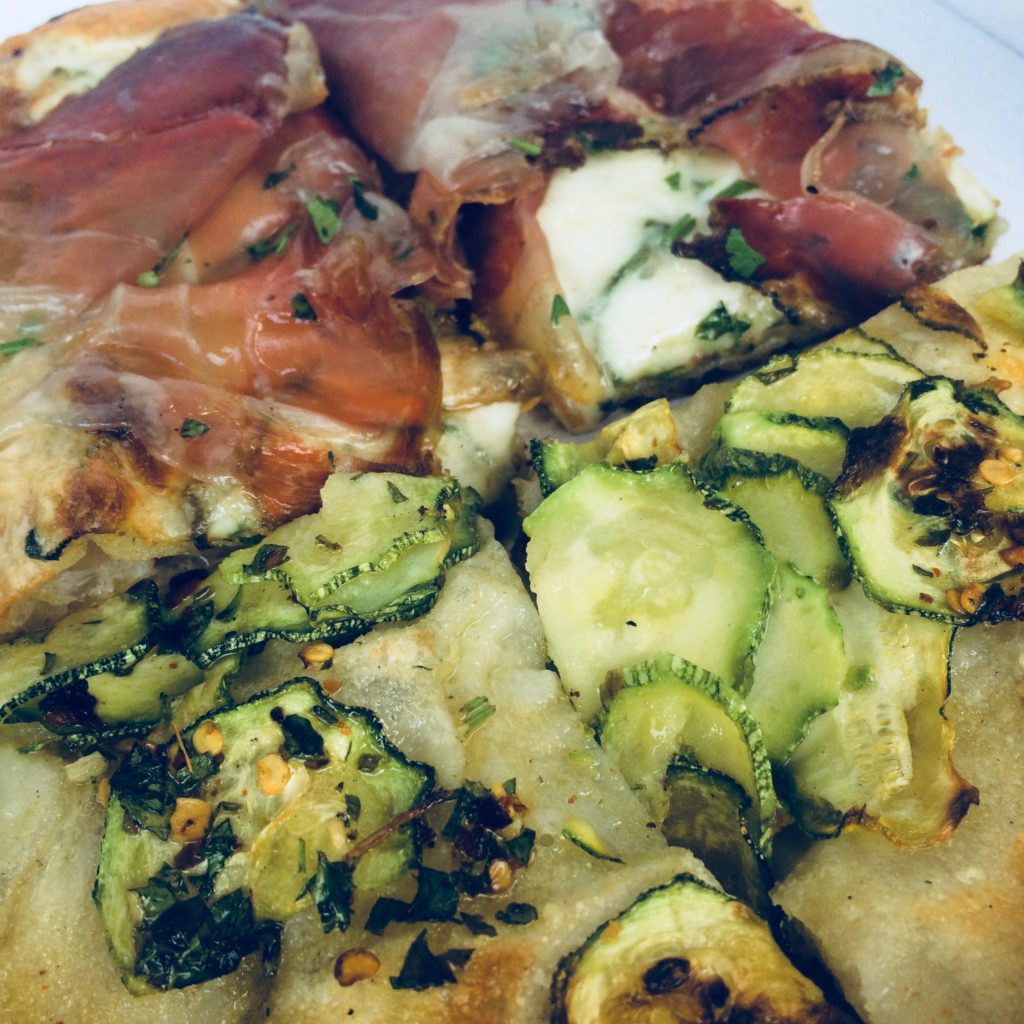 The dough is risen high, and is super crisp and even a little chewy. It tasted basically like a really high quality foccacia to me, and with some olive oil, and a bit of zucchini on top, was unlike any other pizza I've had (this is in the square, Roman style). The luxury slice that I ordered, which had a generous amount of cured ham, as well as cheese and zucchini and garlic oil, did resemble the pizza I knew a bit more, as the heavy topping had made the top of the foccacia less crisp, so the top and bottom had started to meld together. Because the ingredients on this one were so luxurious, it cost me 9,35 euros for the slice (as compared to 3 euros for the zucchini one).
I also had a suppli (1,50) because I was dying to try one. It was a crispy deep-fried ball or rice cooked into tomato sauce, and a piece of cheese, melted but starting to reform my the time I got to it. Apparently, having cheese in the middle like this is one of the main differences between a suppli and an aranchini!
But I was surprised in the end, because I didn't really like the pizza that much. I can understand why other people do, and it tasted high-quality and unique indeed, but the luxury one I ordered was way too rich and salty (and for me to say that, lover of all kinds of fatty meats, is surprising) and the other one didn't knock my socks off either. And I ordered too much, as I wanted to try two flavours and was incapable of requesting a more reasonable size.