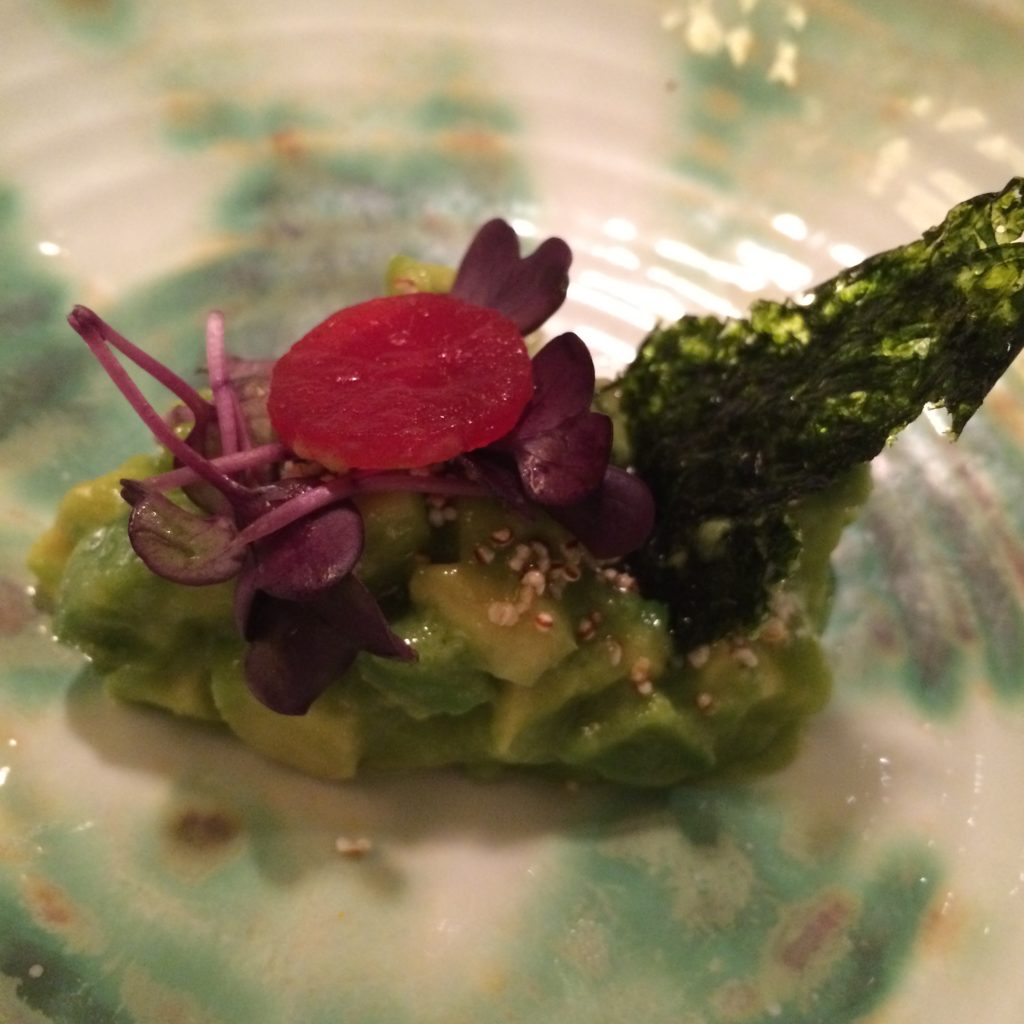 Now, isn't that beautiful? This was the the second course of a ten-course dinner from Rome's Glass Hostaria, a Michelin-starred restaurant in Trastevere, helmed by an Italian chef who did her training in the States (and has the American-sounding name Cristine Bowerman but was born in Puglia).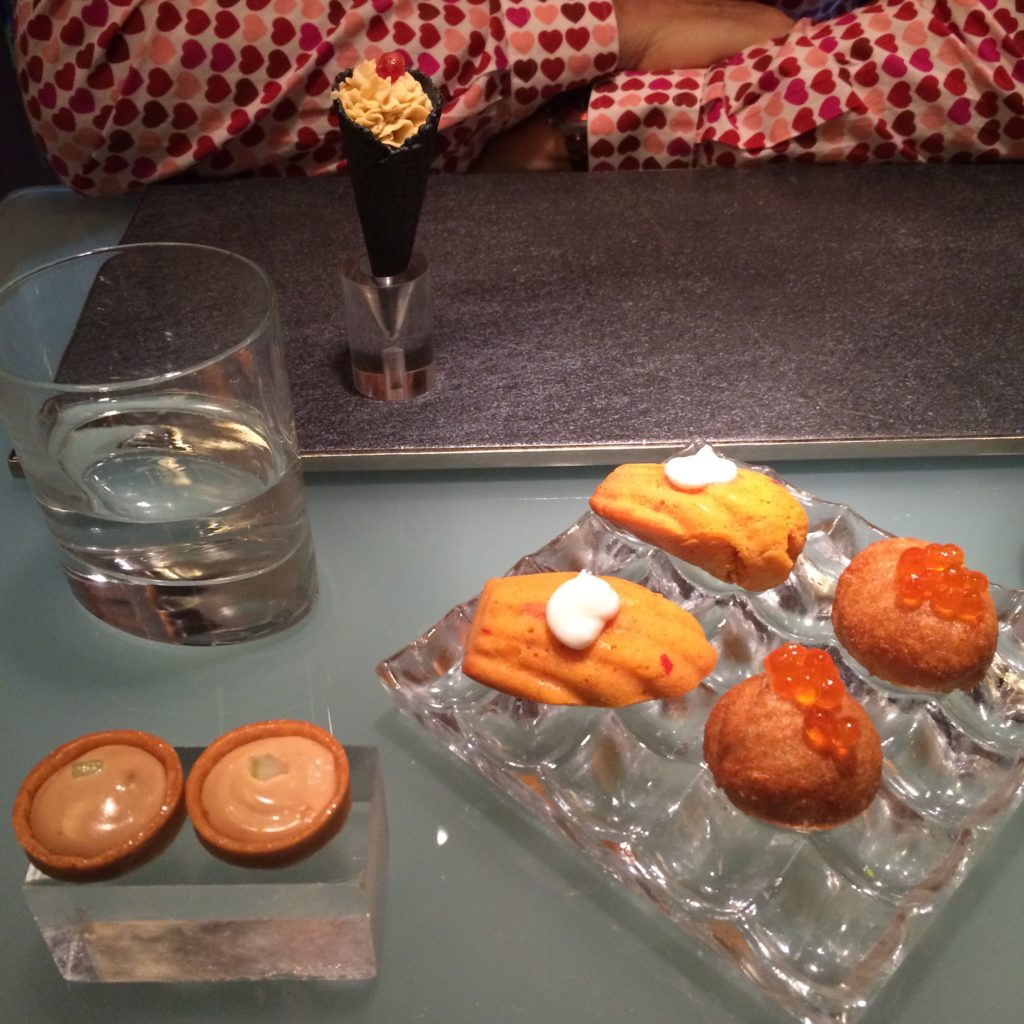 If we can, we like to treat ourselves to a special meal in places we travel to, and this was a recommendation from my friend Costanza. Certainly a special night out, with many courses to let the chef show off, and by international standards, 110 euros for ten courses is very reasonable for a restaurant of its type.

The first course, as seen above, was a selection of tiny amuse bouche, and that gives a good flavour of the place, literally and conceptually. The presentation was amazing, the plating up and the plates itself. I missed taking a photo of the very first offering, a butter-cream sphere filled with cinzano, and resting atop white sugar: also a little theme here, resting the food on something not to be eaten, sugar, rose petals and tea, the bread below resting in popcorn kernels…
Radish wrapped around a fish tartare…

Ah, I particularly liked this one, the char on the fish, barely cooked and a big shiso leaf, I think it was shaved fennel below. While we found the flavours of the preceding dishes tasty but one-note, this was complex and sophisticated.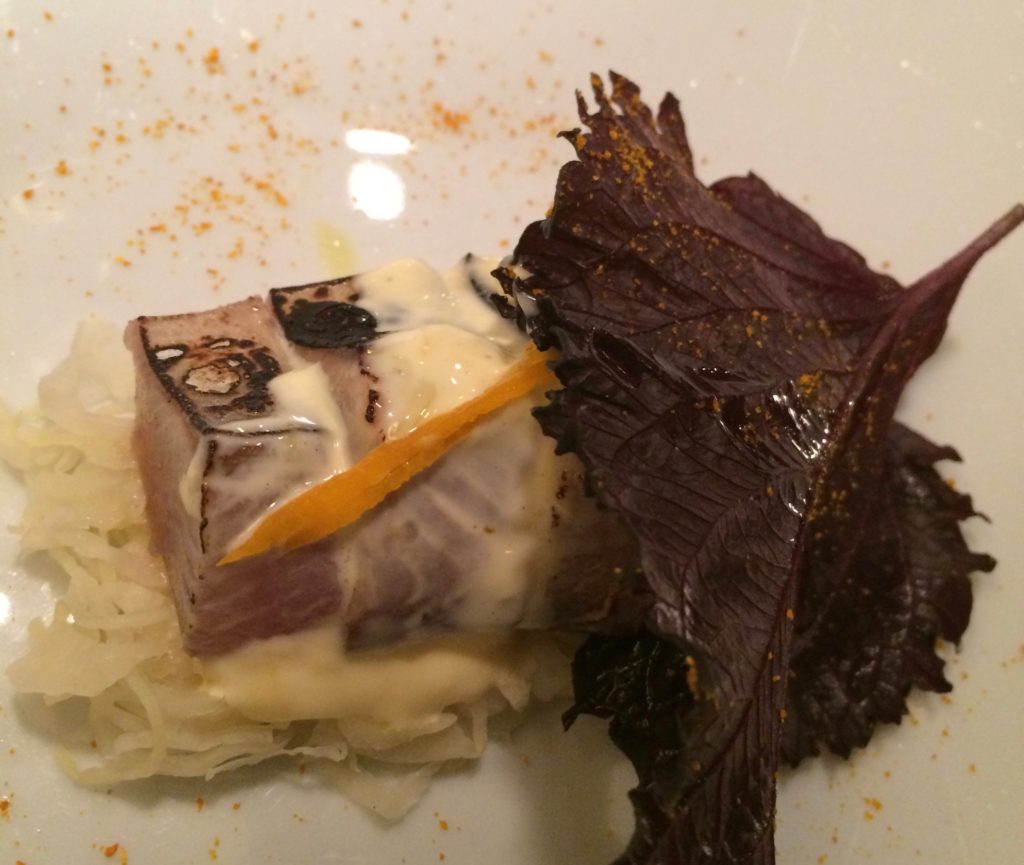 And the pasta dishes, of course, being in Italy, were what really impressed me. The most delicate ravioli with sea urchin… just a taste of the sea but with the beauty of pasta: slippery and chewy and luxurious.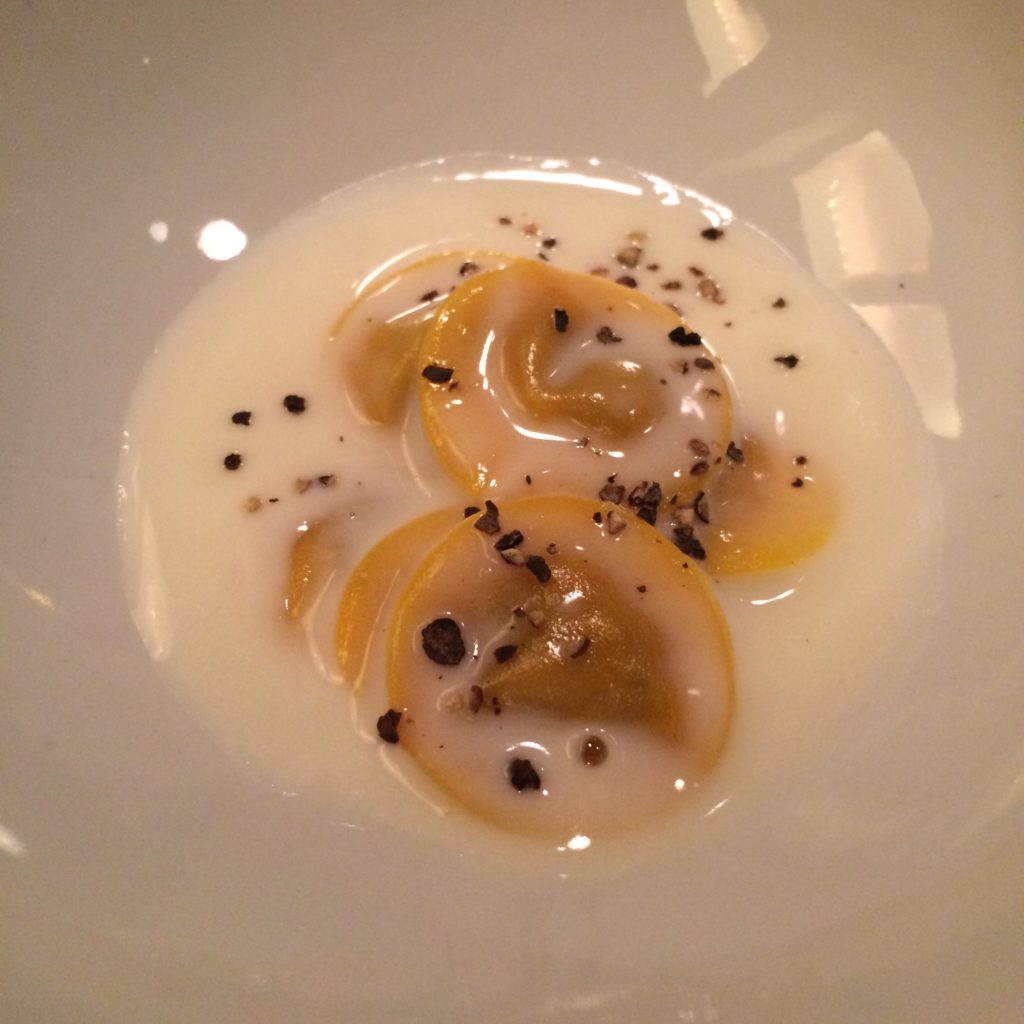 A simple broth with truffles. Sometimes, I think I 'get' truffles (the first time I think was a dish with soft polenta), and other times, not. Shaved truffle just tastes a bit woody to me. I like the flavour but not necessarily the texture, which can even make me forget the flavour!


This lamb was done really nicely, and we loved the gold dust on the carrots! Strange but pretty effect. The service was very attentive for the most part, and charming. We opted to do one wine flight with the meal, which was to have 5 glasses. But for some reason, the sommelier just seemed to forget about us. He didn't look busy, particularly, but neither could we get his attention, so I receive 4 out of the 5 wines (and was charged for 4, not 5) yet, matching wine with food is a great pleasure, and missing one of the wines meant I didn't have wine with some of these courses.


While I'd have the same comment that I don't appreciate shaved truffle, this pasta with very long aged parmesan was incredibly rich, and with an unfamiliar flavour and power. Yes, I've had parmesan but probably never of this quality. This was my top dish of the night: unforgettable.

A jumble of greens, fruit and spices (it was actually hot and spicy), I think this was meant to clear the palate, or shake things up, before the dessert. Nice presentation; I thought it was just kind of weird.


Although simple, this yoghurt semi-freddo, with flowers, and a sweeet syrup was also one of my favourite dishes. I really liked the texture and flavours.


I found the decor of the place all over the place, strange texture on one of the ceilings, crazy railings to the staircase leading up to the mezzanine, plexiglass panels in the floor with rocks and bottles underneath, a bit like a Disney amusement park ride. I'd have to say it felt dated to me, and I'd recommend finding some locals artists to showcase in these many wall recesses rather than these tacky jars of dried beans.


Finally, a selection of petits-fours, beautifully presented, although the same issue as the amuse-bouche. They were tasty but not stand-out, the prettiness and quantity were what stood out.


In all, we were certainly glad to come here. There were a few standout dishes, and for me, a few misses about the night. After the meal, on returning to Paris, we had a much better meal at a non-Michelin starred restaurant (inventiveness, tastiness, cost), and I think I wanted to like this restaurant more than I did. Maybe it would been better for us to choose from the regular menu, carefully.
But that's 20:20 hindsight, and anyways, I'm off to dream about that parmesan ravioli…