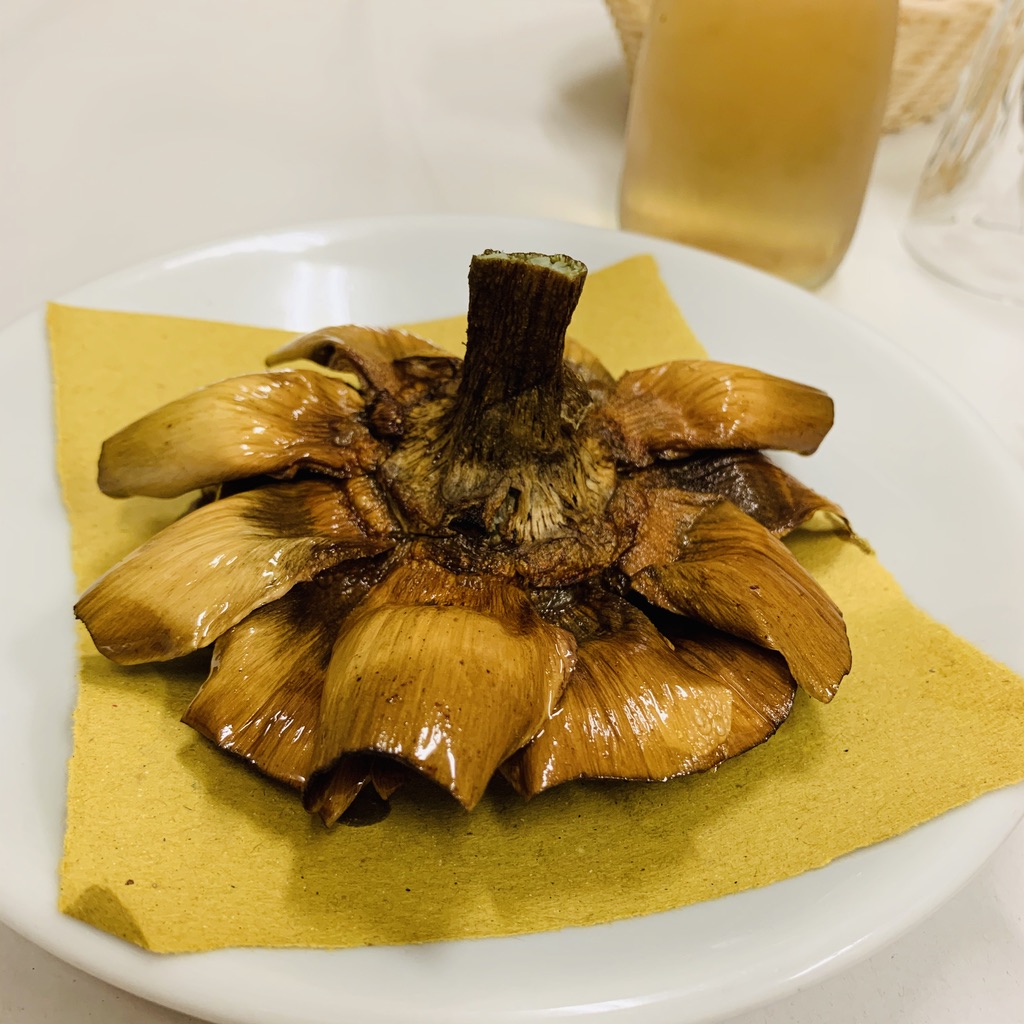 I arrived in Rome at 6.30am, got myself into Travestere a few hours later, and then my kind AirBNB host allowed me to check in at 10.30am. But she still had to clean the apartment, so I went out for a wander.
I hadn't expected to be ready for lunch, considering that they feed you on the plane constantly and at unnatural hours. But I got a pang of hunger around noon, and knew I shouldn't be back at the AirBNB until about 1pm, so why not stop for lunch at a favourite restaurant?
It was quiet. The first time I came, I remember sort of fighting to get in, arriving when it opened for dinner, and assertively getting myself on a wait list of some sort. But now, even though the restaurants around the corner, on the main thoroughfare, are quite busy, it feels hidden. My favourite waitress of times past wasn't there: a short feisty waitress who made me laugh with her tough love.
I couldn't resist the Jewish artichoke, deep fried so the leaves are crisp like potato chips, soaked in oil, and of course the heart, rich and savoury. I'm not sure I've tried their agnoletti before, somewhat crudely formed and filled with ground meat, with a light cacio y pepe sauce (I think I should have also gotten it with a dollop of ricotta). As before, I found the food simple and delicious and the atmosphere charming. It seems from the reviews that the locals aren't as happy with the place as before: that the quality of the food has gone down or something, but I like it and will always be grateful for Nihan's recommendation to come here!
Similarly, Le Mani in Pasta was a recommendation from James. And the other times I've come, it was hard to get in, and also usually requires a reservation. But my school classmate, Costanza, kindly made the reservation for me, and it was late (9.30pm!) so it seemed possible to get in at this time.
The thing is, it would be much better to come with other people, to be able to split some dishes. I simply couldn't order more than a pasta dish, which is a bit of a shame. And the other thing is that the special pastas all are only served for two people. And while I managed to convince them the last times to make me a special portion (porcini mushroom and truffles; anchovies and pecorino), this time I opted to try a sedani pasta (a bit bigger than maccheroni), these were smooth (lisce) rather than furrowed (rigati) with amatriciana. The pasta was beautiful and al dente and slightly thick, and the sauce: well, tomato sauce, cheese (pecorino?) and guanciale (pig cheek) is a pretty magical combination.
I washed it down with a frascati, which is apparently a Roman white wine. It was fruity and punchy with some body, a surprisingly good match for the richness of the pasta. The meal didn't knock me out as much as previously, but jet lag was coming on and I only ordered the one dish.
At both places, I was amused by the Roman routine: the tables are so close together that after a period of polite distance, soon you can hear neighbours talking to each other, commenting on the food, asking each other about their travel itineraries, one Italian fellow was even pouring a glass of extra wine for a young Thai student at the table next to him.
It's very charming and convivial. For some reason, I feel compelled to comment that in the day's wandering, I kept seeing people in groups  wearing matching tags around their necks, or all following the same tour guides, led by a colourful cloth on a stick. I myself would find group tours a less charming thing to do than finding a neighbourhood gem like this.
My waiter saw himself caught in a photo I was taking of the interiors and came up to get a welfie, which I'm rather pleased about. As usual, while I'm linking these reviews to Zomato, the food review site, Zomato continues to annoy me. It doesn't count reviews for the same restaurant, even a year apart (I think it's very reasonable to update reviews semi-regularly; a lot can happen in a year) and any photos with people in it, they won't put up on the restaurant's listing (only in your personal feed). I imagine there's some sort of privacy restrictions going on, but to me, food is such a social experience, I want to see the people eating at a restaurant. I want to have my photo of me and the waiter be considered an authentic representation of the restaurant.
I finished with an amaro (an obsession for me while in Italy, and for three euros, how can you not?) and wandered off, and as before, I find the street particularly charming, all aglow, a hot September night in Rome. God, I love this city.