This hotel has received the worst reviews that I've ever read. Period. They are so terrible as to be comical, and yet, since my mother booked this hotel for our five-night stay in New York City, non-refundable, without checking with me first, it has caused me no small amount of anxiety.
Hotels are so expensive in NYC that when this pop-up ad appeared in her browser, and she saw that the Hotel Pennsylvania was centrally located (it is mentioned in reviews often that reviewers consider the location the only good thing) and the cheapest deal she could find, she booked it.
I've shared this hilarity with friends and family members, who have taken to reading the reviews regularly. The amazing thing is that the bad reviews keep coming. This isn't a one-time thing. They appear every day. My pal, John, sent me this morsel:
First time in NY for business I was so disappointed. It was DISGUSTING !!! Most of their personnel were not pleasant except one guy (who didn't seem surprised I wanted to be reimbursed)!… My room was a non smoking room but I found cigarette butts next to my bed…. The room was sooo dirty as well as the bathroom (rusty, dirty, moldy, towels with old hairs in…)… I was meant to have a "renovated" room, the photos on the website were nice but apparently a big JOKE. I can't even believe a hotel like that is even open… the hallways smelt, dirty windows (I could hardly see out my window), thin walls! Met a girl who had a RAT in her room !!! Everyone I spoke to wasn't pleased… Seriously do not stay at this hotel !!!!
In fact, this is a recurring theme. Not in every review, but say every 15 or 20 or so, someone has had a rat in their room. Or more often they try to check into their room and there are still people in it, or it isn't made up, or they were unable to resolve a complaint with the staff, or they were really, really disturbed at the dirt or how run-down the place is. I've been singing snippets of 'Hotel California' in the days leading up to checking in ('such a lovely place, such a lovely place… you can check-out any time you like but you can never leave').
So, here's my review: the hotel is huge. In fact, it's the fourth largest hotel in New York City with 1,700 rooms. It has a huge lobby, which is clean and shiny, but with so many people in it at all times, it looks like a train station.
There are often lines out the door to check-in, hundreds of people, apparently, who are too tired from travelling to try their luck with the automated check-in machines. I'd heard that the rooms on the upper floors are renovated and marginally better though others have said don't pay for an upgrade, because it's not worth it. A friend suggested bribing whoever was at check-in for a better room.
Instead, there was a short line when I checked in (exactly at 3pm, hoping I'd have good luck). I laid out all my charm, and dropped the hint that it was my 82-year-old mom's first time in NYC and boy, were we excited! The woman at check-in recommended a fifth floor room, which would have bigger beds. I did ask whether the top floors weren't more comfortable but she said the fifth floor was fine.
Ascending one of the dozen elevators (necessary, with so many people; sometimes there's a wait to get up and down, and we often needed to wait for an elevator with space), the floors of the hotel are a bit rundown and certainly old style.
In the dim light, I can see what reviewers say about it looking a bit Bates Motel. The effect is added when you find these weird metal shields on each door. What are these?
The area around the bathroom door is damaged and ugly and there is some damage inside the bathroom. I had to wipe off a bit of either mucus or blood from the shower curtain and wall. The shower has had the opposite problem to the other hotels I've stayed at in NYC. Instead of there being too little pressure, this one is so strong, I'm surprised to not have to call out search and rescue to find my mother who has been washed away into the Hudson River. But there are no rats in the room.
And there are nasty marks and damage around some of the walls… and there's a terrible smell in the hallway and in the entrance to the room, perhaps some disinfectant, or something else. But there are no rats in our room.
And the windows are so dirty, it's hard to tell the weather outside. And I had to clean the window sills before I could put anything on them, because they were dusty and dirty. But there are no rats in our room.
The walls indeed are thin. The neighbours on the first afternoon felt like they were in the room, and then again… at 3am. But miraculously, after that, we didn't hear the neighbours at all. And there are no rats in our room.
And then, consider: the room is big. The beds are at least double beds, perhaps short queen-sized. Mom's bed is fine. The mattress on mine is uneven and squeaky. But the TV is big and it's a perfectly fine place to spend time when not exploring the city, and even though the hotel literature says that you have to pay for wireless, they give you a password, so it's free!
Also, a rather big surprise. I was expecting the fitness centre to be terrible (just because) and it's big and functional. You can apparently also use a nearby fitness centre for a nominal cost.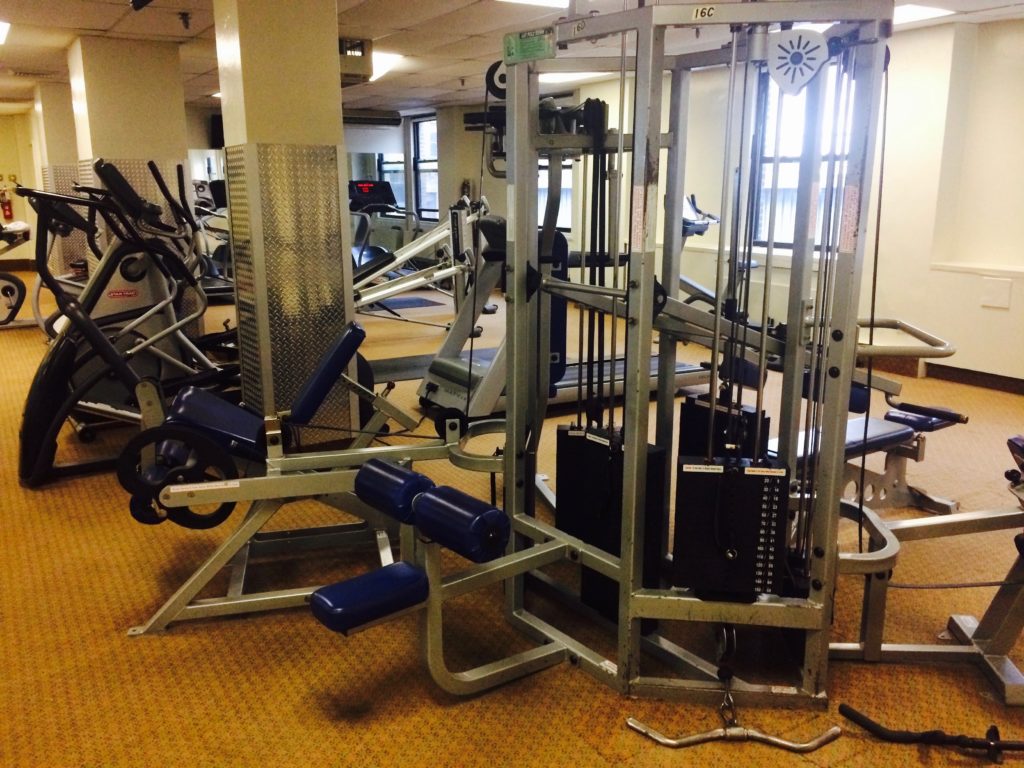 The wonderful thing about having one's expectations lowered so much is that you're happy when the worst doesn't happen. So why so many terrible reviews? I can guess that when people have OK experiences with the hotel, they are less likely to review it. The sheer number of people coming in and out means that there are a lot of people who may give the place a bad review. It's such an international clientele here, that I wonder whether the Indians and Spanish speakers and Europeans would be less likely to either leave reviews at all or use the same review sites (I've been mainly checking Trip Advisor).
In any case, for the price, and because there are no rats (or bedbugs) in the room, I'm happy with our stay here. As reported, the location is perfect. Easy to get trains, to walk everywhere, and to get to Newark Airport since it's next to Penn Station.
Would I recommend it? Hell no! But hey: There weren't any rats in the room.