Restaurang Volt, in Stockholm's Ostermälm neighbourhood, is clear about its intentions. Its website shows a black and white photo of the four members of its team, three chefs and a manager, ranging from 30 to 32 years old, with a statement about creating a restaurant on their 'own culinary visions and terms', ambitious and extraordinary, 'far from chive cross garnish, white cloths and bowing waiters.'
I'm not entirely sure what a chive cross garnish is, but hey, I'm staying away from it.
It was our first introduction to the vaunted new Nordic cuisine and though I've read about it, mostly in connection with its most famous proponent, Copenhagen's Noma, I really didn't know what to expect. I couldn't translate the words in advance to my palate. That's simply because it was new to me. When reading a mission statement such as below, when the whole focus is on 'Swedish flavours', unless you know what those flavours are, you're lost in the woods:
Our cooking evolves along creativity rooted in Swedish flavors. However, we keep a careful eye toward culinary products from all over the earth. Our dishes and accompaniments reflect the changes in season. Natural, small-scale and locally produced products are our theme words.
So, what a great introduction. Volt is mentioned in a few online food guides to Stockholm and rates at #72 out of 1406 of the city's restaurants on TripAdvisor, but the comments there and the vibe of the website made me want to try it out. This review will be sadly lacking in photographs since it was our first proper meal on land, after a long journey Sydney-Bangkok-Zurich-Stockholm. In fact, I was worried that we might fall asleep, face front into our herring, but how could we not be brought to attention and wakefulness by such great food and service in a cool, small industrial chic setting?
We opted for the six course menu with matching wines (four courses and nine courses were also available). It was 700 SEK for the food and 600 SEK for the wine (about AUD 215 each). Chef's choice. Luckily, we received a menu after the meal which reminded of not only of what we ate, but a list of their partners (ranging from ceramics to herbs, bread, illustration and beekeeping), reflecting their philosophy of local products and sourcing.
Our discovery? Nordic cuisine (or at least the nordic cuisine of Volt) had a clean composition, not simple in the techniques or the way it was put together, but a small number of ingredients, each with a distinct flavour that stood out. The course of crab, sunchoke, butter and elderberries for example: a pop of sweetness from the berry, the salt of the crab, the taste of butter rather than as a condiment and some beautiful jerusalem artichoke. I loved this dish, of fennel with almond, sour cream and lard with deep-fried dill. A use of milk products that would be unusual in Australia or Asian cuisine, the fennel tasting of fennel, not roasted or buttery, gently cooked some how and on the side: shaved lard. Yes, lard! As an ingredient, not a method of cooking. This is my kind of country. The dish was served with a cloudy muscat as a matching wine.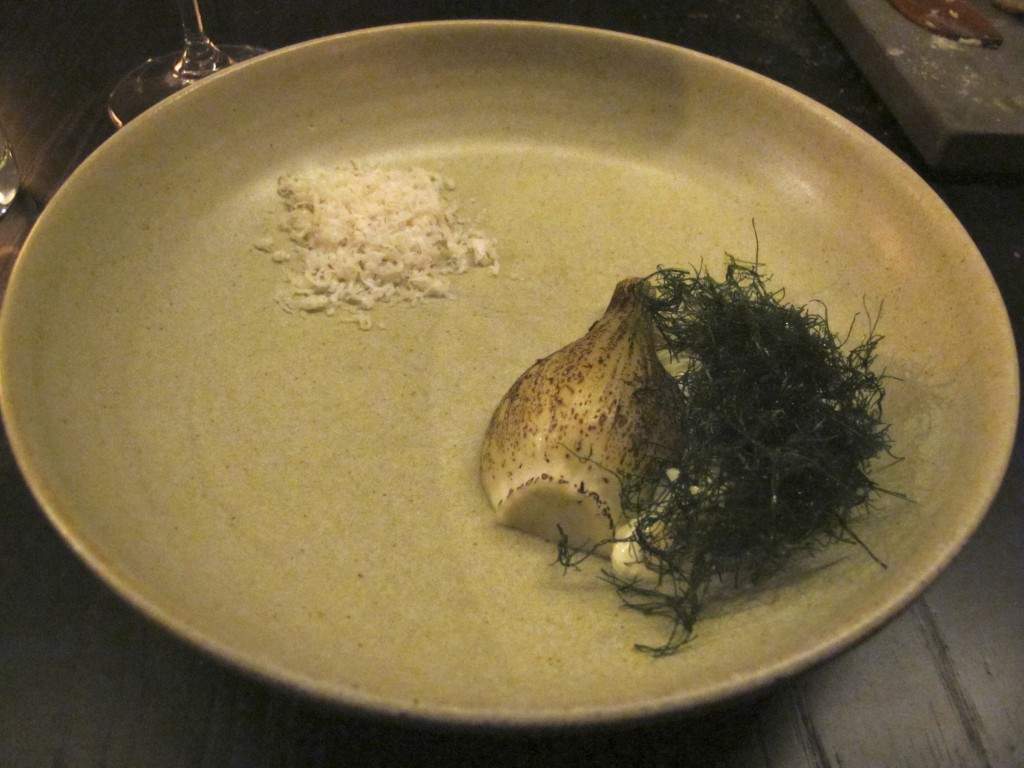 Another dish was veal with vendance roe, hazelnut and cress. You can kind of make out the cress in this photo where the only real thing in focus is the wine glass. I didn't make notes on the matching wine, but each was explained to us, and carefully chosen, also to match the philosophy of the restaurant. It was excellent.
The other main (besides the beef) was monkfish with cauliflower, sea buckthorn and butter. So, the vegetables were seasonal: autumn/winter vegetables, and occasionally the taste of the sea with a local bit of seaweed/kelp/something or other.
While there is a protein in most dishes, the vegetables shone just as much, it wasn't a heavy meal, just right for us to have the six courses and matching wine.
A word on service. Our Swedish waitress had an impeccable American accent, something we noted in Stockholm that we met a number of folks without a trace of what we would consider a Nordic accent… and much more so than in Helsinki or Copenhagen. Wonder why that is?
Here's the monkfish dish… such beautiful presentation.
It's a shame I didn't get a photo of our final dish, the dessert. I'm not sure how photogenic it was anyways, but boy was it tasty. Blueberries (gorgeous and small and fresh) with buffalo yoghurt and… malt. Very very tasty.
All in all: what an amazing meal, and introduction to a fabulous philosophy and style of cooking, in a super-cool atmosphere with impeccable service. Thanks, Volt!