So, sit yourself down for a long read (with some good photos). For the story of my best meal ever, I might as well take my time, no?
During our trip in southwest France in August 2014, S. and I decided that, in addition to numerous regular yummy meals, we would treat ourselves to one particularly f*ing excellent meal. S. is good at research and presented me with a few options, which I reviewed and he allowed me to choose. Our choice was Les Près d'Eugenie, presided over by the famous chef Michel Guérard and his wife Christine, an heiress to the Biotherm company. A three-star Michelin restaurant, it's also a hotel and health spa and since the 70s, has turned a small town an hour or two from Bordeaux (and 8 hours drive from Paris) into a destination for wealthy food-lovers and holidaymakers.
But what would a three-star Michelin star restaurant be like? Sydney has some spectacular restaurants these days, and we've also treated ourselves to some fine meals overseas. Near the end of two weeks of travelling around to some wonderful spots in southwest France, I was curious, though hadn't put much thought into it. I'd also not done too much research in advance. For example, my gathering of general knowledge had somehow missed out on knowing that the Michelin stars for restaurants came out of the Michelin travel guide which was an offshoot of the Michelin tire company. Which all makes sense if you think about it which I hadn't.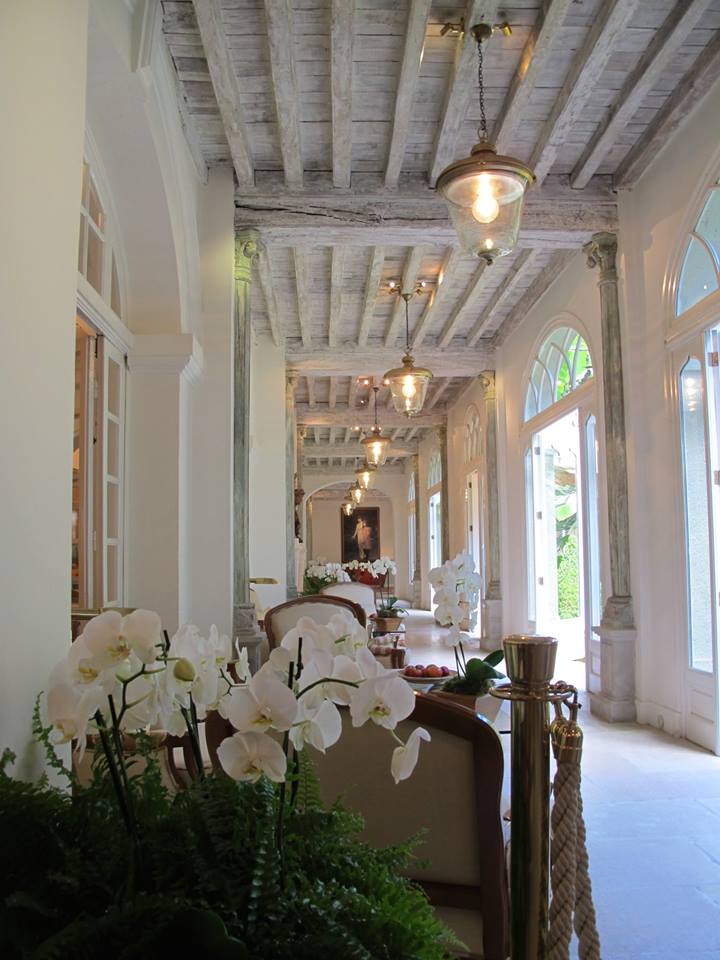 Our Sat Nav told us we'd arrived at our destination, and it was to our right, in Eugenie des Baths. Both of us looked over at the modest local bistro on the main street called Bistro d'Eugenie and thought, 'Could that really be it?' But two minutes further, there was an entrance to a grand estate with two well-dressed gentlemen at the gate to direct us through. So, this is what a three-star Michelin restaurant looks like. This is not at all just a restaurant. It is an ESTATE. To start off, gardens and trees, all pruned and manicured, a forest to greet you.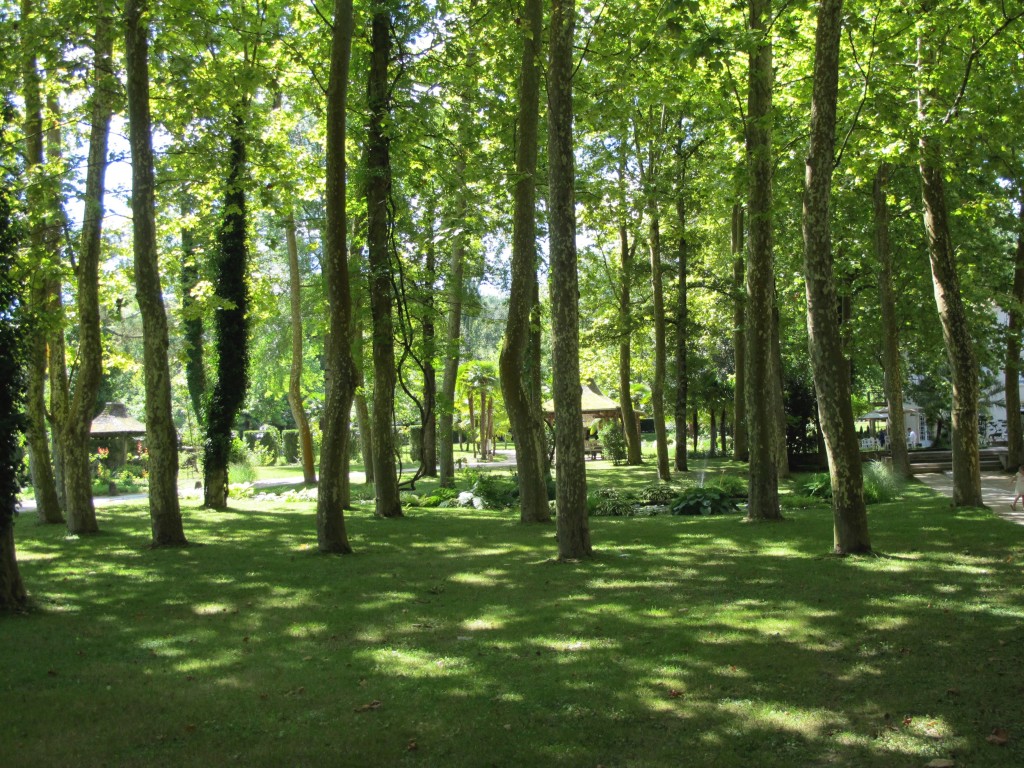 After, a huge main building with a spa off to the right, and tables with umbrellas in the front courtyard. It is a huge property, stately and beautiful, and we were kind of blown away by it even before we went in.
We were invited, upon entering, to have a drink in the 'salon' and were lead to a wing of the building with three large rooms in a design that combined old French drawing room with colonialism (animal tusks and two zebra skin chairs). We had this whole room to ourselves!
There were bookshelves, leather chairs, and a grand piano. Our cocktail, the speciality of the house, had armagnac, crème de cassis and champagne and at 20 Euros each, cost alone more than our share of the meal the night before, delicious pintos in San Sebastian in Spain. But boy, was it tasty. Along with the cocktail they brought an incredible selection of amuse-bouche to accompany it, which made it rather more worth the price.
I don't think I've ever been a restaurant where you get to relax and choose your menu in the salon… We sipped our cocktails, took numerous photos of each other and ended up choosing the most expensive menu, the 'Enchanted Palace', because the various delights of truffles and lobster and the dessert options were too tempting.
The woman explained each dish and element of the dish with flair, and where there was a choice of two or three options, we each chose one so we could do our usual trick, of switching plates partway through (which the waiters thankfully pretended not to notice).
Let me just say before we get to the food that the service was impeccable. It seemed very prescribed in terms of a hierarchy, the attractive wait staff smoothly moving around from place to place, perhaps in an orderly presentation to remove cloches (the only other time I was in a restaurant that used cloches was in Durban, South Africa and was done quite awkwardly). There was one beautiful woman whose role it seemed was just to ask whether all the courses were OK. Chef Michel made his rounds and came by and said hello, which we loved. He seems a lovely, gentle soul. HIs wife, Christine, who I think has taken the main role in running both the accommodation and the management of the hotel seemed a little shy, perhaps of foreigners speaking French badly!
For our first course, the 'Splendid Scampi au Bleu' in a lovely consommé of citrus ravioli.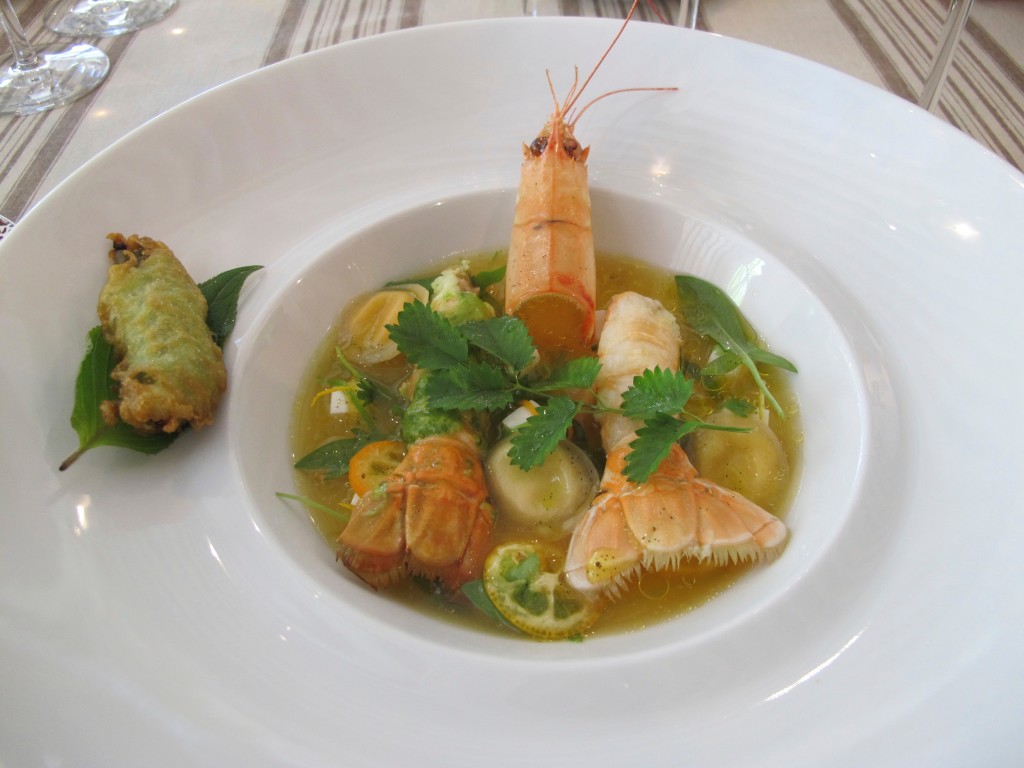 As well as the Truffle Zephyr as a Cloud on a Delicate Garden Soup (maybe my favourite dish).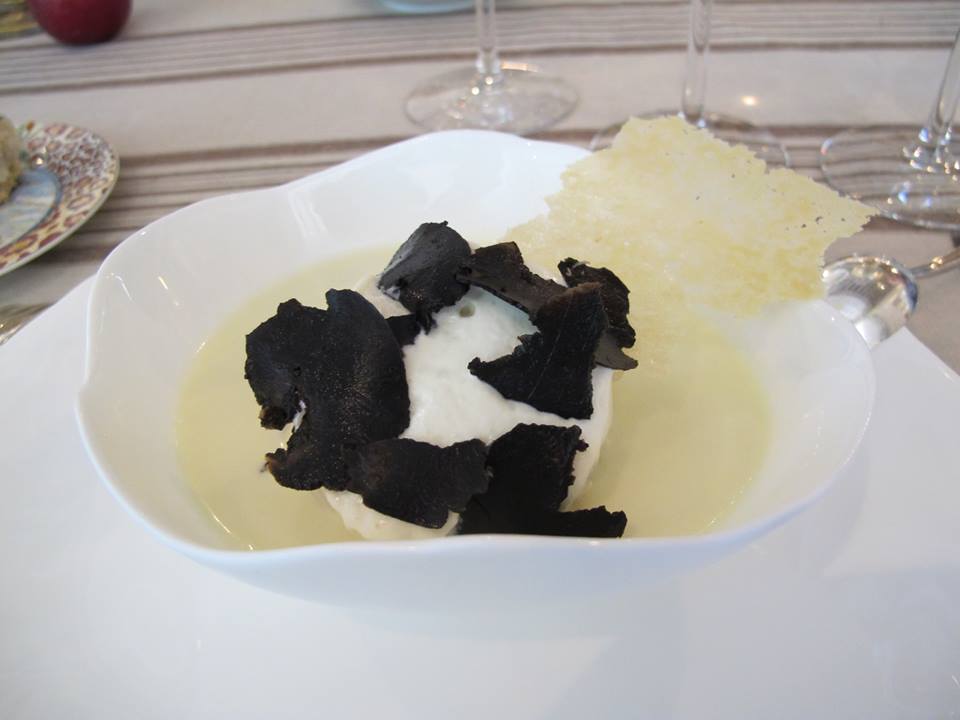 We decided that the meal would best be accompanied by a different glass of wine with each course, and we could leave it up to the sommelier to choose for us. The wines were wonderful, though I didn't write them down. The Pouilly-Fumé that accompanied the lobster, with body and a smokey flavour, was a particularly amazing match. We didn't ask the price of the matching wines beforehand so were pleasantly surprised at the end when it was about what could be expected.
The next course was the soft pillow of morels and wild mushrooms in truffle sauce:
As well as the 'Silky Blinis of Black and White Truffles'. Are you getting the idea of luxury here: truffles, scampi, lobster…
The next course, there was no choice. We both got the same. And really this lobster, roasted and lightly smoked in the hearth, with a country-style onion and velvet peach purée left us speechless. And still does.
For the 'mains', we opted for the Wood Fired Beef..
And the chicken breast from the Landes á la Rothschild, with a fine stew of veal sweetbreads, morels, truffle and rooster's crests…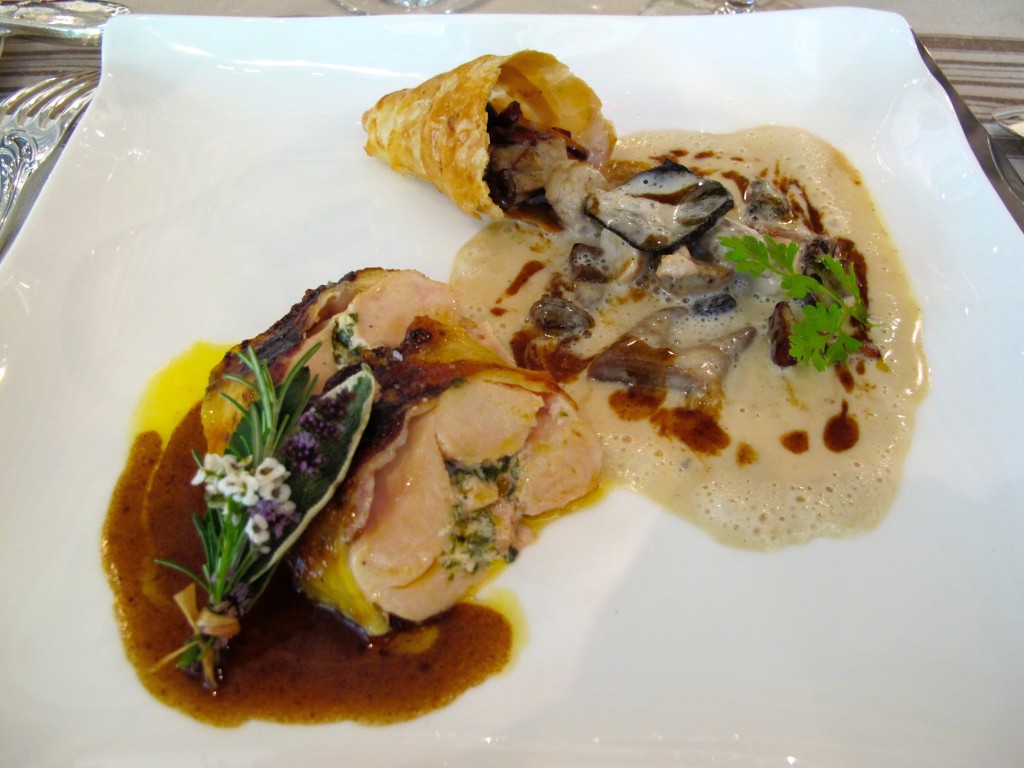 The third choice, sea bass, we didn't get to try (just as we didn't get to try the 'Tsarina Egg with Caviar' for the first course).
Now to desserts… On that August 2014 trip in the southwest of France, I found that we had many memorable meals, that included inventiveness in the entrees and mains, but that the dessert was often basic, traditional and simple, probably based on something local or seasonal. They were usually lovely, but not outstanding. The desserts here broke this rule.
S's delight had a name we couldn't decipher at the time. It was 'Un Soufflé Époustouflant à la Verveine du Jardin', the breathtaking garden verbena soufflé.
And it was.
The maitre'd (at least I think he was the maitre'd), who looked like a French Tim Gunn (from Project Runway), shared the anecdote with us that when Pierre Hermès, famed macaron and dessert creator, comes to Près d'Eugenie, he does not ask whether Michel Guérin is working that day, he asks whether this dessert is available. He also said that Hermès likes the dessert because it is so ugly, and isn't something he could display in a store window, but is the perfect combination of textures and flavours, acidity and cream.
It was S's favourite dish. I found it amazing in that it was not particularly sweet, nor showy, but it was, as was described to us, a perfect combination of textures and flavours. Served with a raspberry dessert wine, it was perfection.
Me, I had a chocolate plate "of kings": Le Dessert du Roi 'Tout en Chocolat

Petit Pot de Crème,
Sorbet,
Gâteau Soufflé et Mirliton
It had a little chocolate soufflé, with a perfect crisp skin, soft and unctuous and not too sweet, a little chocolate mousse or pudding, some more rich and fudgey chocolate topped with coffee granita (the clean texture of ice a perfect contrast to the richness of the chocolate) and a perfect little apple tart. Each was wonderful, and as a gourmand rather than gourmet, I liked being able to try so many different things. The sommelier chose to serve it with a Don Pedro Ximenez sherry… from 1927. I still can't get over that. Five years before the year my Dad was born. It was rich, sweet, dark, smooth and grand and matched with various types of chocolate was… just… too… good.
This was a heavenly finish to an amazing meal. Although the meal did then continue on with some final sweet treats, just in case we weren't filled enough.
Then after lunch, very full of both food and wonder, we took coffee in the front courtyard
(lovely, as well with a candied orange and a chocolate biscuit). At 10 euros, it was the most expensive espresso of our trip, but it was part and parcel of the experience.
We paid the bill of 330 Euro each, best not to think about it but one, we treated this as a very special occasion and two, this seems the price in Europe to pay for this quality of food, service and experience. Then, we went for a little walk around the back where we saw the full extent of the 'spa' wing, a vineyard and a swimming pool for guests of the hotel.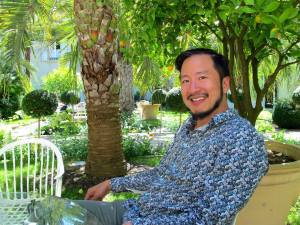 So, now, we've tried a three-star Michelin restaurant.
A summary? While Michel Guérand is credited with 'la cuisine mincer', or slimming cuisine, we would bet our lives that this wasn't it. This was rich, buttery, creamy food with intense flavours and luxury ingredients. The cooking techniques, I'm guessing, are contemporary adaptions of the classic, not tricky or molecular, but refined and stately, yet lively at the same time. I really wondered how, with less courses, Michel would match the heights of the degustation menus we've sampled with 12-20
courses each, but each dish here was substantial, and special.
The setting was completely unexpected in its grandeur and glory. It is perhaps not as old as I thought upon first entering, but it's obvious that Madame Guérand comes from the background and experience to have created authentic and classic luxury, which I've never experienced before in such a form.
Looking back, it's such a particular experience that I'm not sure I can compare it with another restaurant. Geranium in Copenhagen would probably have been my favourite contemporary Western dining experience, but this was kind of different. The food matched with the best of French service and spectacular surroundings made the whole experience truly unforgettable, or as you would say in French, "incontournable". We feel very lucky to have been there and to be able to afford such luxury, and I think really, that so far, it was the best meal of my life!