A meal in an organic wine store: why not?
Le Caviste Bio
50, rue de Maubeuge
75009 Paris
+33 148783003
We could have guessed, by thinking about the name of the restaurant a little harder, that a restaurant wouldn't naturally name itself 'wine store'. But since we didn't, it was a very fun surprise to arrive in the 9th arrondissement, and enter into a charming wine store with a big table in the middle of it for people to sit at for dinner. I think about 80% of the wines in the store are organic and it was also fun that people would come in during our meal, by wine, and quietly exit.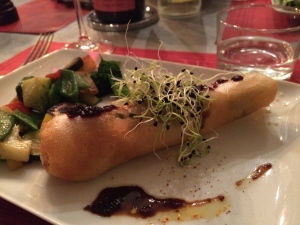 This neighbourhood gem has a Japanese chef, paired with the most charming older gentlemen as a host, who also happened to be training up his young grandson that night to serve us.
It was a very charming atmosphere and food to match. S has a tuna tataki to start with. I had the most perfect house-made foie gras imaginable. For a main, S had entrecote, a steak. A little fatty but tasty. My scallops in a sort of brick shape was tasty.
The desserts were really delicious… I had île flottantes. I love this dessert. A delicate barely cooked egg white mixture floating in a sea of vanilla cream. But I've never had 4 little islands in one dish. S's matcha crème brulée was not as pretty, but pretty marvelous.
Ah, and as expected, we were recommended the most delicious bottle of pinot noir with a medium weight to match both steak and seafood.
I have to admit to jealousy though. The table of four Brits sitting next to us ordered a prime rib roast. When the chef brought it out to show them before it was cut, I gasped. My god, it looked delicious, although as the French like it, it came out very rare. Still, I'd love to go back with more people just for that one dish. Drool.