We last visited Garagistes in Hobart for a special New Year's Eve meal as 2011 was turning to 2012. It was a pleasure to return, reminding us of the wonderful meal we had there, and to see that the restaurant is still going strong. We arrived early as there are no reservations, and by 6pm, the restaurant was filled up (and remained so, though there didn't seem to be line-ups, people would simply show up and replace those that had left). I remembered Katrina, one of the owners, managing the floor with her quiet efficiency, and she in turn remembered exactly where we were sitting on our last visit.
The choice was between a 3 course and 5 course menu, both with matching sake. Of course we opted for the latter ($85 without sake, $125 with) but started with a yeasty bubbly glass of French sparkling wine from Bourgogne. The wine list here is amazing and extensive, focusing on unusual wines and tastes and small producers. If we lived in Hobart, we'd come back to drink more! To being, they presented us with a lovely amuse-bouche, a house-cured meat of some sort, and something creamy on a pickled onion. Hmm, am going to have get more literate to describe the rest of the meal. Baby radishes too!
I couldn't resist taking photos of each course… though I really need to get that new iPhone for better quality shots. Along with the food menu, we were supplied with tasting notes for the sake describing the region, sake maker and sometimes the street where the brewery was located on (!) with a briefing on the flavours, some dry, some salty, the ones with mushroom flavours, the one with a note of toasted seaweed. Each of the sakes were beautiful, and different from each other, and made an interesting complement to the food. For example the first sake, Kirei Shuzo 'Mannen', a 2012 Junmai (Daiginjo Nama Genshu) was dry and minerally but full of flavour, matching with the very quiet first course, a cacioricotta of ewe's milk, kohlrabi, broad beans and a bright green oil of lovage. It was clean and fresh, like a walk in a forest with freshly fallen snow: a soft cool-white texture underneath a cool crunch of shaved kohlrabi.
The second course, served with Miwasakura Shuzo 'Miwasakura', a 2012 Junmai (Yamahai Nama Genshu), was sea succulents and dried sea lettuce with a blackcurrant leaf sauce, a green seaweedy mix that without the main focus of the dish, the steamed venerupis clams, tasted sea-green with an ocean pop of sea succulents. But the chewy burst of flavour of the clams, the shellfish juices mixing with the sauce, brought it all together.

I think the smoked eel, raw trevally, confit duck egg yolk and elderflower bouillon was the prettiest of the dishes (all of them served on lovely grey stoneware provided a neutral, earthy canvas for the food). Served with Mioya Shuzo 'Yuho Yamaoroshi', a 2012 Junmai (Kimoto Muroka Nama Genshu), this course was delicate and light.

Ah, I remembered the next course from our new year's meal, or at least the meat. Beef from Robbins Island, a windswept corner of Tasmania that supplies Japan with some of its finest Wagyu beef. With tiny bright sour bursts of umeboshi and fermented cabbage (my taste buds confused perhaps, it tasted really smoky rather than sour), we were serve two strips of perfect 'flat iron steak cooked over coals'. Amazing meat and texture. Served with Okamura Honke 'Choju Kinkame Cha 70', a 2010 Junmai (Muroka Nama Genshu) which had much less savoury and mineral notes than the previous sake (fruit/berry tones I seem to recall), this dish was a highlight.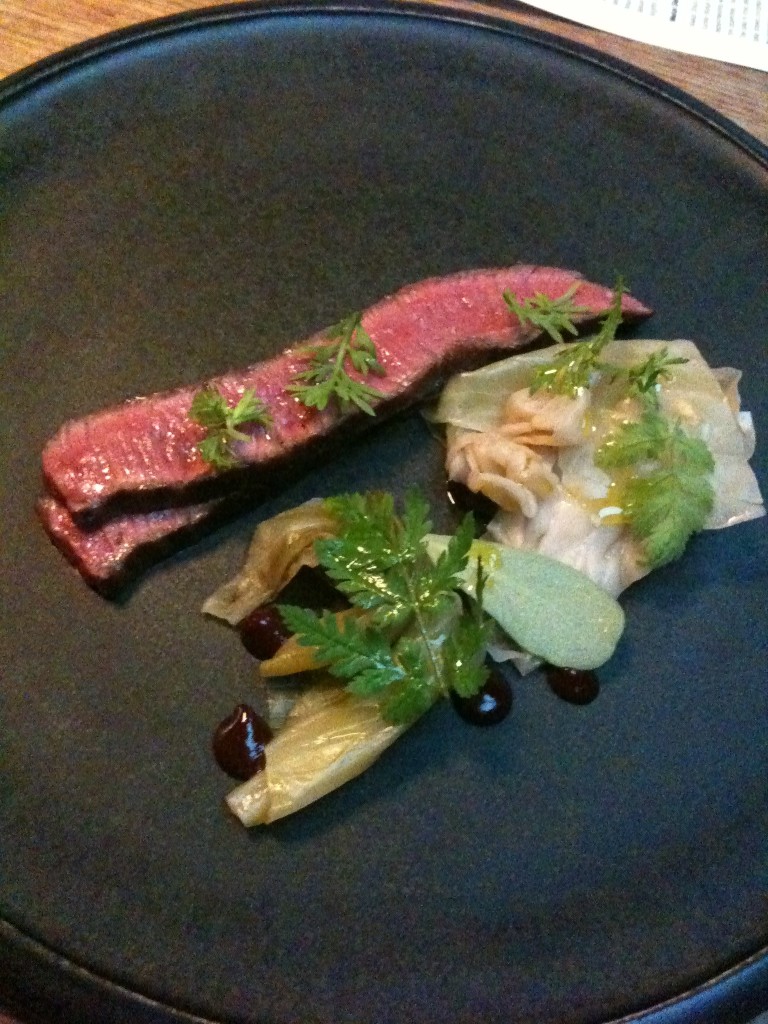 And to finish, a wonderful dessert in a generous portion. The accompanying sake, Mukai Shuzo 'Ine Mankai' was a 2013 Junmai (Genshu) of red rice, a pink colour and made by a female sake maker. I'm wondering if this is the same one we had at Momofuku Seibo a while ago, as female sake makers of red rice sweet sake don't seem so common. The dessert was a strawberry and beetroot gelato with poached rhubarb milk mousse and 'marco polo croquant', perfect slivers of dried rhubarb to add crunch to the milk cloud and berry (not that sweet or overpowering) base. The dessert was a great combination of texture and flavours neither heavy nor too light. You felt like you were definitely getting dessert, but not pushed into having eaten too much! My better half said this was his first, second and third favourite dish of the night!
I loved the meal. Local produce and flavour, saltiness and smokiness, attention to and a range of texture, and a melding of mostly modern Australian with hints of Asia (or with the sake, glasses of Asia!). My better half was a touch disappointed compared to the last time, but that WAS a very special meal.
We had a nightcap (well, barely night, we go to bed early these days) at Sidecar, Garagistes' sister bar. A charming little place that serves a range of food along with wine and drinks, the two cheery staff members handling all the tasks (food prep, drink serving, washing the dishes as they went), we couldn't resist splitting a flan to go with our sweet dessert wines (and an Italian one that tasted of sweet cherries and almonds and the gorgeous Pedro Ximinez figgy one (1985) that you can stock up from Dan Murphy's). The flan came with a sprinkling of fennel croquante (sugary, crunchy) and was a perfect end to the evening.
Wherever you live in Australia (or from overseas and making an Australian tour), I recommend a spectacular little mini-break to Hobart: a meal at Garagistes and a visit to MONA makes for a wonderful pair of experiences.