For the 2014 World's Best Restaurants, Chateaubriand is ranked #27. I ate here about four years ago, after reading a story in the New York Times about how French style was turning to upscale bistros rather than the traditional formal dining. Basque chef Inaki Aizpitarte's restaurant was highly recommended (here's my review from then, the price for the menu has gone up from 50 to 70 euros), I was happy to return here in January 2015. There is something brusque and confusing about arrival, I remember it from last time. This time, even with reservations, another couple barged in front of us, and I had to signal to a waiter that I wanted something. No one seemed to care. Then there was a bit of a wait, as I suspect they want to time everyone's multi-course meal to flow smoothly from the kitchen.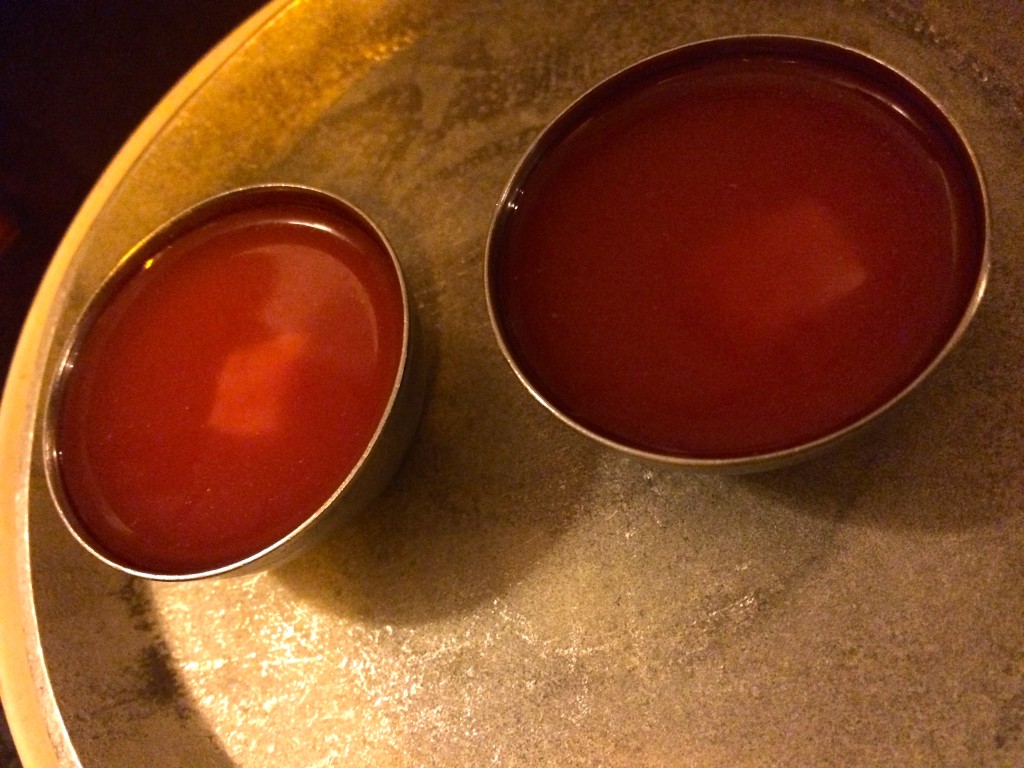 To start with, served with a tasty Chenin blanc, were a series of starters. A few tasty cheese chou pastry puffs. Then, as above, a small piece of dorado ceviche in a startling sour broth. I loved it. I missed taking a photo of another broth, as it was so plain to look at. But the combination of anchovy, fennel and coffee was delicious. I think it hit the umami spot. 
Some tiny prawns deep-fried and with raspberry powder. Yum.
A salad, unusual, with some tiny barely cooked (or raw?) clams hidden underneath the leaves.
Served with a light pinot noir, the first 'main' was crab, tofu and treviso (the bitter red lettuce). Someone spent a lot of time in the kitchen extracting that sweet crab perfectly. The tofu was light and delicate, with an orange sauce that I thought was tomato based. I don't associate fine dining with tofu and was impressed. A very interesting balance of flavours.
Here's an interesting pairing for the next dish: champagne. The cod was all about the texture, soft and slightly bland. Then ribbons of radish, crunchy deep-fried sage leaves and  a sunflower oil dressing. Cédrat seems to be a large thick lemon with a thick rind. Maybe that's what I thought was the radish. Hmm, curious. 
I think calves' thymus or pancreas (ris de veau) is not necessarily for the faint of heart. Soft and rich, it needed the hazelnuts and walnuts to add texture, the individual leaves of the brussels sprouts were perfect, as were the pomelo tears.
Lucky us, being a pair, I opted for the cheese plate (three pieces of delicious cheese which I didn't record) and my better half had two little desserts. The mont blanc was astonishing. It had raw mushroom in it (and tasted great!). The tostino del cielo was a crunchy meringue with a tiny raw egg yolk on top. By this time, the wine and food, I was happily giddy and didn't manage to take photos of the last dishes.
What makes food interesting is that everyone has different tastes. My partner liked the food, but he said he liked as much watching me enjoy it. The sour flavours, the unique combinations and unusual ingredients didn't blow him away. But I was blown away: I liked how different it was from other French restaurants, I thought the combinations were really interesting, slightly Asian but not quite: it felt new and original to me, even on a second visit, four years after the first.