I've found a new favourite restaurant in Sydney and it's name is Paci. Café Paci opened in August 2013 in the site of the old Cafe Pacifico. It's witty that the Finnish chef Pasi simply shortened the name of the previous restaurant into a homophone for his own name. It's meant to be a 'pop-up' restaurant but when have restaurants stopped popping up and are permanent?
So, why I'm thrilled by this restaurant by this restaurant: Each course was inventive, surprising and delicious and didn't really taste like anything else I'd had before. It reminded me of some of the culinary highlights of last year's Scandinavian trip. The food was very rich but not heavy. Dairy products were used. There was a focus on just a few ideas done well in each dish: Corn. Goat. Carrot. It made me think about the individual ingredients used.
And: it was ridiculously good value. $85pp (without grog) for a nine-course menu. It felt at a much higher-price point than that.
I didn't take photos of everything… but almost. The 'snacks' were wafer-thin crisp pieces of pear, a sashimi fish with a layer of lard, and grilled thin radicchio leaves with raspberry powder. Really!
I didn't take a photo of the 'Pomelo, blue swimmer crab, dill and vadouvan (I had to look this up, it's a French-influenced Indian spice mix)' but I loved the delicate teardrops of pomelo and their textural contrast to the crab.
I also didn't get a photo of the goat tartar, with a great tartare sauce (again the homonym, it must be his thing…) and kale. Who would have thought that raw goat would taste so good?
The cauliflower, squid rice and anchovy butter was rich and flavourful without being too much. Beautiful colours as you can imagine.
Above was my favourite dish of the night though not universally liked by everyone at our table. I thought it was super-creative to interpret the ingredients of a Vietnamese classic dish, a bowl of Pho, in a different, dry version. The layer of wagyu beef here covers thin noodles made out of potato, slightly crunchy. A bit of enoki mushrooms, lemon. Mmm. Very more-ish.
Desserts were just as engaging. A beautiful liquorice cake with carrot mousse covered in yoghurt. Comes as a little white cloud and then reveals it's pretty colours once you dig in.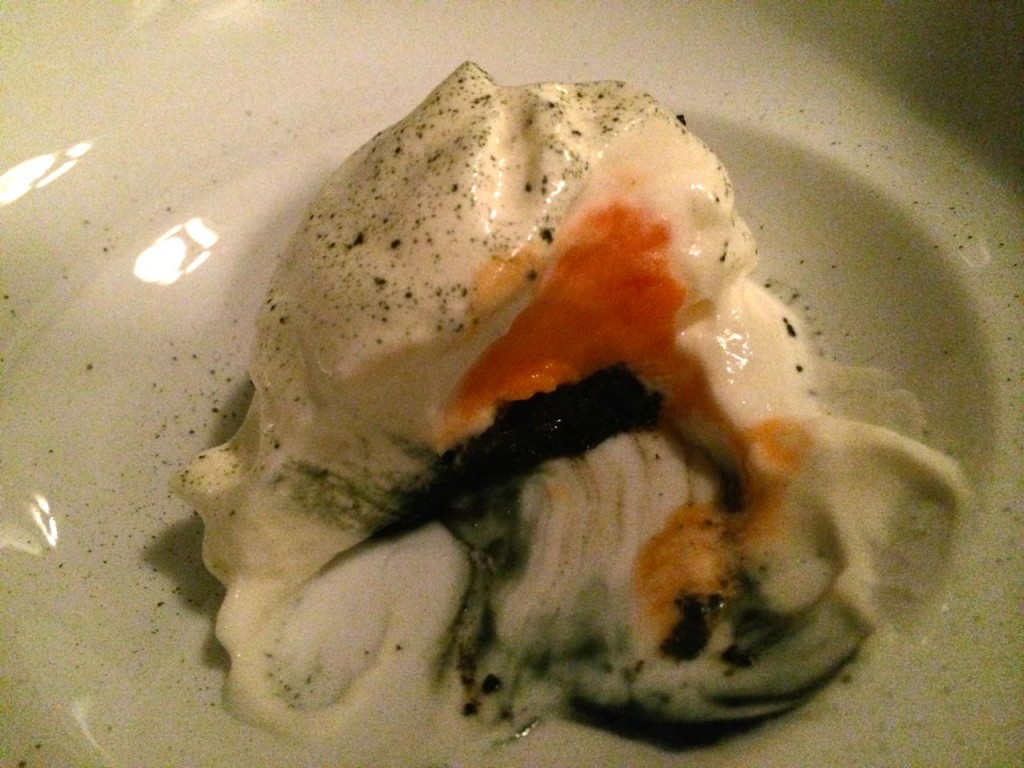 I couldn't get over how pretty this one was: wafers of apple, white better, cocoa and malt, architecturally arranged over rye ice cream.
Gorgeous from all angles.
Finally, fairy floss (or cotton candy) with the flavours of corn and butter… matched with a tiny piece of pork crackle and pork and fennel. Completely unexpected. Teased with the idea that it would be savoury but it was mostly sweet.
And there's another reason why this place won my fancy. If you'll remember from my review of Momofuku restaurant, anywhere that serves pork as a dessert gets my badge of honour.
A final word: the restaurant is all painted in the same shade of grey. Behind the bar looms a large portrait of a man with a moustache, his eyes, the outline of his hair appearing barely. But the rest: tables, chairs, walls and floor are grey. It's a bit disconcerting and reminded me of the minimalist white kitchen that Eddy ordered in Absolutely Fabulous and then even she didn't like it…
So my recommendation. Don't wear grey. The waiters (all of whom were charming and personable) may not be able to find you after you sit down.
But do go and eat at this wonderful restaurant.