Just across the street from Bang Street Food, Bill's has moved a few doors down into a new spot (most recently a pop-up restaurant specialising in dishes with avocado, and much longer back than that, the famous Marque restaurant), a new Italian place is due to go into the space that Bill's vacated, and Flour Eggs and Water seems to be doing well where Besser used to be, which was once, in the mists of time, Billy Kwong's.
This is all to say that if Bang Street Food is still making a go of it about three and a half years after my first review, they must be doing something right. And they are: even if I didn't take photos this time (I'm going to recycle the ones from three years ago). Loved the Kale Bhaji (though my friend didn't so much). Loved the little arancini balls of Biryani rice, a fantastic little cultural fusion. Delicious tender lamb chops, in between the appetizers and mains, and for the mains, roast cauliflower, very beautiful done on a bed of dahl, and a wagyu beef curry. Along with a few naan bread, we couldn't quite finish all the food (so yes, if you make a little effort, I think ordering individual dishes is a better deal than the banquet).
We also liked the Portuguese wine, though it gave me a sad to see on Vivino that it is a standard cheapo, that people are paying… wait for it… three euros (five bucks Australian) in the grocery stores there, as opposed to the $50 we spent on it here. Still, it was what we wanted. The service was helpful, friendly and efficient.
Review from 28 February 2015 (and as of Oct 2018, Zomato said it had 15,500 views):
In four months away from Sydney, Surry Hills is awash in new restaurants and cafés. The buzz (and sometimes sadly, changeover) never seems to stop. I read a few mentions of Bang Street Food on the net, and it took me a little while to figure out where it was located: just above Hudson's Meats on Crown Street, the other side of where a doomed Japanese restaurant, Monkey Magic, was (and somewhat above the doomed Mexican restaurant, Agave).
Here's the thing: this is definitely a winner. The chef apparently has some serious creds from restaurants like Est. and Lucio's, the owner (of the Farmhouse in King's Cross, which I've wanted to go to, but seems awfully busy) knows design and how to put together a restaurant. To me, it's the perfect formula for Sydney (and the Eastern Suburbs): you get a chef to celebrate his cultural background, put a modern Sydney spin on it, serve it up in stylish surroundings with friendly and competent wait staff. I would guess that there's no other high-end Bangladesh restaurant in Sydney. There seems to be a humble diner in Rockdale and another in Lakemba. It's exciting for Sydney to receive a completely new cuisine and concept.
The paw paw salad (above) was delicious: fresh, sweet and sour. My better half thought there was something missing (salt?) but I rather liked it. Kale bhaji was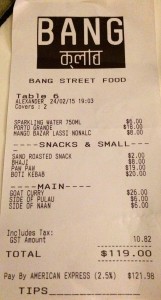 delicious and crisp. I've had a lot of bad bhajis in my time, I tell you, and they can be greasy and the batter sometimes a bit gritty to my taste. We also had a kebab, wagyu beef perfectly done which we got to wrap up in flatbread with some salad greens, saw it in half and split it. The goat curry was exactly as I'd hoped, a rich tasty sauce, super-tender goat, and the lightest pulau rice possible (and some tasty naan).
Washed down with an exceptional mango lassi, and a pricy cocktail (flavoured with cardamon and cinnamon). We were just up for a light meal and I'd love to try more (including the desserts) but we'll definitely be back.
This is my foray back into Sydney restaurant reviewing. If I did it so frequently in Paris in the last months, why not here? I'll have to take more photos though. And really, this review of Bang on Unbearable Lightness of Being Hungry is much better, with good photos and a full description of the experience. I think, in the context of Sydney, I'm going to have to rename these little write-ups as a 'Food Diary', since they lack the vigour and depth of an actual review.
In any case, see you at Bang?
Bang (Bangladeshi Street Food)
www.bangstreetfood.com.au