Luggage has been a big part of my life. I've done a lot of travelling for work, and even in younger days, schlepping my belongings across the country for university required figuring out the best way to transport them.
My last major suitcase was this Samsonite soft-sided case, 70cm or so, and with two wheels, as was common enough at the time. I was really grateful to my parents for making it a gift to me at the time, recognising how much work travel I was doing. I can't remember exactly how much it cost, but I do remember thinking it was really expensive, even though it was bought at a Samsonite outlet at the Waikele Outlet Mall in Hawaii.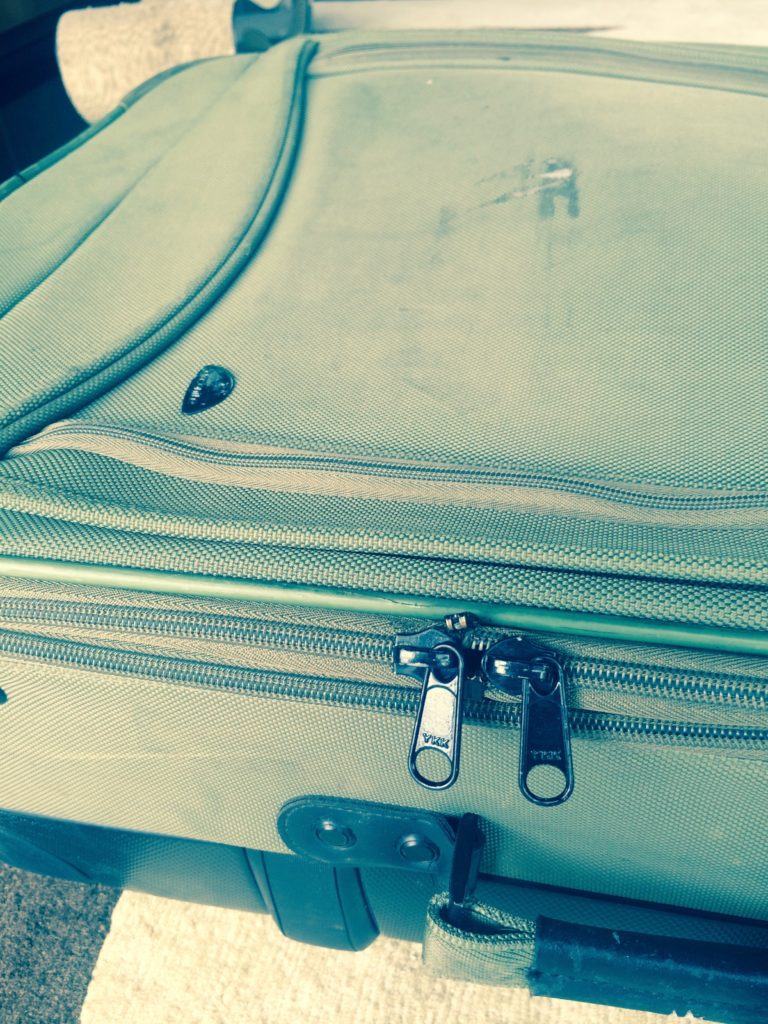 Sadly, on one of my first trips, I had a complete brain fart and while heading to the USA, put a lock on the zip. Of course, customs tore it completely open, meaning that I had to go through some effort to have it repaired while in New York City during a meeting. It was functional but not great: afterwards I could only ever zip it up to the one place. Annoying.
Finally, the outer layer on the wheels wore off. I didn't even know there were two layers. Apparently, Samsonite wheels of the time did have some problems in durability (and people were replacing them with roller blade wheels). But I think ten years is a pretty good go.
I also wondered what it would be like to have four wheels, which seems to be so much easier to transport in various circumstances, and although I know that soft-sided luggage is more versatile for cramming in as much as you can (and expanding the case), I have been rather attracted to the hard sides lately, particularly when my better half bought a Rimowa in lime green, a very lustworthy object in itself.
I was an interesting experience deciding what new suitcase to get. It helped that Myer (a major department store in Australia) was having a ridiculously good 40% off sale. But it struck me that suitcases were cheaper than I'd expected. Samsonite is still more expensive (and Rimowa certainly is), but there's a good range of interesting bags at a reasonable cost. It seems that the cheaper ones are simply versions of the more expensive ones with less prestige. Samsonite owns American Tourister. Antler owns Monsac. I'd heard good things about Delsey but there weren't many there to look at. I think Crumpler, from Australia, is a very cool brand but didn't read good things about their luggage.
The other thing was that there didn't seem to be a lot of fundamental differences between the suitcases. Sure, they looked very different from each other (although the majority in staid colours of grey and black), but the variations in surface and texture: 'just a matter of what you prefer,' the sales clerk informed me.
I really wanted something that would stand out, and look different and fun. I was rather attracted to a bright, red shiny Monsac, and I thought the Antler prism embossed suitcases were very attractive, almost a bar code design. The purple one was great. Samsonite did have a cheaper range but only in boring colours… So… royal blue it is.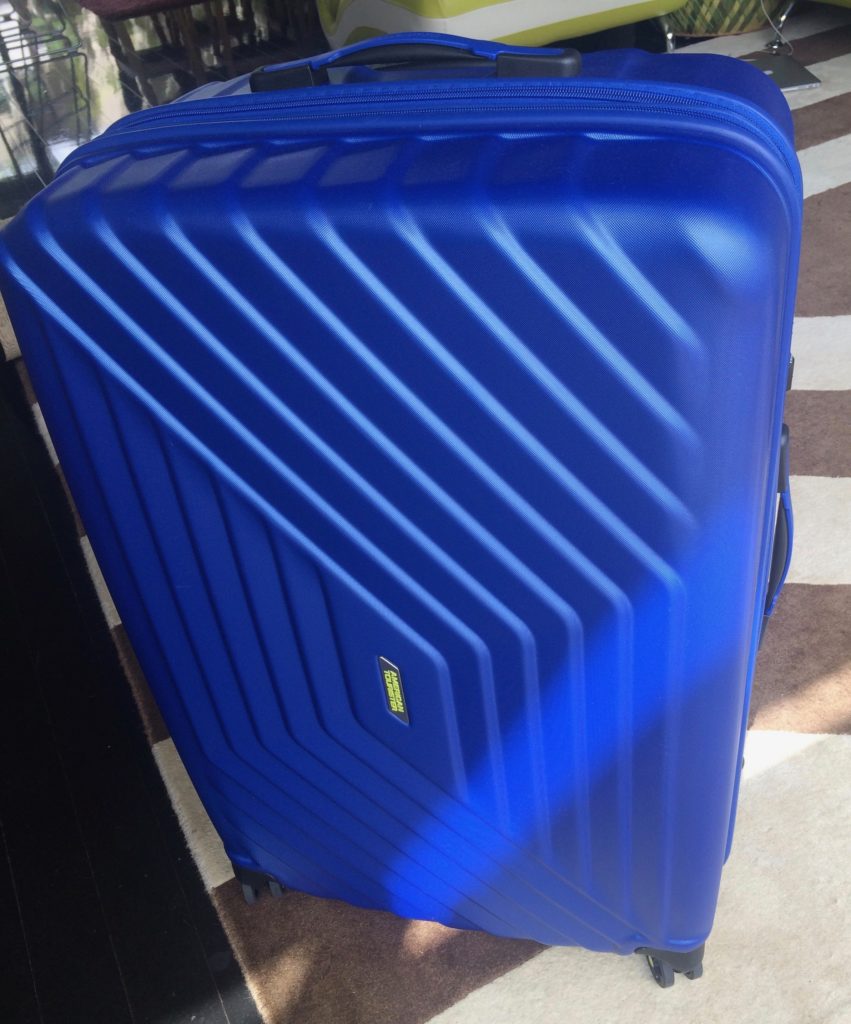 In the end, I went not only with a good colour but with a good gimmick. Apparently, American Tourister is the first to trial a hardside bag that expands like a soft suitcase. This one looked pretty much the same size of my old Samsonite, but can expand in a similar way, going from 69 litre capacity to 81. I like the colour and the very groovy embossed design (though I had to travel a bit far to get the blue one I wanted; the first store I went to only had them in grey). Check out how big it gets:
Fantastically, the insides have a lot of features (this turned me off about the Antler suitcase, which was relatively featureless inside). Looks like lots of flexibility with pockets and zips to help with packing. I also love that you can pack only half the suitcase and zip it up. If I didn't have enough in my Samsonite (below), there weren't straps or secures, so the contents would move around: not so good.
So look at the colours and details of the inside of the American Tourister. I'm a sucker for that. There was a similar American Tourister suitcase in purple that was rather attractive on the outside, but had no colours on the inside, and less zippers and features… I do think I'll miss the pockets on the outside of the soft-sided Samsonite (useful to slip in things at the last minute without having to completely open the case, also useful for large flat objects). But I think I'll figure out some way to compensate (probably any items like that will just go into my carry-on, or I'll have to plan better)
Oh, and the price. With a regular price of $389, I got a whopping discount of $156, bringing the price down to $233, most of what I got on credit card points. This seems so reasonable that if I really don't like the luggage, I could always get a different one in a few years. In another time, I think I might have been concerned that it's a little heavy, i.e. 3.6 kilos, which is a rather large percentage of a 23 kilo limit. But these days, I'm packing lighter.
On the other hand, I admit being a little shocked when I finally compared to the two suitcases. 66cm plus the wheels meant that, yes, it's the same length as my Samsonite was. But look how fat it is (and that's without expanding it). It's 50% bigger! And that's for the medium, not large, size of this range. I'm not sure that I really needed such a big suitcase, but because it moves so easily, I think it shouldn't matter really, if it's half-full, or extra full.
For all the attractive reasons for getting this suitcase, I even managed to overcome my prejudice about a suitcase named after an American Tourist (Samsonite, Antler, Rimova all sound much more sophisticated to these ears). But what's in a name?
The final verdict, after trying it for a few trips. While the most important thing was that Thor likes it (see below), I found it well-made, easy to use and versatile, and visually attractive. It is easy to move around (in fact, it wheels around beautifully). BUT: I also found it a bit too big. The size smaller than this, to my eyes, doesn't look big enough, but this suitcase is on the big side and I can't think of a circumstance when I'd need this much space. I have to remind myself that I am not longer a university student trying to cram as much as I need into one suitcase! While this suitcase did always fit in the trunks of cars or in other places, it is a bit bigger than other suitcases that are supposed to carry the same amount. I did notice this on various trains and subways, or, as I said, getting it into a taxi and uber.
If you're a tall person, or like a bit of extra space, I think this space issue wouldn't be a problem (or you might like the biggest suitcase). Otherwise… I think you can get a very similar suitcase from American Tourister that is a little smaller.