3 days, 6 memorable meals later (not to mention some good pastries and coffee for breakfast). I finished with a bang on Thursday night, 17 March 2011.
The original inspiration for my culinary adventure was an article in the New York Times about hot, new young chefs serving prix-fixe menus, mainly in bistros. Apparently, modern haute cuisine that is affordable is sometimes referred to as bistronomy, sophisticated food, that unlike some of Paris' top restaurants, won't cost the equivalent of a week's rent in Sydney! Even on my return from Paris, the NYT was still talking about the Chateaubriand in "A Paris Farewell".
Located on Parmentier Avenue in the 11ème arrondissement, it was cold but quick Vélib ride, where there were two young American couples already waiting outside the door at 9:45pm. Getting in was half the fun. My previous award for avoiding eye contact at restaurants would go to any Chinese restaurant during a busy yum cha/dim sum service. But these waiters scooped the prize. They were busy, but there was no way they were going to give us any attention. There was a bar counter, but no offer to have a drink while we waited. We simply needed to figure out that we would wait outside until there was space inside and then wait there. I found it amusing, while the Americans found it vexing.
I think I was finally seated about 10:15pm in the back in front of what looks here like a chalkboard, but I think was a piece of art. It's a buzzy place, charming in not being over-designed. I find it amusing that the name of the restaurant calls up an idea of traditional gastronomy, but the menu is anything but. At the last minute I decided to go for the matching wines (an additional 40 Euros to the 50 Euros menu, perhaps not quite as good a deal as the food). I won't be able to discuss them here, as I have no idea what they were! The waiter (who as soon as I was seated was personable and attentive) would serve the wine, say "it is made by" and then mention a name I'd never heard of.
There was not one but many amuse-bouches. A piece of fish in anisette liqueur, some small delicate pastries…
And a very delicious cauliflower soup with sesame seeds, and a small piece of pork – speck? I somehow missed taking a photo of the small piece of ris de veau (calf sweetbread) with equally sized pieces of cumquat and carrot, and the sea urchin with a mysterious green sauce on a watercress leaf.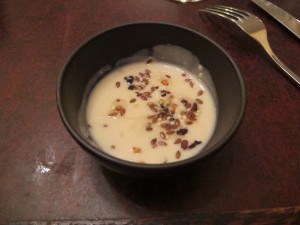 The first proper course was "Fish & Chips" but what an interesting interpretation!
Crisp, battered fish, so light it was almost not even there  – matched with three thin potato chips covered in tamarind powder (which made me cough) and 2 small hard potatoes.
The next dish was also fish, but a complete contrast. A beautiful, slightly under-done piece of sole ('LImande sole'), with one thin raw slice of Asparagus ('asperges du Vaucluse') matched with a cooked stalk that tasted watery and crisp at the same time, the essence of the vegetable, with a sauce of beurre noisette sauce and a sprinkling of some yummy unidentifiable green things.
I was seated side by side with a Japanese woman, Noriko, who spoke to me while her friend, a tall handsome bearded Frenchman, was in the lavatory. During this time of the typhoon and earthquakes, she wanted to know whether I was Japanese, as she felt like reaching out to fellow countrymen. We chatted after that, occasionally, during the meal, and I enjoyed hearing their praise for the food, and sounds of enjoyment. We both agreed that the next course tasted Japanese, "Boeuf, Hareng, Pickles", was the softest beef with radish, pickles and a mushroom in a herring broth that was both savoury and sour. I think it was the most unFrench flavours that I ate in my three days!
The dessert was Endive, orange, olive… It was served with a liqueur of white quince, which was lovely. An intense orange sherbet, olive 'soil', and a piece of orange, and endives with a surprisingly sweet watery crunch. Interesting and engaging.
The second dessert was a choice of the daily cheese, which I would have loved to try, and what I did try: chocolate and celery.
Chocolate powder, which made me cough like the tamarind stuff, cream, broken flaky cookies, and something chocolatey with a brownie-like texture. Is that where the celery was hidden, because I couldn't find any? It looked like a mess, but I was so intrigued by all the textures and trying to guess the celery that I quite enjoyed it.
It was well past midnight when I finished the meal (and in a food coma). I was amused that the Frenchman next to me struck a conversation up with the chef as he was headed out the door (they were actually going out to karaoke. I wonder what he sang). I'm just in the neighbourhood, he told him, though I haven't eaten here before. It was wonderful. And then they exchanged mobile phone numbers, either to help the Frenchman get reservations when he wanted, or because they were going to become best friends. I'm not sure. I thanked the chef as well (here in the stylish coat with unusual collar), Iñaki Aizpitarte, of French-Basque origins, and said, you're famous, the review in the New York Times was how I found out about the restaurant.
"But that is not the point, I don't care about that," he said nonchalantly. The way he spoke indicated an artistic temperament and somehow summarized a particular feeling I get from Parisians: pride, a commitment to beauty and art, a dismissal of those who don't share the same viewpoint. "What is important," he told me "is what you thought of the meal."
I didn't need to say it. Fantastique.
[And finally, a little web-surfing and I found out that Le Chateaubriand ranked 11th of the 2011 San Pelligrino's World's 50 Best Restaurants, replacing last year's 11th ranked restaurant which has now dropped to 16, L'Astrance, where I went for a special meal in 2009. Hmm, perhaps this should be my bucket list. But anyways, Le Chateaubriand was a lucky choice, and definitely the right one.]