It seems everyone in Paris has advice for a favourite place to eat, or a pastry shop, or whether the Macarons are better at Pierre Hermes or Ladureé. Taking advice from someone who was only in Paris a day, and didn't actually try this restaurant wouldn't make sense normally… except that advice from my friend Greg regarding alcohol or food is not to be ignored.
I decided to try Le Comptoir Du Relais for lunch since I'd heard that evenings can get ridiculously crowded. Apparently a lot of chefs come here – also, they reserve part of the restaurant for guests of Le Relais hotel (hence the name). Getting there for lunch was a good choice, a wait of only 5 minutes, and a table outside in the glorious sun of Paris in the springtime. The wait staff are both charming and rather direct and brisk, which I noticed in some reviews managed to put off some foreign visitors… Me, I was very amused to see an elderly woman harass a waiter over and again until she managed to get the table she wanted, the one that was being cleared for me! There was no stopping her.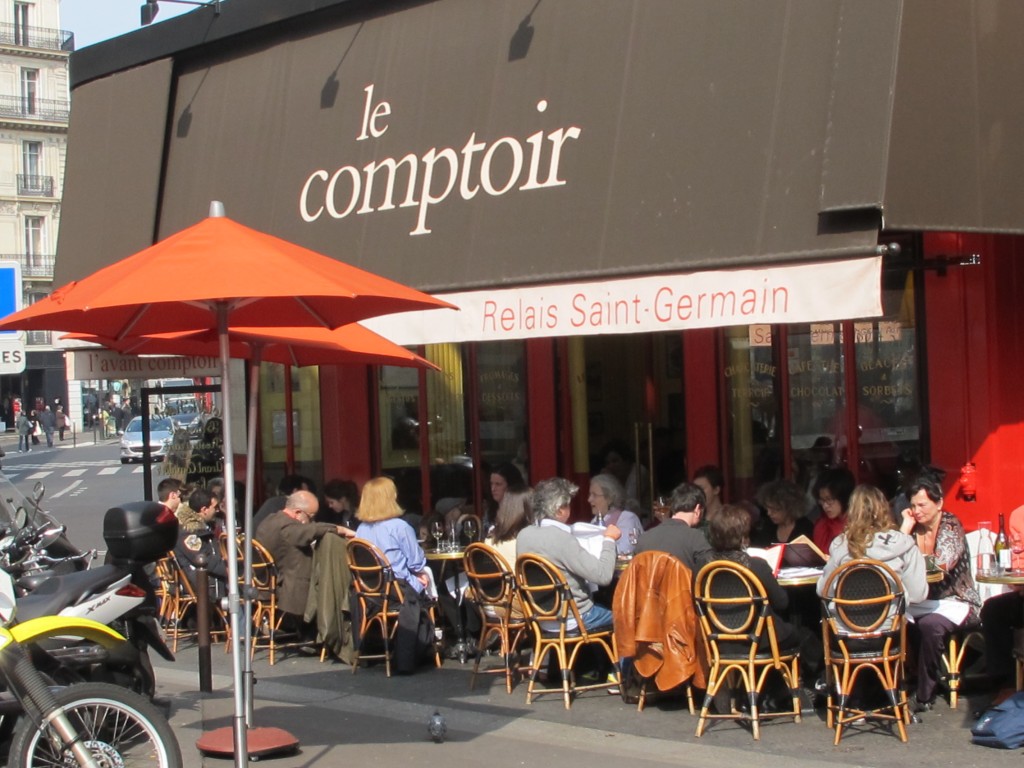 I noticed an intriguing item on the special's board, pigeon soup with foie gras, for 10 euros, and asked the waitress about that, but she told me the ravioli was what I wanted. I was amused after to note that the Lobster Ravioli at 25 euros was rather more expensive, but honestly, I don't think she was up-selling, she just had my best interests at heart.
This was not little chopped up pieces of lobster, nor lobster flavoured ravioli. No, these were big, meaty mouthfuls of lobster, with some pasta wrapped around them, in a foamy butter sauce. That substantial texture of lobster, which I automatically associate with the idea of luxury and privilege. Perfect.
Likewise, the waitress informed me that I'd love the fish, and I thought it was cod, but "Lieu Jaune" is haddock.
With tiny wild mushrooms and roasted almonds on top, grilled crisp, with a painting of squid ink below it – a quenelle of a tomato salsa of sorts and one single piece of red onion. The flesh was firm, not particularly with a strong taste of its own, but a useful palate to mix the other flavours on. I was delighted with it. The two women next to me, with their salmon and broccoli (a rather stunning colour combination) looked at it in comparison with theirs and seemed jealous.
Did I need dessert? Not really, but when the first two courses were that good… I asked the new waitress who took my dessert order for a recommendation: the charmingly named "Perle du Japon", which is basicaly tapioca pudding – with orange marmalade. I've been trying to make tapioca pudding for ages now – which while tasty and with an appropriate custard texture (and at least not rubbery like the first time I made it) – was nothing like this rich, perfectly creamy and balanced dessert. I'll have to keep trying.
Ah, with a bit of crunchy profiterole. A perfect combination of textures. Greg, you beauty, thanks for the recommendation. A perfect lunch. 64 Euros including a half-pitcher of white wine, and a coffee.