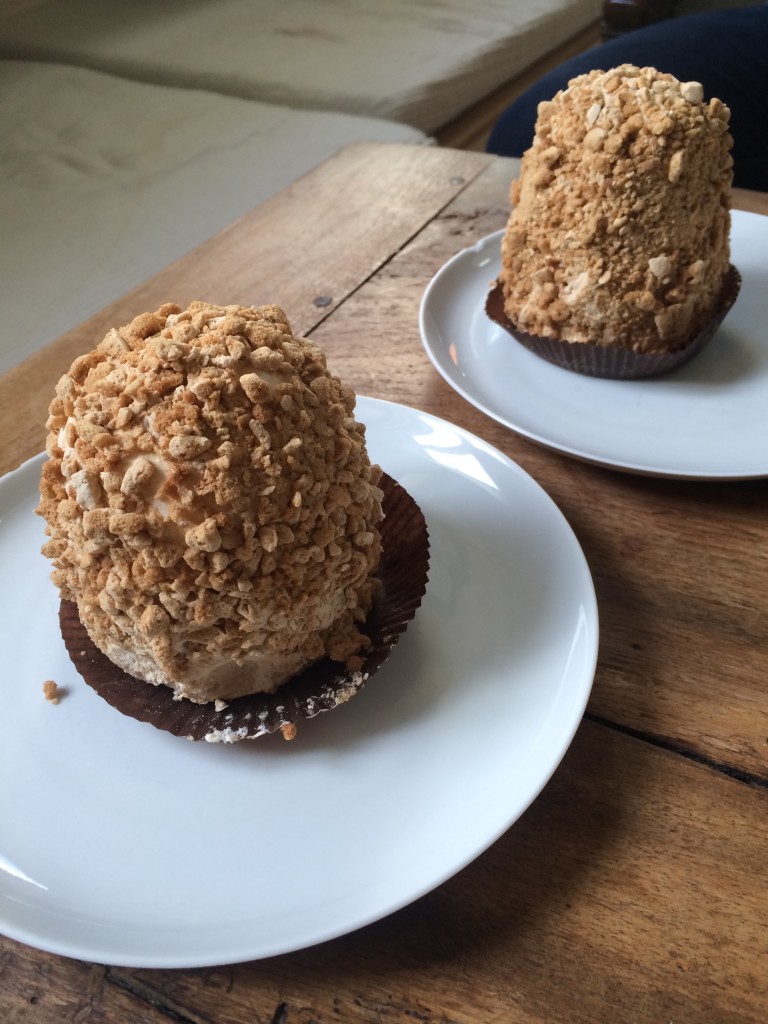 At a subconscious level, it's obvious that the reason for my keeping this recommendation private, given directly to friends or posted on Facebook, is that I can't imagine that something THIS GOOD is so easily available – if one lives in Paris, or as I hear, London, New York and Brussels – and that the information must be hoarded.
But no more. I'll let the secret out now: these are… everything. Modernising the traditional Merveilleux cakes from Northern France and Belgium, chef Frédéric Vaucamps has created the most amazing dessert. A sphere of light meringue rolled in a layer of light, fresh cream, and covered in another flavour: perhaps chocolate flakes, or praline. In fact, I
think the meringue is filled with the cream as well, but I'm not 100% certain. It is a marvelous combination of texture that somehow alludes to what it is not: surprisingly not heavy nor too rich nor too sweet.
And yet, it feels like the ultimate luxury in tasty treats.
We discovered them by wandering into the store in the Passy neighbourhood, impressed by its minimalism: they sell only these wonders and a brioche pastry called a Cramique (tasty enough, but it didn't blow my mind like the merveilleux). They come in larger and smaller sizes. The only reason I can think of getting the smaller one is so that you can eat more flavours at the same time. Six flavours with whimsical names.
Macarons are still everywhere in Paris, but seem to have hit the peak of international interest and are falling away. When McDonalds serves them, they've ceased being a novelty! Sadly though, their widespread popularity makes it easy to forget how good they are when bought from Paris's top vendors like Pierre Hermes. But if I had to give a single recommendation for a Parisian pastry, I'd reluctantly nudge aside the macarons, and boldly predict this as the new trend to watch eat. There are stores so far in the 4th, 5th, 7th, 15th, 16th and 17th arrondisements… See you there!