Paris is all about little discoveries and getting lost, I think. My pal Greg's recommendation for a croissant was that it was across from Jacques Genin, and so of course, I had to discover Jacques Genin. The internet told me that he used to make quite good pastries as well, but then gave it up to focus on three things: chocolate, fruit jelly and caramel.
The seated area, however, only allows tastings of one thing or the other. I'd really recommend a little tasting plate of all, since I would have sat down, and ordered a coffee to go with my samples. But instead, I decided to choose two pieces of each, and take them away in their beautiful wrappings. While I felt a little stingy doing this, the lovely server didn't indicate any displeasure, and for AUD 9 (or 6 Euros), it was not, in fact, that stingy.
Paris is awash in chocolate, so I find it hard to compare. These tiny squares of chocolate remind me of Pierre Marcolini, who I discovered in Brussels, and I do love that contemporary trend of just putting the most beautiful flavour into a tiny cube of chocolate, without any fancy shapes or complicated combinations of texture (though I like those too). The problem though is that it's hard to tell these little bonbons apart. Yes, the cinnamon one was beautiful, as was the Szechuan pepper… I loved the spices. And the creamy ganache filling in the cinnamon one, a burst of luxury. But I couldn't make a difference between other gorgeous expensive cubes, like at Pierre Marcolini's.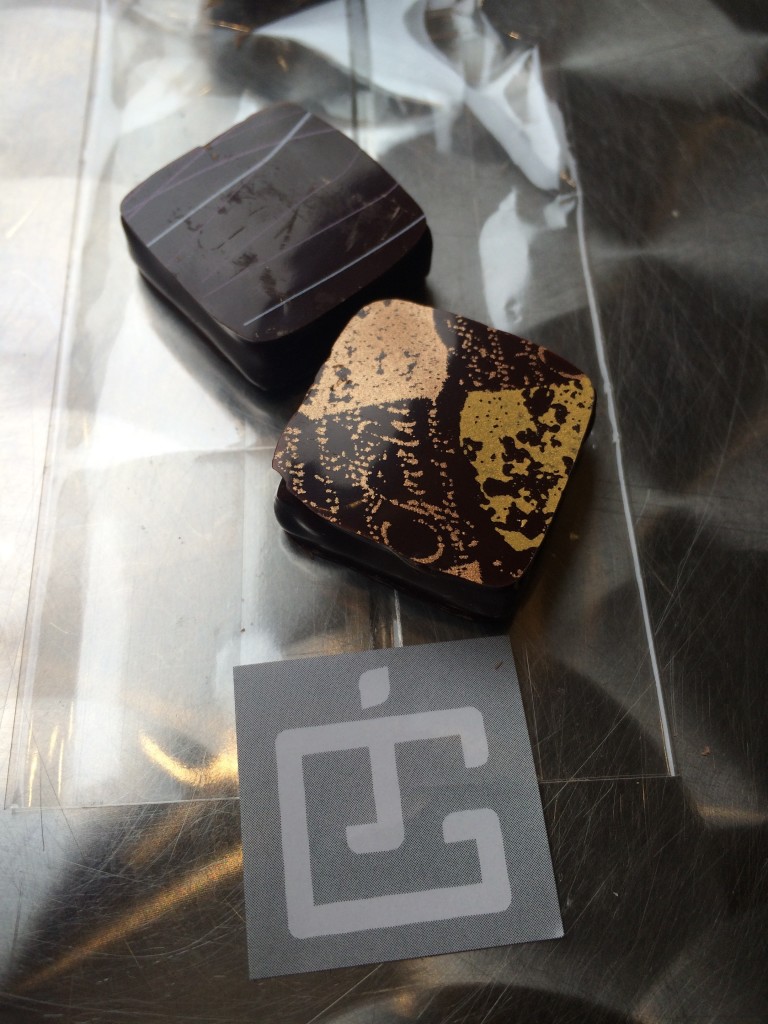 Fruit jelly, on the other hand, is completely unfamiliar to me. If I'd had any before, they would be cheap and unpleasant and coated completely in white sugar.
But with these samples, of pear and mango, I found the flavour intense, not artificial. Sweet. One of each was enough. A pleasant flavour and texture, though not something that I craved after.
On the other hand, the caramels were out of this world. I used to think of caramel as nasty, hard sugary things, cheap and wrapped in plastic. Or else, I'd think of melted caramel, a nicer variety on top of ice cream, or the Caramilk chocolate bars of my youth, an artificial gooey caramel inside of chocolate squares.
But these caramels redefine any past experience. The mango caramel was unlike anything I've had before, soft with just enough texture to hold it together. It wasn't sticky, more melt in the mouth. The noix de perigord (nuts from the perigord region) was all buttery and addictive, and reminded me of a recipe I make where you caramelise walnuts with butter and brown sugar on the stove (before hardening them with spanish vinegar to combine with blue cheese, rocket and pears for the salad). It tasted that fresh though, as if made just for you… and made me think 'more!' but then reconsider because it was so rich (and I'd left the store by then anyways).
By better half arrives in Paris to join me in about a month, and I will definitely be taking him here for caramels. I, by the way, have no idea why it says 'rocher' below. I think it means 'rock' but that doesn't really make sense in terms of chocolate, caramels or fruit jelly, does it?