I suggested Lion and my friend said he can't stand anything with Nicole Kidman in it. I suggested Hidden Figures and he said that he'd read a review with the lead actor that said they'd really sanitised the book it was based on. He suggested Silence but reviews have been mixed and the idea of missionaries colonising Asian people makes me kind of queasy.
So, the Great Wall it was!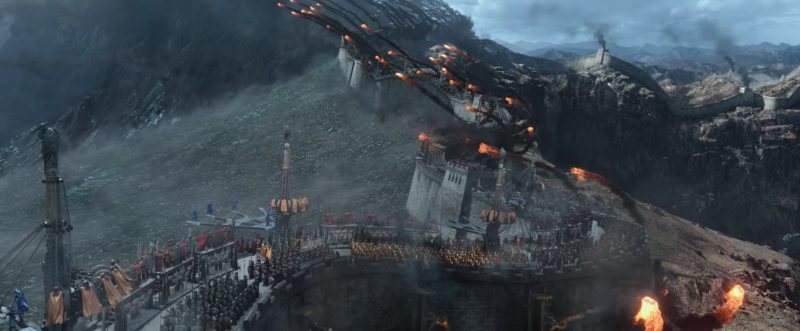 And you know, the thing is: it wasn't terrible. I'd read the controversy about whether Matt Damon was cast as a White Saviour for Asians. And he's not, although he is the focus of the film, the individual that gets the most attention. As a friend pointed out, the Chinese might have been quite pleased that they could afford to hire Matt Damon for their film, and use him for their purposes (though I discover it's a co-production, and the writers and producers all have Western names; only the famous director, Zhang Yimou (and a cast of thousands) are Chinese). In any case, I could find ways, perhaps of being offended in a minor way (it would have been nice to have Chinese heroes with the Whities really as secondary), but I can't get worked up.
What the film seems to be is a regular big budget action movie, with monsters and special effects, that has a Chinese setting, mostly Chinese actors, and a somewhat Chinese sensibility. The rather large army is dressed in different colours according to their role, and I disconcertingly thought they looked like a bunch of Wiggles.
But the scenery is amazing. The costumes are amazing. The actors are beautiful (especially Jing Tian, the female commander). The script is basic and passable, without any laugh out loud ridiculousness. About one-third of the way from the ending, the script completely seemed to fall apart, with gaping holes in logic.
But with my expectations so low, I was more than pleased that I didn't hate it.