A weekend in Madrid, away from Paris, and what a lovely city… a relaxed and chilled atmosphere for eating and drinking and wandering around, and the temperature a few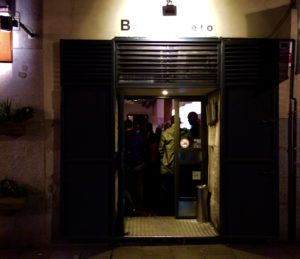 degrees warmer too.
My pal Peter moved here about 7 years ago, and so introduced me to one of his favourite tapas places, Baco y Beto.
It was a great meal: a twist on the traditional, nice service and delicious wine (of course, we were in Spain).
Located on a fun, bustling street, there's good vibes in and out of here. I thought the tempura fish, with squid ink was unusual and interesting.
The fancy mushrooms, deep fried, was tasty; and the pork dish was also very delicious.
We went a bit early, so it was quiet and relaxed. Not too bustling. Recommended.
Calle de Pelayo, 24
28004 Madrid
Spain

Chueca