So, we were after a casual meal and stopped by the Pig and the Lady, on the recommendation from my brother, who works in the food industry, and said this was the hot place. He was right. There was an hour's wait to get in. But it really was charming to ask the host if he'd recommend other restaurants and he enthusiastically directed us a block away. Then we couldn't get into Yakitori Hachibei, which looked fantastic, but the host called up Fête to see if we could get a table, and then walked us over (two restaurants down) and didn't leave until we'd gotten our table. Now that's island hospitality!
And what a great find this was. New American cuisine with an emphasis on local ingredients. A really interesting menu and the waitress described each of the specials of the day in a way that made my mouth water. I had the mahimahi special, with the mahi wrapped in prosciutto, perfect crispy rock potatoes, and a macadamia pesto. The fish was just a touch dry, as mahi can be, but it was a small enough piece, accompanied with so many yummy things, it was fine.
Brother had a rich cioppino soup with a generous amount of seafood. We each tried a spoonful of his broth and it was pretty amazing. Husband had polenta and meatballs, which he found a bit plain but I found had a comforting texture, like cream of wheat for breakfast, and you know, meatballs.
Also had a glass of very nice riesling from New York, which was much fruitier and with a depth of flavour than most riesling, but quite nice. The cocktail menu looks great, and I was sorry not to try what seems to be a specialty of the house: a cocktail served in a ceramic cat glass, with lemon rubbed on its ears, sprinkled with salt. In the meantime, my brother marvelled that there was a row of chic restaurants and bars on what was once Hawaii's sketchiest area.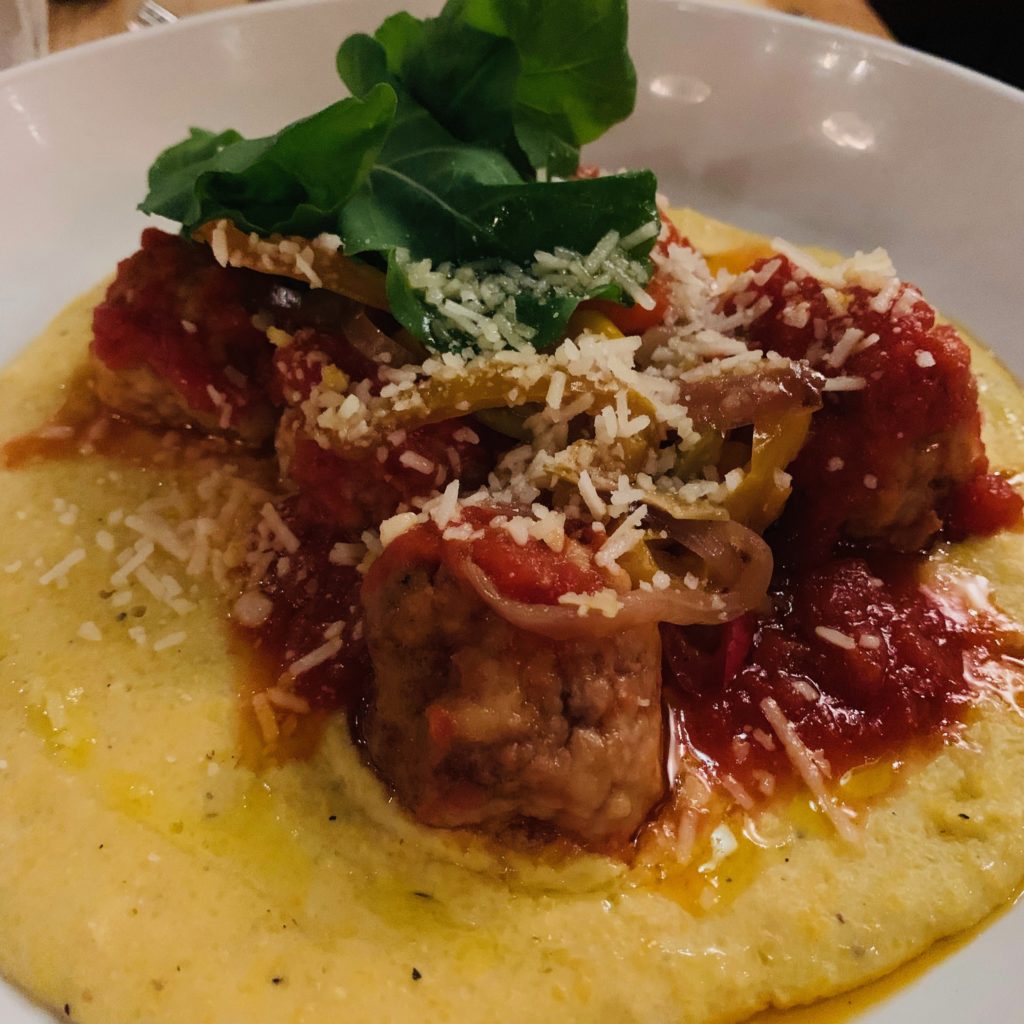 Fête was an interesting combination of casual and fine dining. It wasn't as stiff and formal as fine dining usually is (appropriate for Hawaii) but I thought there was a care and attention put into the food, service and the creation of the menu which felt fine indeed. A lovely meal.