The original Café del Mar opened its doors in Ibiza as a bar that played great chill-out music at sunset; it morphed into a music brand with famous chill-out music compilations that became popular in the 90s. So, it's an interesting concept to transfer to Australia. I wonder whether it will work. Remember how popular all those Hard Rock Cafés were at one point?
I was happy to be invited to my second Zomato meet-up, and meet some other bloggers and instagrammers, and didn't quite know what to expect. And it's hard to be objective when being treated to free food and some very fine wine. But I really didn't expect the food to be so good. I had assumed the restaurant would be all about the view and the vibe. Apparently, they get lots of folks from offices after work on weekdays, and a buzzy social Darling Harbour crowd on the weekends.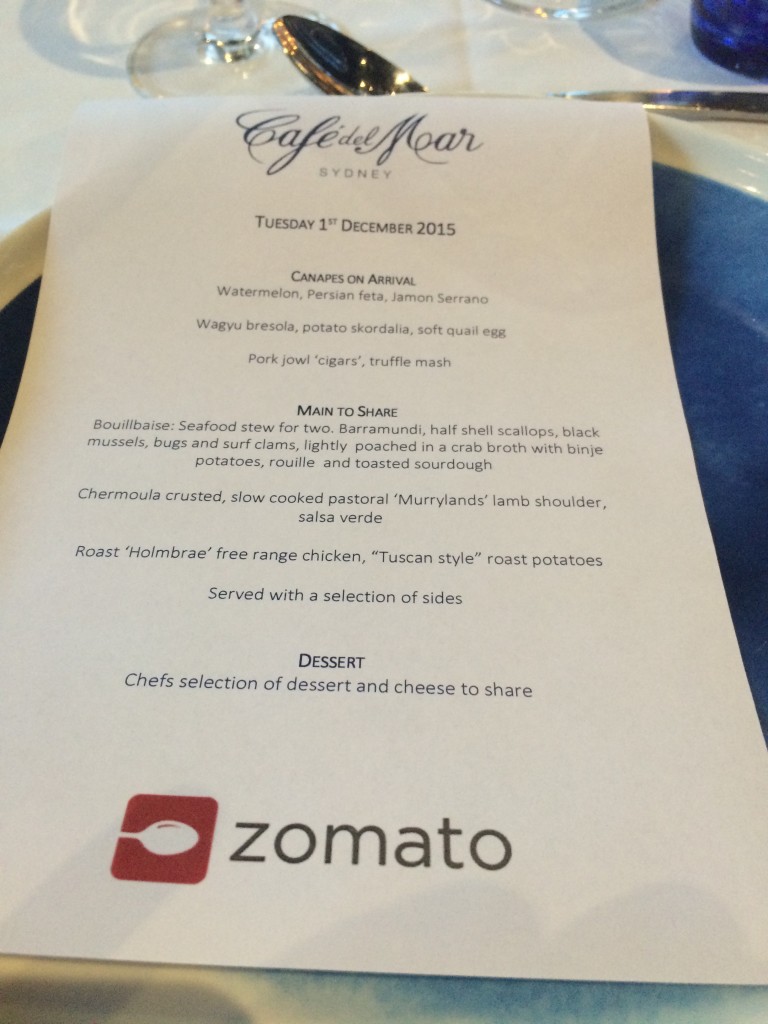 But from the amazing starters – sweet, fresh watermelon wrapped in Jamon Serrano with Persian feta; a soft quail egg and potato skordalia wrapped up in a thin piece of wagyu bresola; and the very rich pork jowl cigars – and onwards, the quality of the food was evident.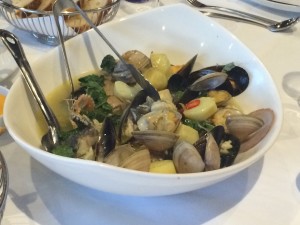 The executive chef, Ben Fitton, has a great pedigree from restaurants such as the Bennelong, Macleay Street Bistro and Sean's Panorama. The mains were a melt-in-your-mouth lamb shoulder with a great chermoula paste; a very luxe seafood bouillabaise; and a roast chicken, which combined a home-cooked feel (stuffing and crispy roast potatoes) with a very elegant execution.
After all that food, their special martini (coconut, pineapple and basil), and some VERY fine wine (Cloudy Bay Sauvignon Blanc and a Cape Mentelle red), I was too full to appreciate the desserts, though I sensed they might have been the favourite course of most of the meet-up group.
Compared to my last meet-up, these bloggers and instagrammers were more lifestyle and fashion-focused then the last group, a majority of them stylish young women. As before, interesting to hear what people are up to and in what ways they express their love of food and a night out. Food wasn't our only link. I was happy to meet not one, but two other cat tragics. Thanks Café del Mar (and Vadawn, our able host for the evening); thanks Zomato; and nice to meet y'all, fellow meet-up-ers.