So Wednesday's nights Food Diary was a bit different than usual. Zomato (formerly Urban Spoon) has been noticing my restaurant write-ups. I met @Nickbarraclough and @sarasez for a coffee at Paramount a while back, and this lead to them inviting me to a #zomatomeetup. What is this, you ask, or not, as the case may be? About a dozen food instagrammers or bloggers and members of the Zomato team gathered for a special meal at the new Voulez-Vous restaurant on Hunt Street, combining Serbian cuisine with modern Mediterrean.
I love the concept. What I look for in a restaurant in Sydney is an interesting and
memorable experience, and possibly with dishes or a cuisine I'm not familiar with. The Voulez Vous team was friendly, enthusiastic and ridiculously good-looking, and their passion for creating a great restaurant is clear. We got the feeling that even though they were putting on this special night for us, and pulling out all the stops, that they treat all their customers with special attention (and indeed, when I'd stopped by for a glass of wine a few weeks beforehand, they were just as friendly and welcoming).
In the meantime, there's nothing that says welcome like a special cocktail: this was a house creation, a mojito diablo with fresh fruit, red bull, and some sort of blue liqueur! We were also treated to raki, a traditional spirit, which I'd heard about and always wanted to try. I liked it.
What for me was really spectacular were the entrees:
We had an assortment of seafood (above) and meat (below).
I think when food is hearty and solid, as it can be in Eastern Europe, a way to make it modern and elegant is portion control! The sarmice, the sausage, was just right: so savoury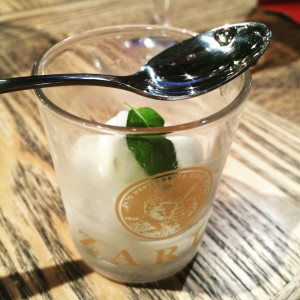 and delicious, yet I think a whole plate of it would be a bit rich indeed. I loved the kashkaval cheese, also also the tuna tartare on bruschetta (I convinced Nick to split everything, as we had alternate dishes). Before the mains, we had a lemon and golden quince sorbet as a palate cleanser which nicely reminded me of being introduced to these in France, many years ago. I loved that it was sweet and a little bit savoury. It managed to cleanse my palate already, though not make enough room in my stomach for the mains…
The meat main was 'saach', a traditional veal, cooked as tender as can be, with very rich potatoes and veg. It was very tasty though after pigging out on the appetizers, it was hard to polish these off. The seafood main was a sesame coated tuna steak with steamed vegetables.
But somehow (perhaps the generous glasses of house wine, reasonably priced on the menu and with a good selection), I managed to find a second wind to tackle the desserts, a luscious nutella torte, which I thought had a nice homey feel…
And the ridiculously good poached pear which reminds me that when I've tried this at home, I've never poached the pears long enough. Soft, and beautiful with some contrasting sauces and a creamy foam, this was a highlight for me.
I'm very curious to see how Voulez-Vous will do, and hoping that the answer is well. It's an interesting location, down on Hunt Street. There are some interesting restaurants nearby on Foster Street (Nomad and Bar H). Just next door is a fusion Korean-Mexican bar (I think) that I'm curious about. The spectacular Sub-Continental is next to that… and there's apparently new restaurants opening nearby (and I've been told to try Nel's on Wentworth). So, it's turning into a real restaurant precinct which I think is a good thing, though competition in Sydney (and Surry Hills) can be fierce. I'd recommend that Voulez-Vous emphasise its Serbian roots, I think Sydneysiders would find the 'Mediterranean' description a bit familiar, and they'd not know that raki, saach and sarmice awaits them – and I recommend YOU to have some of those great appetizers and that poached pear. Thanks Zomato for the meet-up (and nice to meet you instagrammers and bloggers), thanks Voulez-Vous for the amazing hospitality, and best wishes. I'll bring my partner to dine soon.