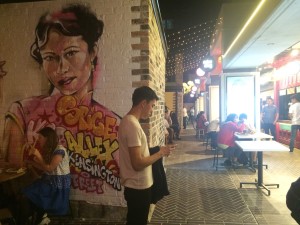 An interesting concept, and you know, I think they'll do just fine. Recreating an Asian hawker alley next to the Central Park complex is a fun idea. They've somehow taken over a whole row of tiny worker's cottages, painted them, and put out ample seating for people to hang out. It's a little bit Disneyland, a bit food court, but with a huge student apartment closeby and all the apartments being occupied in the neighbourhood soon, it's a good addition. And Kensington Street looks like it will have other cool restaurants moving in, so this could be quite an interesting place.
In the meantime, this alley offers a range of cuisine and with a higher quality than usual. There's Malaysian and Singaporean, a Thai street food place, Vietnamese too, and the Hong Kong Diner.
Our group tried a bit of this and a bit of that, though I should have been paying more attention. The crispy chicken wings from Old Jim Kee were delectable. I grabbed a roti canai from Alex's Kitchen (Malaysian) and I think for $6 to get a perfectly flaky made-on-the-spot treat with beautiful curries is a must. I also had a bowl of egg noodles with beef brisket and tendon from the Hong Kong Diner. For $10, it was reasonable and tasty.
Everyone else seemed happy enough with their laksas, and fish sambal. We got overpriced wine from the Red Bottle in the basement of Central Park, and didn't have enough room
for ice cream from Passionflower.
A few weeks after, a friend and I returned and did a repeat of the roti canai (just as good as before) and a delicious special from Old Jim Kee of Sambal Pipi. Fifteen bucks of spicy seafood goodness. On a Sunday evening, when everything else in Chippendale seemed to be closed, this was a good option.