So, I read this article in the Sydney Morning Herald, and c'mon, if that's not intriguing, what is? A new food sensation for Sydney, a back story (pastries bringing cultures together often in conflict in the Middle East) and bakers with big beards, Palestinean brothers serving Jerusalem street food.
By chance this morning, I see on Facebook that they're at Moore Park Entertainment Quarter today. As they've been at other locations fairly far away from me, this seemed like a good chance.
I thought they'd set up a regular food stall in the market, but no: this is a whole event! It's a shipping container, it's an entire lawn of people hanging out, as you can see: it's an event.
The guy serving up the orders has a microphone and is doing a comedy routine to call out names of orders, there's a buzz in the air, there's curiosity.
And the Knafeh (as explained helpfully by the comedian, the K is pronounced, sort of like kuh-nah-fay)? My god. Delicious. And exactly what I want as a reward for my foodie expedition. They only serve knafehs (and mint tea I think). I had no idea what to expect. But it's what I love: something simple, done well, true to a culture, and a novelty.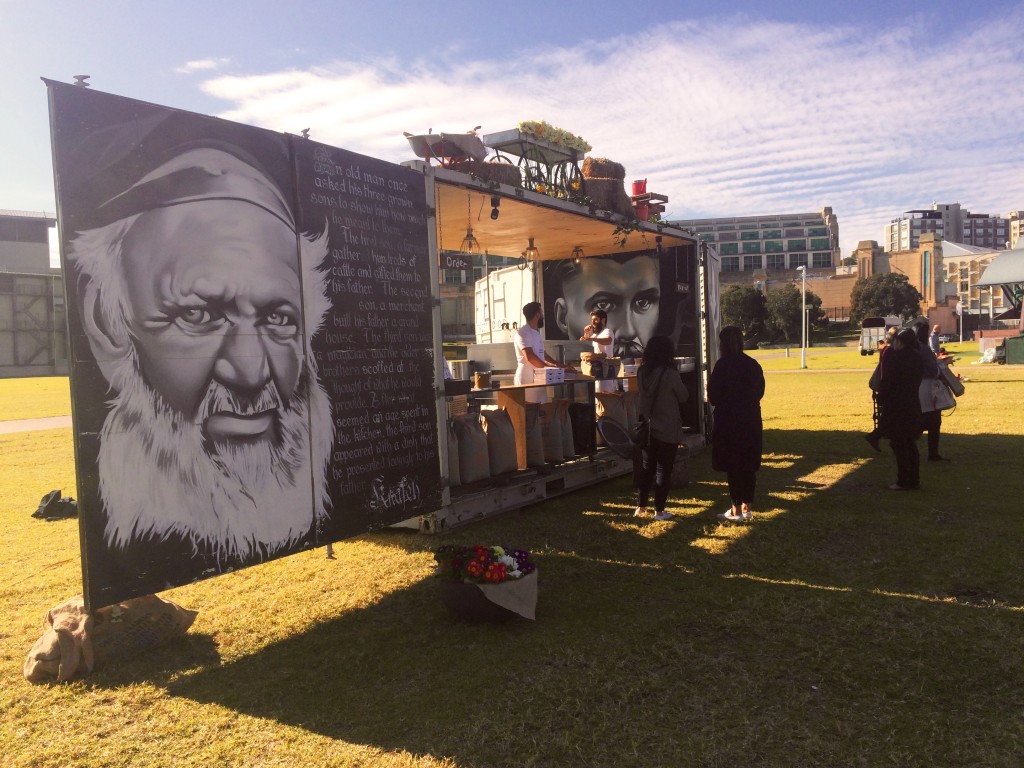 And absolutely delicious, reminding me a bit of a custard, or a crème caramel, but a soft, not-too-sweet, cheese, a thin crunch of semolina on top, eaten out of a wide shallow paper container.
Wikipedia says it's cheese pastry soaked in sweet sugar-based syrup; the tiny cardboard box that it comes in, like a pizza box, says 'Jerusalem street food'. We got one each, they're too tasty to share. Eight bucks. All hail! If it comes to your neighbourhood, and even if it doesn't, track it down.