C'mon. This place is the bomb.
Famous around the world (apparently); they've figured out how to meld cool Japan with hip Sydney. Their branch at Westfield CBD is effortlessly hip.
The Argentinean host called out to the rest of the wait staff in Japanese as we entered the restaurant, whereupon they all greeted us in that Welcome-To-A-Japanese-Restaurant way. It's lovely and raucous.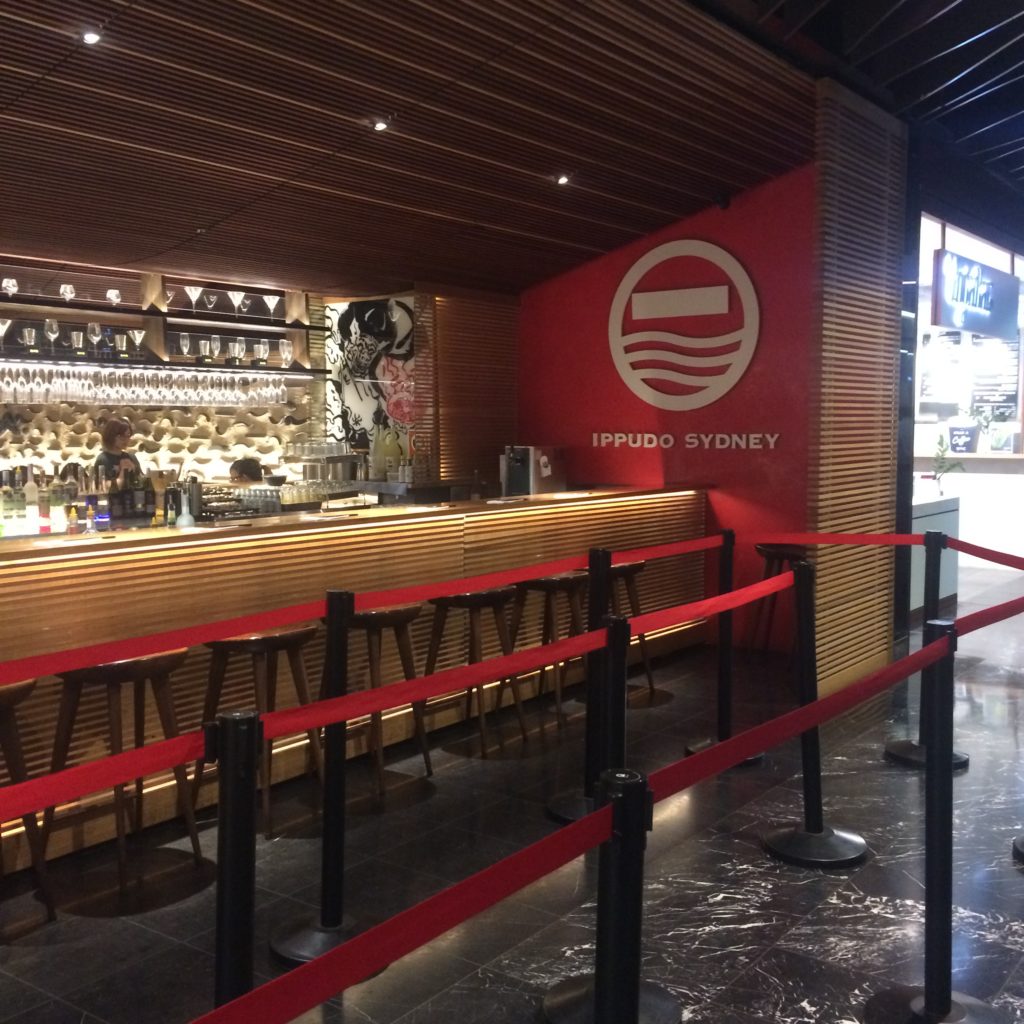 When I've been here before (and now there are a few branches in Sydney), I've been unable to resist ordering extra food: the pork belly buns perhaps, or any of the other yummy looking smaller dishes. But one bowl of ramen is usually enough for me, lunch or dinner.
In January 2016, my better half and I dropped by for a meal. I ordered a summer special with a clear, light and tasty chicken broth, rather than the usual ridiculously rich and thick tonkatsu broth. It was perfect. My better half, who ordered the traditional ramen, was pleased with his.
Then in February 2017, I came for lunch. I had a craving. And so pleased was I was the oyster special ramen of a few months ago, I decided I had to try the daily special. And I'd even go against my better judgement and have some eel and rice with it.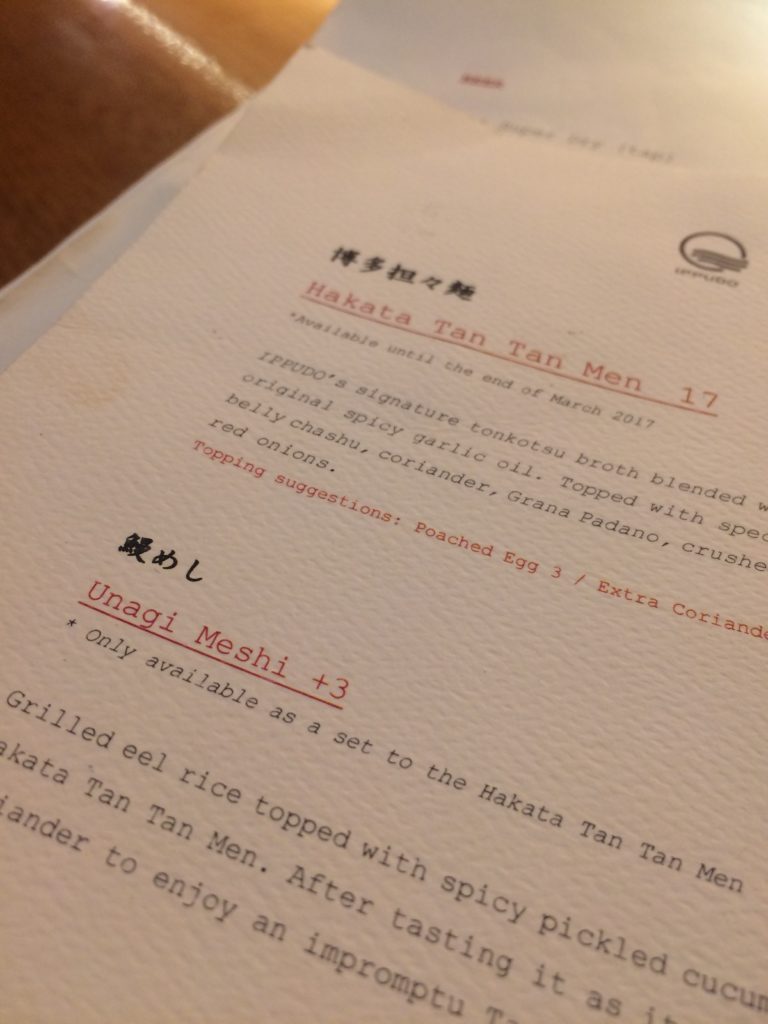 I mean: this was really crazy and delicious. Cheese in the soup! Grano padano! Check the official description:
A creamy concoction of a ramen made by blending our signature tonkotsu broth with special spicy sesame paste. Topped with original Tan Tan pork mince miso, coriander, Grana Padano cheese, roasted cashew, diced red onions, IPPUDO chilli oil, and a slice of tender pork belly chashu.
And here it is: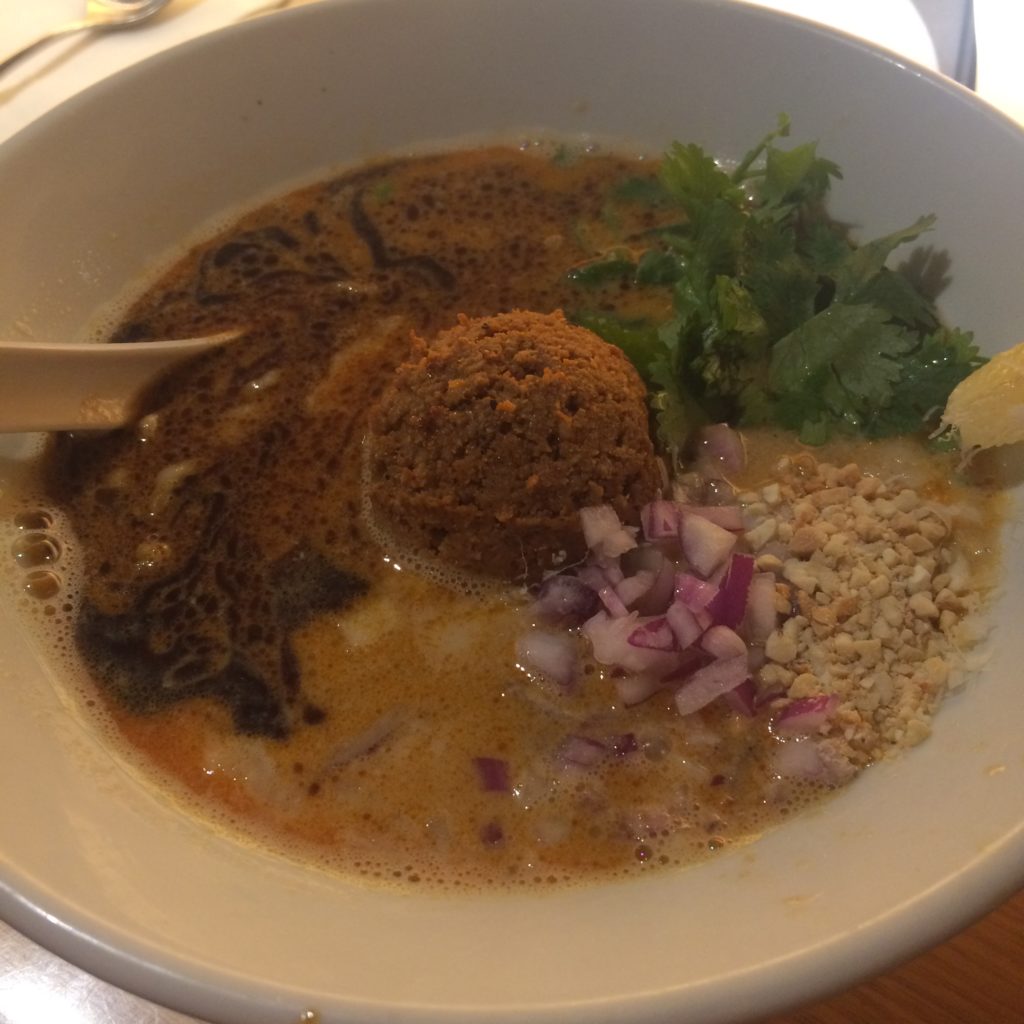 A big ball of spicy pork in the middle. The soup was rich and slightly thick. The slice of lemon was perfect to add some light zesty citrus. I'm surprised I also managed the side dish, a perfect little bit of sushi rice with bits of eel, not too generous a serve, but fine, and some cucumber pickles:
Best was at the end, as recommended, dumping the last bits of soup and leftover bits onto the last of the rice and mixing it up.
I met a ramen fanatic a while ago and I understand what he was saying: Ippudo is pretty expensive (this was $17 for the ramen and $3 for the rice/eel). And it sounds like you can hunt for other interesting ramen in town. But for now, for me, Ippudo really is the tops!